Irish women go on strike over the abortion ban
People encouraged to take day off to protest restrictive abortion laws or show solidarity by wearing black, posting on social media and staging walkouts
Katie Forster
Wednesday 08 March 2017 09:24 Comments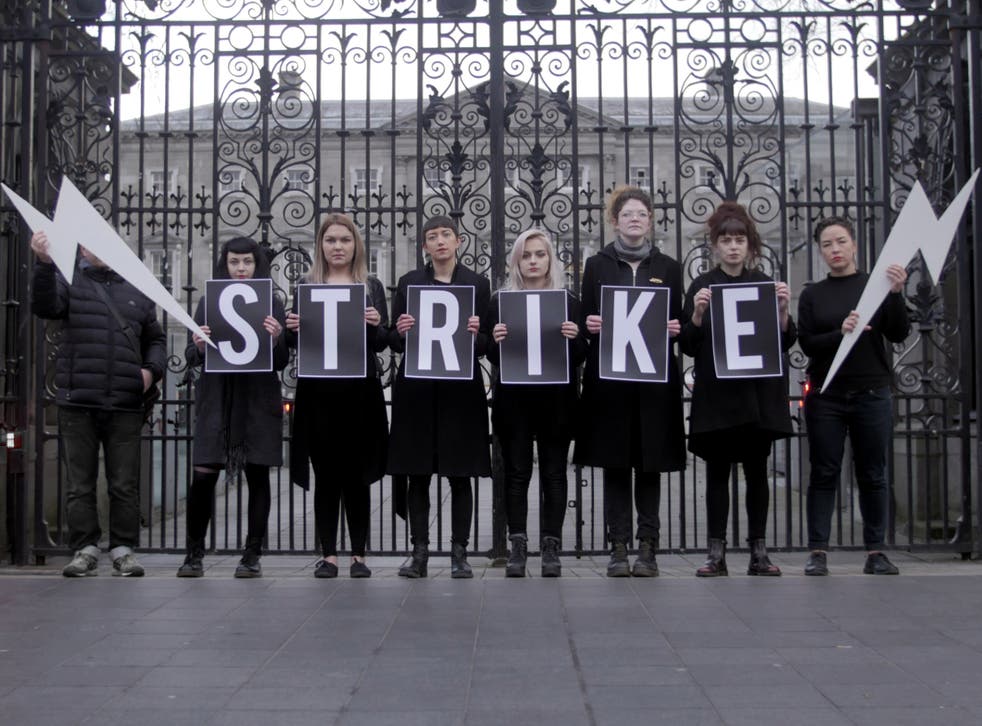 Women and pro-choice campaigners in Ireland are going on strike to protest the country's strict anti-abortion laws.
Protesters will gather at O'Connell Bridge in central Dublin and in other cities across Ireland and worldwide to demand a referendum on abortion, which is a criminal offence under the Irish constitution.
Organiser Avril Corroon told The Independent the event was not a form of industrial action but a 'social strike', inspired by mass protests in Poland that led the government to reject proposals for a near-total ban on abortion.
She said people had been encouraged to take a day off to take part in demonstrations, but those unable to do so could show support for the cause by wearing black, posting on social media and staging coordinated walkouts at 12pm.
"Abortion is a workplace issue," said Ms Corroon. "Not everyone is in a position to take a day off work, which is why we need new reproductive health laws."
It is estimated that 12 women travel from Ireland to Great Britain every day to access a safe and legal termination.
Women who have abortions in the Republic of Ireland face up to 14 years in prison.
This is the case for all pregnancies, including those conceived as a result of rape or incest, or where the foetus cannot survive outside the womb due to a fatal abnormality.
Ms Corroon said protesters were calling for a referendum on whether Ireland should repeal the 8th amendment of its constitution, which recognises the right to life of an unborn child.
The Citizens' Assembly, a group of 99 unelected representatives, are currently debating the future of the amendment. The results of a ballot next month will be given as a recommendation to parliament.
But Ms Corroon said this was not good enough: "Why would you ask 99 people when you could ask all of us?"
Student walkouts and demonstrations have also been planned at Irish universities including University College Dublin, where Kim Harte is a student.
Ms Harte, dressed in black for the protests, told The Independent she and her classmates planned to walk out of lectures at 12.30 to join a rally on campus, before travelling to the city centre for the march.
"Women should have access to free, safe and legal abortion. Bodily autonomy is a right," she said. "The 8th has already caused women, such as Savita Halappanavar, to lose their lives and this is why it must be repealed."
Ms Halappanavar died in October 2012 at a hospital in Galway after she was refused an abortion despite complications to her pregnancy.
Similar protests have also been planned at universities in the UK such as Royal Holloway, Oxford and Cambridge and in other cities across the world, including Melbourne, Berlin, Lyon and at the Irish embassy in London.
Thousands march in Dublin for Irish abortion rights

Show all 5
Around 100,000 women dressed in black staged an all-out strike and joined protests in more than 60 cities around Poland last October.
Women in the US are also taking part in a 'day without women' on International Women's Day, following mass protests on 21 January, the day after Donald Trump's inauguration as President.
Abortion has been a divisive issue for decades in Ireland where, after large street protests from both sides of the debate, a complete ban was only lifted in 2013 when terminations were allowed if a mother's life was in danger.
However governments have been reluctant to tackle an issue they fear may alienate conservative voters, despite a waning of the influence of the catholic church.
In 2015, Ireland became the first country to adopt gay marriage by popular vote.
Icelandic women first staged a strike in 1975, with 90 per cent of the country's female population refusing to work, do childcare or housework as they demanded equal rights with men.
Register for free to continue reading
Registration is a free and easy way to support our truly independent journalism
By registering, you will also enjoy limited access to Premium articles, exclusive newsletters, commenting, and virtual events with our leading journalists
Already have an account? sign in
Join our new commenting forum
Join thought-provoking conversations, follow other Independent readers and see their replies