'Isis supporters' who left car filled with gas cylinders by Notre Dame were plotting to attack Paris railway station
One female suspect stabbed police officer and was shot while being arrested on Thursday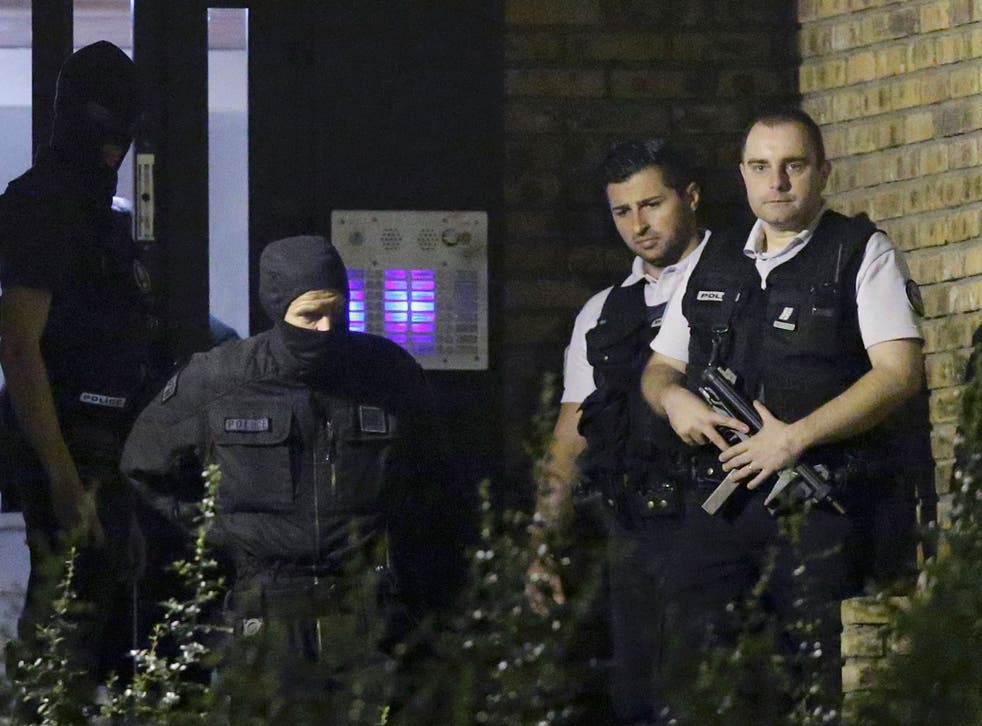 A suspected group of Isis supporters who abandoned a car filled with gas cylinders near Notre Dame cathedral had been planning to attack one of Paris' largest railway stations, officials say.
A police officer was stabbed while detaining three women linked to the alleged plot, including a 19-year-old who had pledged allegiance to the so-called Islamic State.
The French interior ministry told Reuters an alert was issued to all railway stations in the capital after a plot was uncovered to attack the Gare de Lyon on Thursday.
It lies south-east city centre, little over a mile from where the car was found abandoned near Notre Dame on Saturday night.
Officials said the youngest of the three women arrested, 19-year-old Ines Madani, had written a letter pledging allegiance to Isis.
She was shot in the leg and arrested after a stand-off on Thursday night with police in Boussy-Saint-Antoine.
Television footage showed a officers leaving the scene carrying a large knife.
Madani's father, the owner of the car, was already suspected of wanting to travel to Syria to fight for the group by police.
He was taken into custody earlier this week but later released after presenting himself to police on Sunday to report his daughter had disappeared with the car.
"These three women aged 39, 23 and 19 had been radicalised, were fanatics and were in all likelihood preparing an imminent, violent act," interior minister Bernard Cazeneuve said.
They are among five women and two men so far arrested in the case.
French media has reported links between the suspects and Hayat Boumeddiene, the wife of supermarket attacker Amedy Coulibaly who now lives in Isis territory, Larossi Abballa, who murdered a police officer and his wife earlier this year, and Normandy church attacker Adel Kermiche.
There was speculation the plot could have been intended as revenge for last month's killing of Isis' second-in-command and spokesman Abu Muhammad Al-Adnani in an air strike.
Security in train stations around Paris was visibly higher as the investigation widened on Friday, and prosecutor Francois Molins has scheduled a major press conference for the afternoon.
Terrorism in 2016: Terror attacks in Europe claimed by Isis

Show all 9
The probe was sparked on Saturday night, after a Peugeot 607 laden with gas cylinders was found abandoned in Rue du Petit-Pont, with its hazard lights flashing and no number plates.
Police sources said no detonator had been found in the car, though the vehicle also contained three containers of diesel.
Gas cylinders and fuel can be used in attempts to make car bombs, such as those discovered and disabled in London in 2007.
Police were alerted after another vehicle containing gas canisters was discovered near Montpellier on Friday but found no link to terrorism, Midi Libre reported.
Terror attacks have killed more than 230 people in France since January last year, with the Charlie Hebdo massacre carried out by al-Qaeda sympathisers followed by Isis' Paris attacks, a string of lone wolf murders and the Nice attack that left more than 80 dead.
Isis has called on its supporters to launch massacres on French soil as the country continues to take part in international air strikes against its militants in Syria and Iraq.
The country remains under a continuing state of emergency, allowing authorities increased powers of surveillance and arrest.
Join our new commenting forum
Join thought-provoking conversations, follow other Independent readers and see their replies