Isis fighters 'virtually impossible' to detect as group continues to use fake passports to exploit refugee crisis
Bernard Cazeneuve, the French interior minister, said the terrorist group had 'set up a true industry of fake passports'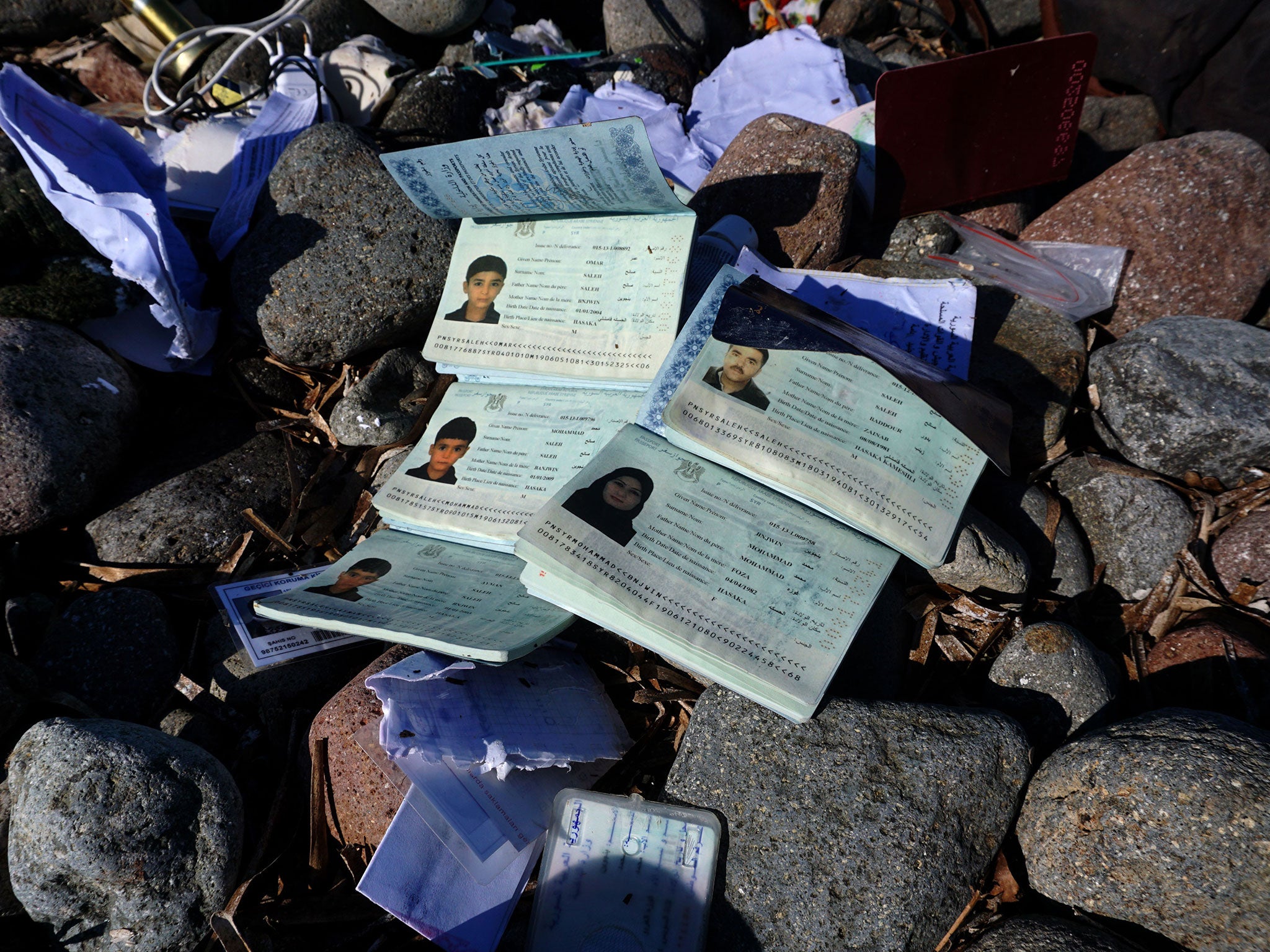 It is "virtually impossible" for security officials to detect potential terrorists among refugees as Isis continues to use the refugee crisis to smuggle its fighters into Europe, an official has said.
The terrorist group is known to use fake Syrian and Iraqi passports to disguise its recruits as they enter the continent, often via Turkey and Greece.
That was the route taken by at least two of the Paris attackers, including one whose fake Syrian passport was left at the scene of the Stade de France suicide bombings.
All members of the terror cell who murdered 130 people are believed to have trained with Isis at its stronghold of Raqqa before making their way into Europe.
The suspected ringleader, Abdelhamid Abaaoud, used Isis' propaganda magazine to boast of his travels between Belgium and Syria "despite being chased after by so many intelligence agencies", although the article did not specify the method.
A senior British intelligence official told the Telegraph that Isis briefs its recruits and hands out fake documents in Raqqa to enable them to blend in with the thousands of refugees fleeing the region.
"Islamic State is skilfully exploiting the migrant crisis to smuggle terror cells from Syria into major European countries such as the UK," he said.
"Jihadists travel to Raqqa to meet up with Isil commanders, where they receive training and new passports.
"They then make their way back to Europe posing as migrants with new identities, making it virtually impossible for security officials to detect potential terrorists among those fleeing persecution."
Isis announced its intention to exploit the refugee crisis as it gathered pace early last year.
The main route being used by smugglers then was between Italy and Libya, where one of the group's affiliates wrote an essay claiming that migrant boats could be used to cause "pandemonium" in Europe.
In the wake of the November attacks, the French Prime Minister, Manuel Valls, said Isis was "taking advantage" of the huge influx of asylum seekers and called for the strengthening of Europe's internal borders.
Bernard Cazeneuve, France's interior minister, said the terrorists had "set up a true industry of fake passports" using documents seized in Iraq, Syria and Libya.
At a meeting of European ministers in Amsterdam on Monday, he made the case for special task forces to be sent to Greece to assist with identification, the Wall Street Journal reported.
Authorities in the country, where thousands of asylum seekers continue to arrive on the Aegean islands every day, admitted that verifying identities has been difficult with the volume of arrivals and that compulsory registrations and fingerprinting slipped during the summer peak.
"On the issue of fake documents, many are sold on Middle East markets and we know how difficult it is to identify them with good machines, in calm conditions, not when you have 4,000 arriving in a day," citizen protection minister Nikos Toskas said.
A report released last week by Europol said there was no concrete evidence of terrorists "systematically using the flow of refugees to enter Europe unnoticed".
In pictures: Paris attacks
Show all 25
It said that as well as the Isis training camps in Syria, there are several smaller Isis camps in the EU and Balkan countries where recruiters use sport and survival training to test aspiring members.
"Without reliable intelligence on the intentions, activities and contacts and travels of known terrorists it is nearly impossible to exactly predict when and where the next terrorist attack will take place, and what form it will take," Europol concluded.
The UN's former High Commissioner for Refugees, António Guterres, was among those cautioning that spreading fear and distrust of refugees played into Isis propaganda.
He said that the fake Syrian passport in the name of Ahmad Al-Mohammad was "left to be seen" as part of an Isis strategy to "put refugees in the spotlight".
"It is not the refugee outflows that cause terrorism, it is terrorism, tyranny and war that create refugees," Mr Guterres added.
"It is clear that the Daesh (Isis) strategy is not only to set Europeans against refugees, but within Europe, to set citizen against citizen within communities, community against community within countries, and country against country in the Union."
Of around 800 Britons believed to have travelled to Syria to join Isis, half have since returned to the UK.
Join our commenting forum
Join thought-provoking conversations, follow other Independent readers and see their replies