Isis claims responsibility for first terror attack in Russia after men try to kill police with gun and axes near Moscow
Terror group publishes video showing two men pledging allegiance to Abu Bakr al-Baghdadi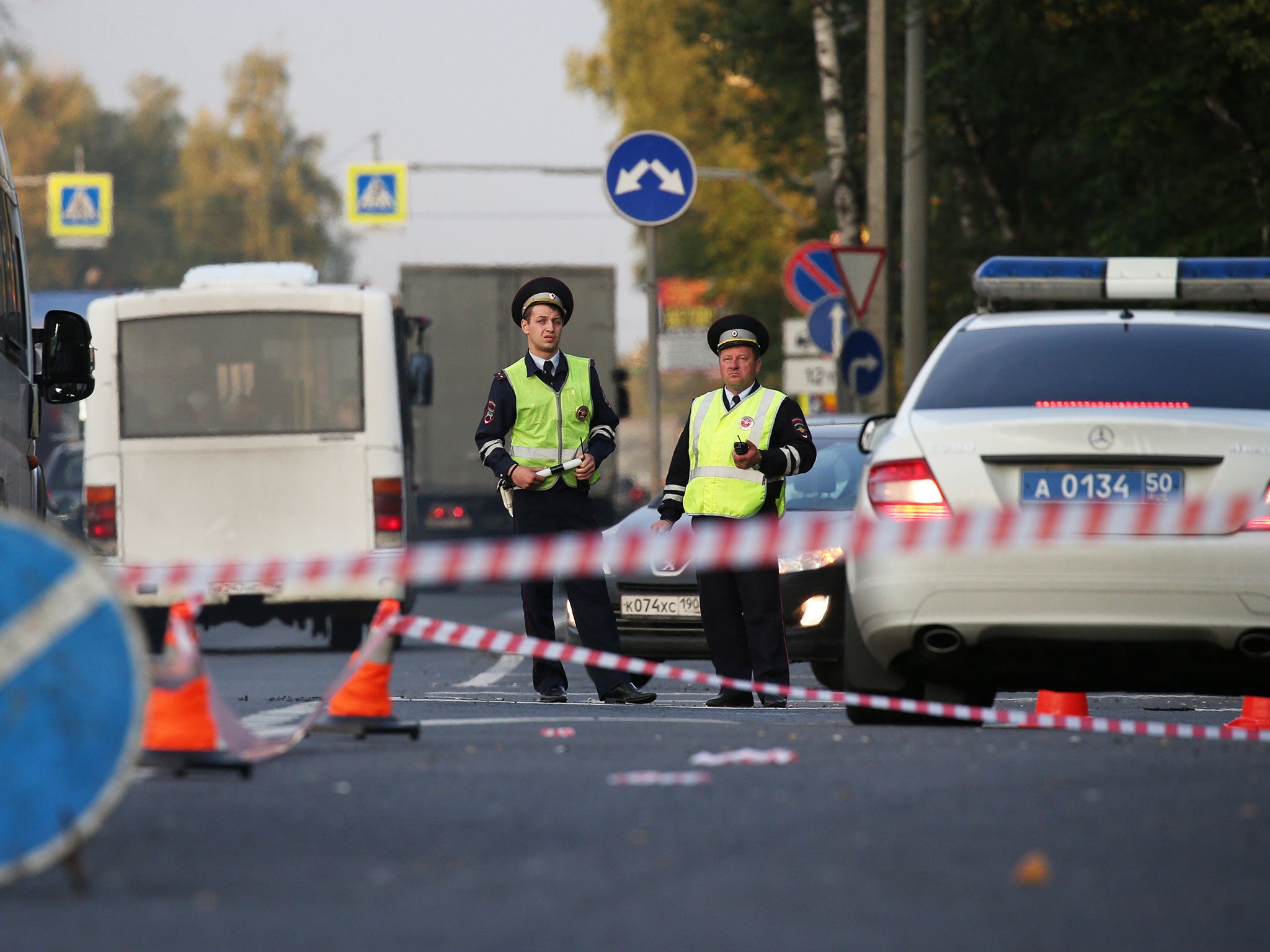 Isis has claimed its first terror attack on Russian soil after two supporters attempted to murder police officers near Moscow.
Both of the men were killed during the assault at a traffic post on a motorway in Balashika on Wednesday, when they were armed with a gun and two axes.
Russia's Investigative Committee said one of the men was shot dead while attacking the post and the other was killed when he put up "armed resistance".
Two police officers were injured in the attack, one seriously, but were expected to survive.
Isis' propaganda agency released a video of the attackers late on Thursday night showing them pledging allegiance to leader Abu Bakr al-Baghdadi.
Naming them as Uthman Mardalov and Salim Israilov, the terrorist group hailed them as "soldiers of the Islamic State".
The one-and-a-half minute video showed the men, wearing hoodies and speaking in a mixture of Russian and Arabic, announcing their support for Isis and saying they had "taken the path of jihadi on the command of the emir".
They ended the footage by threatening more attacks on Russia and shouting "Allahu Akbar" ("God is great").
Russian security services announced the arrest of several suspected Isis supporters in Balashikha in July, where they had been distributing propaganda and attempting to recruit militants.
Russian air strikes kill three children in Syria's Aleppo
It was unclear whether Mardalov and Israilov were arrested or linked to the suspects.
They were reported to be of Chechen descent. Separatists and Islamist groups from Chechnya, in the North Caucasus region, have been fighting wars and an insurgency against Russia for decades.
The conflict has sparked several terror attacks in Russia and hundreds of Chechen militants are believed to have joined Isis' ranks.
Russian passenger plane crashes in Egypt
Show all 20
One of the group's most senior commanders and propagandists was Abu Omar al-Shishani – known as "Omar the Chechen" – who was reportedly killed by an American air strike earlier this year.
There have been repeated calls by Isis leaders to attack Russia and other countries launching air strikes against its fighters in Iraq and Syria.
The propaganda messages are believed to be the motive for a string of "lone wolf" attacks in Europe, including a suicide bombing and axe attack in Germany and the killing of 84 people by a lorry driver in Nice, France.
In a video released last week, a masked Isis fighter threatened Vladimir Putin and claimed militants would "come to Russia and kill you in your homes".
The so-called Islamic State previously targeted Russia last year by downing a passenger plane flying from Sharm el-Sheikh to St Petersburg.
All 224 people on board Metrojet Flight 9268 died – including 219 Russian passengers and crew – after a bomb was detonated in the hold as it flew over the Sinai Peninsula.
It came just a month after Russia started its campaign of air strikes supporting President Bashar al-Assad against Isis and rebel groups in Syria.
Join our commenting forum
Join thought-provoking conversations, follow other Independent readers and see their replies