Islam in Italy: Muslim with traditional clothes and Koran insulted and shouted at in Milan
Students in six Italian colleges have also been banned from wearing the hijab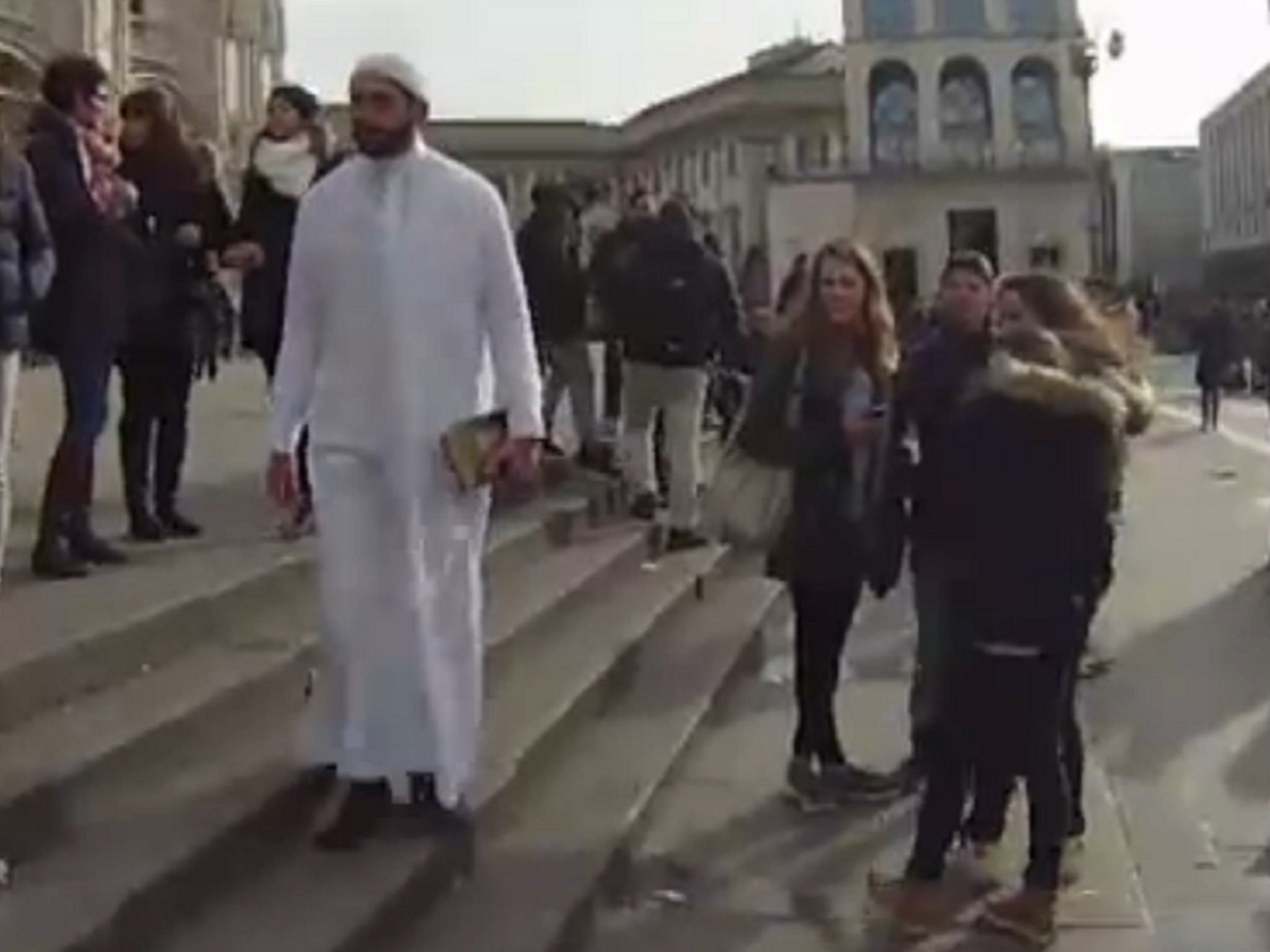 A student in Italy dressed in traditional Arabic clothing appears to have been the subject of a string of derogatory comments as the public's reaction to his appearance was caught on camera.
Hamdy Mahisen, who is of Egyptian origin, attracted stares and insults as he walked around Milan for five hours, while holding a Koran in one hand and prayer beads in the other for a social experiment.
On a high street, someone sneers "Taliban s***" while, even more disturbingly, a woman pushing a pram with a baby in it seems to turn around as he walks by her to shout: "Taliban!"
Italy is currently on high-alert after a warning that Libyan militants inspired by Isis could make their way into Europe through the country.
This has fuelled Islamophobia and anti-immigrant sentiment towards refugees who have fled Africa before setting off on treacherous journeys across the Mediterranean to Italy in unsafe and overcrowded boats.
Groups of teenage girls and boys do not hide their astonishment at the sight of his appearance and openly stare, laugh and turn round to look at him in the footage as he walks past.
A person within a small group of young men, in the video also published yesterday by Italian newspaper Repubblica, says "guys, you just missed the imam."
Thirty-year-old Hamdy, who speaks Italian fluently and lives in the city with his parents, was dressed in a traditional long white cotton robe commonly worn by mainly Muslim men in Arab countries – and not just imams – with a white cap.
While passing through an indoor shopping piazza, someone could be heard saying "s***, have you seen the Isis?"
A man standing near Hamdy at a tramstop makes the remark: "Look, he has got the Koran. Think he's got a gun under his tunic?"
The comments are indicative of the levels of Islamophobia and racism that Muslims and those from other ethnicities can encounter in Italy.
The local councillor was the first woman to wear a hijab in city hall as she held down her job for the Democratic Party in Rovereto, northern Italy.
This week, female students at six colleges in the Friuli-Venezia Giulia region of Italy have been banned from wearing the hijab – according to local paper Messaggero Veneto.
One headmaster called Aldo Duri, of a technical college with many students of Arab origin, have been told that "outward signs of religion can be seen as provocation".
"Friction and insults that were fairly innocent between the Islamic community and the natives are now loaded with new meaning," he was quoted by Trieste Prima as saying.
Join our commenting forum
Join thought-provoking conversations, follow other Independent readers and see their replies