Istanbul nightclub suspect 'confesses to New Year's Eve massacre'
Man identified as 34-year-old Uzbek national found with his four-year-old son after 17-day manhunt across Turkey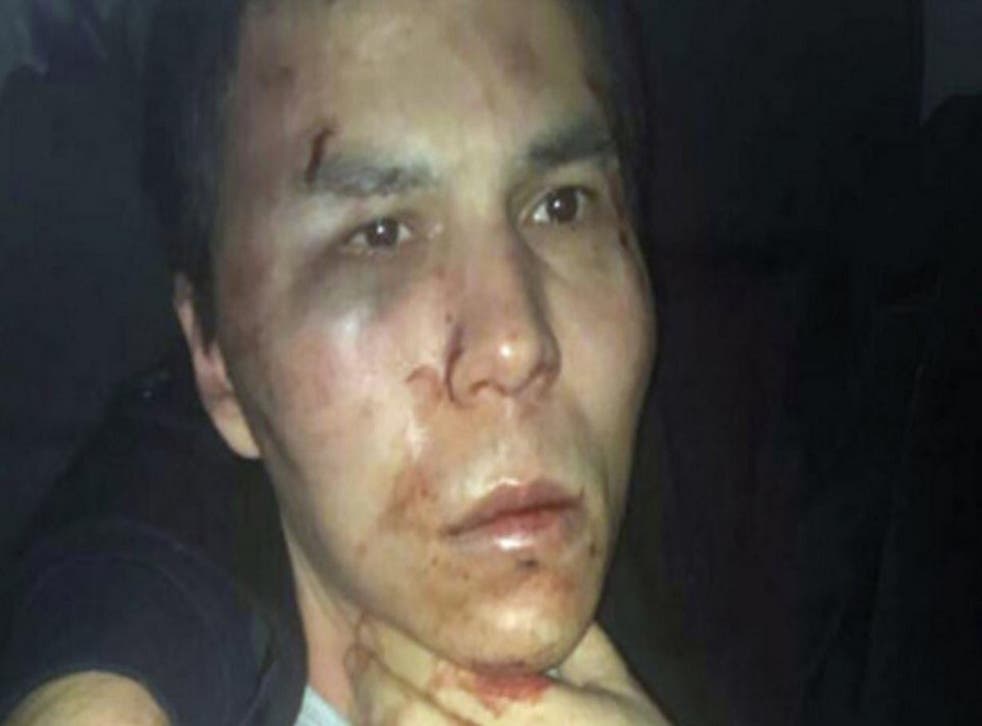 The captured suspect behind the deadly Istanbul nightclub attack on New Year's Eve has reportedly admitted to carrying out the crime, the city's governor had said.
Abdulgadir Masharipov, a 34-year-old Uzbek citizen, was apprehended by police late on Monday, Vasip Sahin said.
Turkish media published pictures and video of a man with a black eye and wearing a white t-shirt covered in blood being led by plain-clothes police officers to a vehicle.
Footage shows gunman unleash wave of bullets outside Istanbul nightclub
He has allegedly confessed to entering the upmarket Reina nightclub and shooting partygoers in the early hours of New Year's Day, reloading an automatic rifle six times to target those who were lying the ground. The attack killed 39 and injured 70.
Mr Masharipov trained in Afghanistan as part of an Isis cell before illegally entering Turkey in January 2016, and his fingerprints matched those found at the scene, Mr Sahin said.
"He knew four languages and is well educated," the governor added.
He was arrested along with four other suspects - two Iraqi men and two African women whose nationalities were not disclosed - in an outer suburb of the city. Mr Masharipov's four-year-old son was also with him at the time of the arrest.
Earlier, Turkey's prime minister said that the man was being questioned by police and expressed hope that the interrogation would unveil the "forces" behind the attack, which Isis claimed as revenge for Turkey's role in the Syrian conflict.
Mr Sahin did not provide any further details on the arrest or the investigation. He said the authorities would provide details "in time."
The arrest comes after a 17-day manhunt across the country in which dozens of people were arrested on suspicion of helping Mr Masharipov plan the attack.
On Monday, Turkey's deputy prime minister Norman Kurtulmus said that investigators believed that the shooting was "not just a terrorist organisation's act" but that an intelligence organisation had also been involved.
Register for free to continue reading
Registration is a free and easy way to support our truly independent journalism
By registering, you will also enjoy limited access to Premium articles, exclusive newsletters, commenting, and virtual events with our leading journalists
Already have an account? sign in
Register for free to continue reading
Registration is a free and easy way to support our truly independent journalism
By registering, you will also enjoy limited access to Premium articles, exclusive newsletters, commenting, and virtual events with our leading journalists
Already have an account? sign in
Join our new commenting forum
Join thought-provoking conversations, follow other Independent readers and see their replies