'It is surreal': The 'tragic' plight of migrants arriving on the beach each day among tourists and posh hotels
Reuters photographer Yannis Behrakis says the 'extremity of the scene is tragic'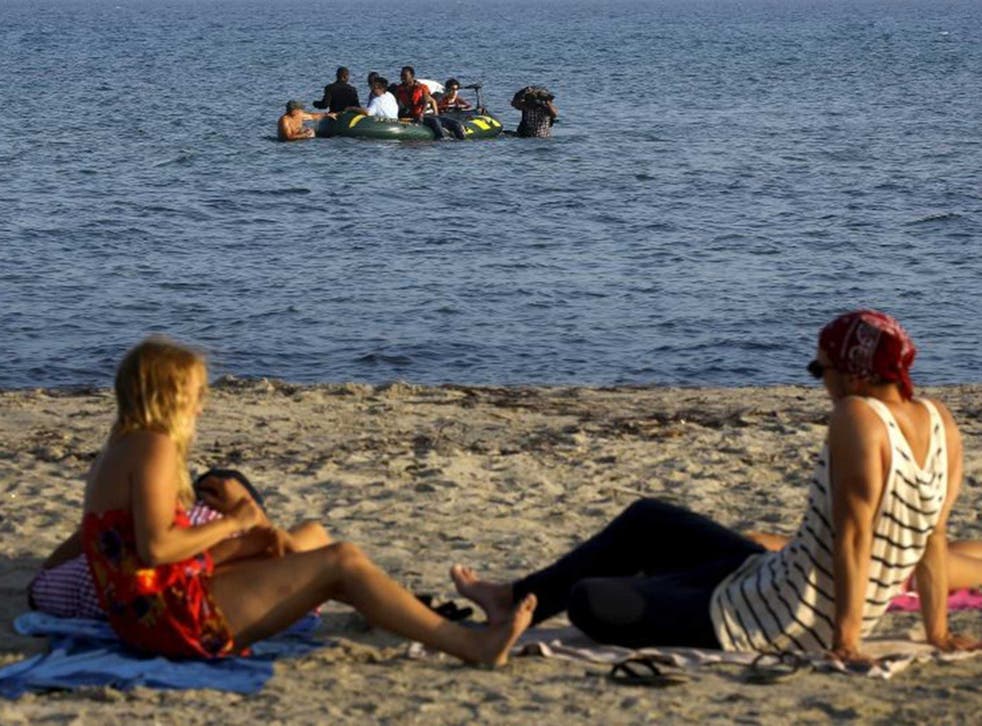 A photographer has spoken of the "surreal" nature of the migrant crisis unfolding next to wealthy tourists and struggling residents of Greece.
Reuters photographer Yannis Behrakis, 55, has taken images of Syrian, Afghan and Bangladeshi migrants coming ashore on the island of Kos, in Greece, every morning.
His images, capturing the mixture of exhaustion and exultation felt by migrants when they eventually reach the European coast, have shown refugees tumbling out of barely afloat vessels onto the island's sandy shores.
Mr Behrakis – who has worked in countries from Croatia, Bosnia, Kosovo and Chechnya, to Sierra Leone, Somalia, Afghanistan and Lebanon – says he sees the "same victims again and again."
But, he told The Independent, in Kos "it is surreal to see refugees and migrants landing in between bathing tourists in front of posh hotels."
"The extremity of the scene is tragic."
Mr Behrakis said one of the first things migrants do on arrival is to get out their phones and let their family, who are often still in Turkey or further-afield, know they are safe.
Having been on Kos for a week, the Greek-born photographer said he felt the numbers were declining but that the island's facilities were still unable to cope with the influx of desperate migrants.
Figures released last week by UNHCR showed more than 7,000 migrants arrived on Kos, which usually has a stable population of roughly 35,000, in July alone.
In particular, one image – showing migrants appearing to take a selfie – struck a chord with many online.
"One of a group of young men, in their mid to late 20s, got his iPhone out. They got together and started taking selfies with Turkey in the background," Mr Behrakis said.
He said the group had come ashore with roughly 60 other Syrian migrants on a rubber dingy but the photographer said he was "amazed" they had included a selfie stick in the small amount of luggage they were able to take.
"They were really happy and were celebrating, jumping up and down for joy," he added.
Join our new commenting forum
Join thought-provoking conversations, follow other Independent readers and see their replies