Italian MP Gianluca Buonanno 'blacks up' to deliver racist anti-immigration rant in parliament chamber
Northern League politician asks parliament whether people needed to 'go around painted black' in order to receive state benefits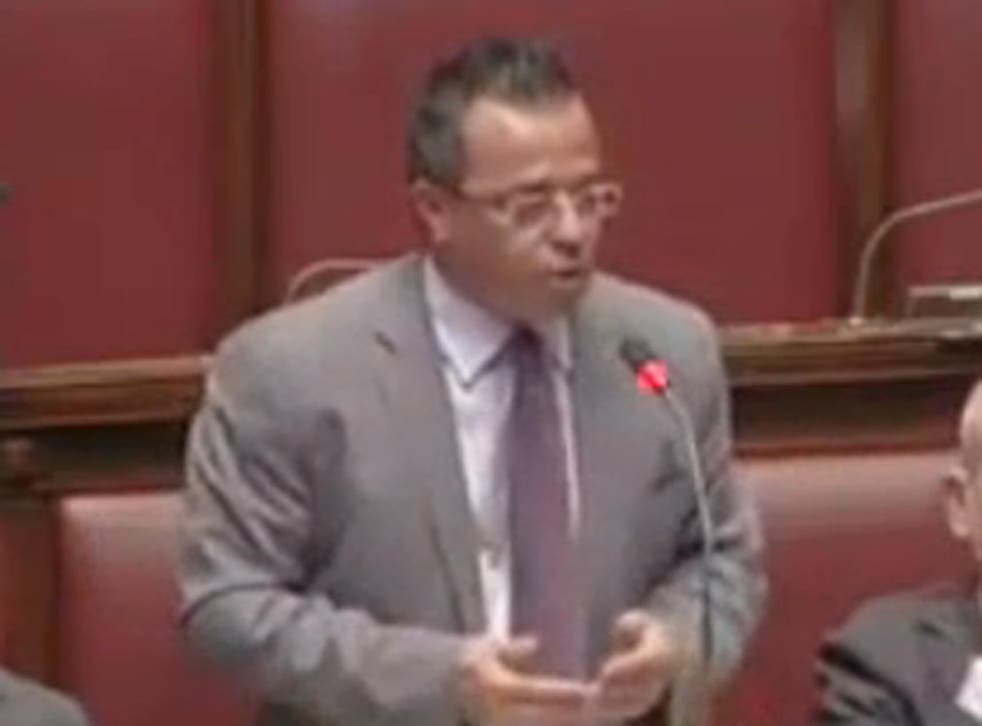 An Italian MP has "blacked up" to deliver a staggering anti-immigration rant in the country's parliament, smearing his face from a makeup pad and asking whether "we need to be a bit darker" to get benefits from the state.
Gianluca Buonanno, a politician with the right wing Northern League party, took the opportunity on Wednesday night to criticise "latecomers" and "non-EU" citizens who receive pensions despite, he claimed, having "never worked a day in their lives".
And he decried the government's policies of "benevolence" under Italy's first black member of cabinet, the Minister for Integration Cecile Kyenge, calling it "inverted racism".
Brandishing a pad of black greasepaint, Mr Buonanno said: "At the end of the day, maybe in this country in order to achieve anything we need to be a bit darker.
"I say we can all put make-up on and make ourselves a bit darker, and then we can all go around painted black and say we want the same help that non-EU citizens get.
"I think that Italians, on top of going to police stations and declaring themselves political refugees, they have to darken themselves, and go around saying that I need help too, and we will see whether Italy is as good to Italians as it is to foreigners.
"This is inverted racism. No more benevolence, let's give concrete help to those who need it first and foremost."
This is not the first time the Northern League has put on a very public and agitated display of xenophobic rhetoric. Last summer its leader, the high-profile senator Roberto Calderoli, sparked outrage by comparing Ms Kyenge to an orang-utan.
Despite apologising to Ms Kyenge, In November, he was charged by the country's prosecutor's office with defamation aggravated by racial discrimination.
The audio for this footage is in Italian
This week the Northern League came in for renewed criticism when its official newspaper, La Padania, started printing the time and location of Ms Kyenge's public appointments, the Telegraph reported.
Nichi Vendola, head of the left-wing SEL party, tweeted: "Can someone tell the racists that we're in the Third Millennium and are a civilised country, despite them.
"The racists think they're in Alabama or Mississippi of a half-century ago or in South Africa during apartheid."
The paper's editor defended the feature, saying the information of Ms Kyenge's whereabouts was publicly available anyway, claiming instead that it was the newspaper itself on the receiving end of intimidation from the likes of the centre-left.