Italian navy pleads for help saving migrant boats, saying it 'does not want a sea of death'
The rescue operation is costing £6m a month. Charlotte McDonald-Gibson reports from inside the marine control centre in Rome
Charlotte McDonald-Gibson
Tuesday 08 July 2014 10:44 Comments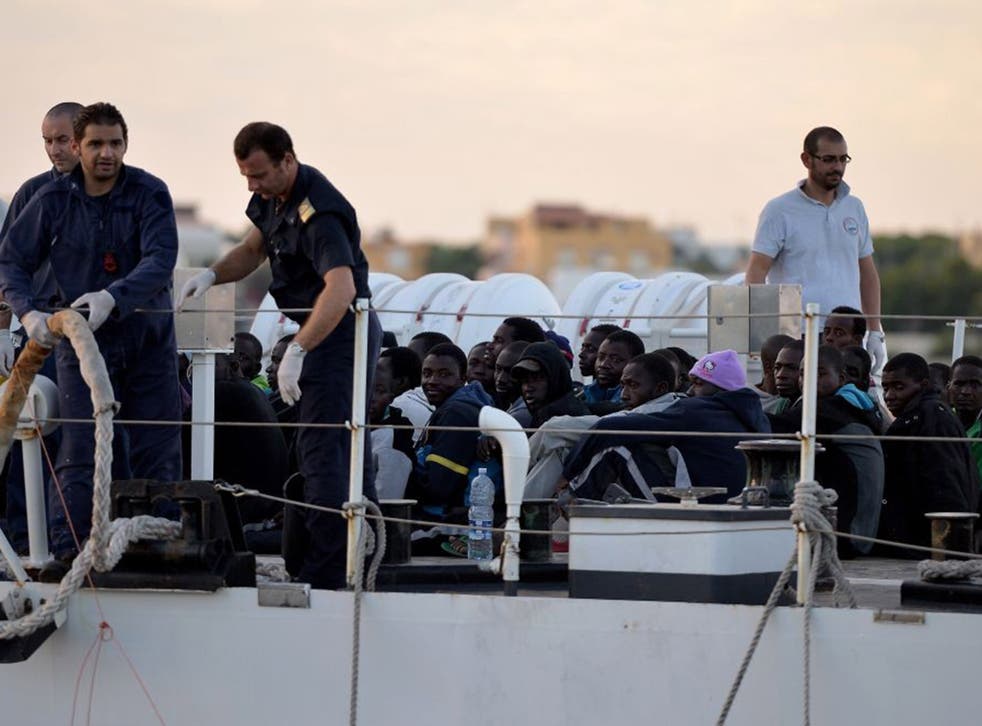 Sailing in a straight line on a calm day, it would take a well-equipped boat about 10 hours to get from the Libyan coast to Lampedusa, the remote Italian island which has become a beacon for tens of thousands of desperate people seeking refuge from war or poverty.
Few of these migrant boats actually make it in that time, however. With just a magnetic compass to guide them, the people packed on rubber dinghies often make dangerous diversions into choppy waters.
For much of those perilous journeys, the men, women and children travel unseen among the merchant ships and fishing fleets which criss-cross the Mediterranean. Eventually they are spotted, perhaps by a fishing boat, radar system, commercial vessel or Italian naval ship. That is when their boat finally appears as a yellow dot on the screens of the Mare Nostrum control centre just outside Rome, and every minute counts as air and sea craft are dispatched to prevent another tragedy.
The Italian navy launched the Mare Nostrum operation in October 2013 after 366 people died in a shipwreck off Lampedusa, in one of the worst migrant boat disasters. So far, 73,686 people have been plucked from the sea in an operation costing the Italian navy up to €8m (£6m) a month.
The operation was meant to last only a few months, says Vice Admiral Filippo Maria Foffi, commander in chief of the Italian fleet. But the number of people setting sail for Europe in rickety vessels just keeps climbing, and the Italians have been left with little choice but to keep channelling resources to saving their lives, with pleas for more help from the EU largely ignored.
The anti-immigrant Northern League in Italy has called for the suspension of Mare Nostrum (Our Sea), but the government is well aware that the humanitarian consequences would be immense. "When children are put on board a boat and set adrift, no civilised nation can just watch. We need to save those children," says Italy's Prime Minister Matteo Renzi.
Italy and other Mediterranean nations argue that the migrants arriving on their shores are hoping to travel to the wealthier northern European nations. Therefore, the cost of saving them and the responsibility for rehousing them should be shared across the EU. It is an argument falling on deaf ears at a time when political parities across the bloc are still smarting from a surge in support for anti-immigrant and Eurosceptic parties at European Parliament elections in May.
EU heads of state meeting in Brussels late last month were meant to discuss opening up new legal channels for economic migrants and refugees to apply to live in Europe, thus reducing the chance that they will risk their lives at sea. The EU's home affairs chief, Cecilia Malmstrom, told The Independent on Sunday in an interview ahead of the summit that she hoped more nations would come forward and offer sanctuary to Syrian refugees, calling the response so far "pathetic".
None of these things happened; the issue was pushed off the agenda by a row over who should be the next president of the European Commission. A few days later, 100 more people were lost at sea in two separate incidents off the Italian coast.
"The reluctance of other EU member states to support Mare Nostrum and show solidarity to Italy raises worrying questions about the sustainability of this vital rescue operation," says Benjamin Ward, deputy Europe director for Human Rights Watch, warning that "lives are at stake" unless more financial and material support was forthcoming.
The Italian government has not given up hope – it has just taken over the rotating six-month presidency of the EU, and Prime Minister Renzi is using this opportunity to steer his counterparts towards a more collective approach. "The Mediterranean sea is not an Italian sea. It is the heart of Europe: that is why we need a European policy for the Mediterranean," he said at a press conference at the weekend, urging more investment from other member states.
There is little sign so far of a sudden surge in funding from other European governments. Frontex, which monitors and helps to patrol the EU land and sea borders, has actually had its budget slightly reduced this year, despite the numbers trying to reach Europe expected to reach a record high.
The agency recorded a 48 per cent jump in migrant arrivals between 2012 and 2013, the numbers surging because of the civil war in Syria and the political chaos in Libya, which has allowed the human smuggling networks to flourish. In the first four months of this year, 42,000 people entered the EU illegally – most of them in Italy – up from 12,400 in the same period last year.
Mr Renzi thinks that helping to stabilise Libya and sending teams from the UN refugee agency to the country to asses asylum applications on the ground would be a crucial first step to stopping the dangerous journeys. But that is unlikely to happen before the end of summer, when the calm waters bring a surge in crossing attempts.
Jose Manuel Barroso, the European Commission President, has appealed for other EU nations to provide frigates or planes, but for now the burden remains on Italy and its five naval ships which constantly patrol the Mediterranean. The Rome control room collates data from these ships and other governments and commercial entities, always on the lookout for anomalies which could signal a boat in distress. On a clear day, an average of 10 migrant boats are detected in the Mediterranean, with the navy picking up around 270 people every 24 hours.
The passengers are then transferred to an Italian vessel for medical and security screening. It is just the first step in an arduous journey through overcrowded migrant processing centres and lengthy asylum procedures, but at least they are safe from drowning.
"We have to transform the Mediterranean Sea – we do not want a sea of death," says Rear Admiral Michele Saponaro, who oversees the operations at the naval command centre. "I'm convinced Mare Nostrum helped to bring about this transformation."
Register for free to continue reading
Registration is a free and easy way to support our truly independent journalism
By registering, you will also enjoy limited access to Premium articles, exclusive newsletters, commenting, and virtual events with our leading journalists
Already have an account? sign in
Join our new commenting forum
Join thought-provoking conversations, follow other Independent readers and see their replies