Italian Prime Minister says he will delay stepping down
Matteo Renzi to stay in post for at least a few days after plea from Italian President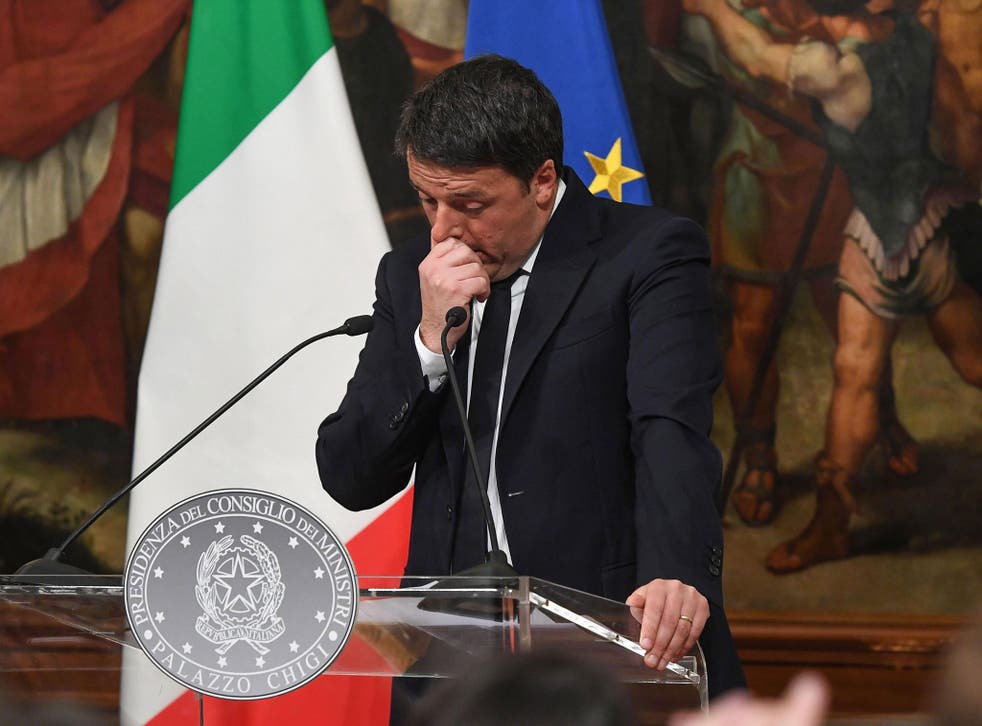 Italian Prime Minister Matteo Renzi will delay his resignation for at least a few days after a personal request from the country's president.
Mr Renzi resigned on Monday after losing a referendum last weekend on proposed changes to the governing system. He had urged the Italian public to back reforms that would have streamlined the law-making process by removing powers from the Senate and increasing the influence of the prime minister.
Voters rejected the changes by a margin of 59 to 41 per cent, forcing Mr Renzi to fulfil his pre-referendum promise to resign if he lost the vote.
However, the country's President, Sergio Mattarella, has asked him to stay in post until Italy's 2017 budget has been passed by its parliament - something that could happen as early as this week.
Italy's lower house has already approved the plan, meaning only a vote of the Senate is needed for the budget to pass.
Mr Renzi met with the President at the presidential palace, the Quirinale, on Monday in order to formally submit his resignation, saying his government had lost its mandate and he could no longer govern.
A statement released by the office of Mr Mattarella said he had asked the Prime Minister to "postpone" his resignation.
It said: "The President of the Republic received this evening, at the Quirinale Palace, the President of the Council of Ministers, Dr. Matteo Renzi.
"The President of the Republic, given the need to complete the parliamentary process of approval of the budget law in order to prevent the risks of provisional operation, asked the President of the Council to postpone the resignation [in order to meet] the fulfillment of this requirement."
The President also suggested he would not call an immediate general election, despite pressure from populist parties to do so, suggesting Italy's institutions must respect "commitments and deadlines" and find solutions that were worthy of the "demands of time"..
Once Mr Renzi officially steps down, Mr Mattarella will meet with other party leaders and attempt to form an interim government. A general election is now due until early 2018 but could now be brought forward in an effort to provide stability in the face of the referendum defeat and Italy's ongoing banking crisis.
Register for free to continue reading
Registration is a free and easy way to support our truly independent journalism
By registering, you will also enjoy limited access to Premium articles, exclusive newsletters, commenting, and virtual events with our leading journalists
Already have an account? sign in
Register for free to continue reading
Registration is a free and easy way to support our truly independent journalism
By registering, you will also enjoy limited access to Premium articles, exclusive newsletters, commenting, and virtual events with our leading journalists
Already have an account? sign in
Join our new commenting forum
Join thought-provoking conversations, follow other Independent readers and see their replies