Italian town introduces 'abide by Christianity or leave' sign for visitors
Mayor Alessandro Seghezzi Giuseppe: 'We're living in a transitory period. It's our job to ensure that all comply with rules that govern civil life'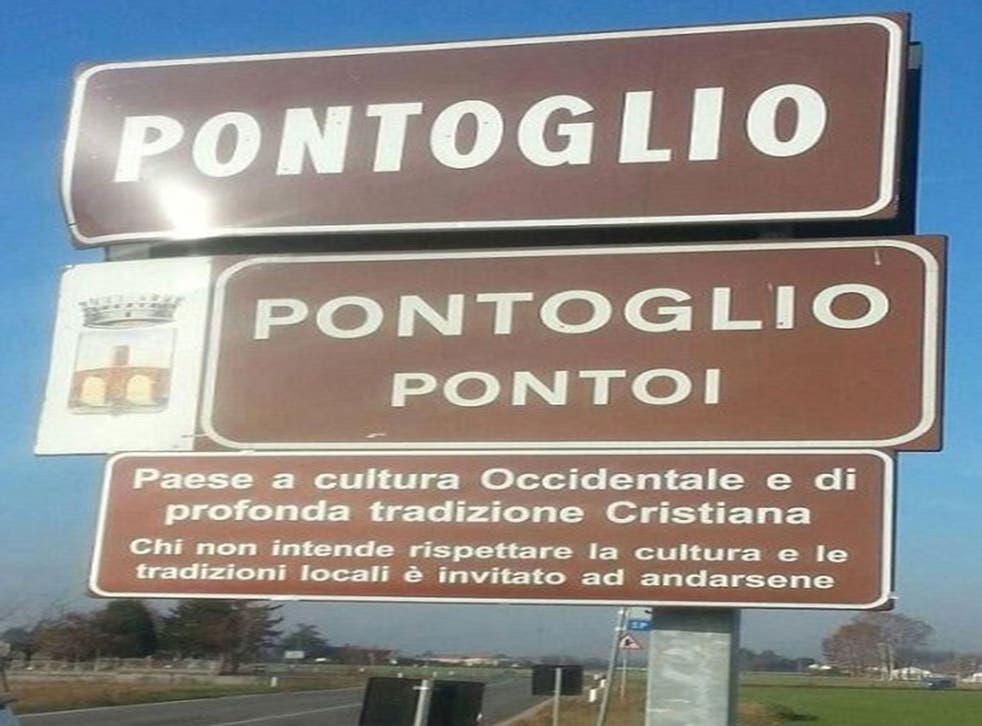 A sign informing visitors that they must abide by Christian traditions or leave has been erected at the entrance to a town in northern Italy.
The sign went up this week on the approach into Pontoglio, in Lombardy, stating that the town is one of "western culture and profound Christian traditions", The Local news site reports.
It goes on to say that anyone who is caught not respecting this would have to leave.
Pontoglio's mayor, Alessandro Seghezzi Giuseppe – who leads a centre-right coalition – was given permission for the sign by the local council, according to the news site.
He explained in a letter that the move was intended to preserve the area's value and culture and keep citizens safe.
"We're living in a transitory period," the mayor said.
"It's our job to ensure that all comply with rules that govern civil life."
The mayor told Italian news site Corriere that the initiative was an "invitation to respect the culture and traditions. As culture that is based on mutual respect: from the woman to music, from the costumes, from customs to traditional rites. Respect for others, is for us, the first real form of civilisation and liberty".
But some have questioned the sign's connotations.
Local councillor Paolo Bocchi said there was "nothing racist about it".
"These are just the interpretations being made... this is purely information about our history, our tradition. I challenge anyone to say that Pontoglio's story is any different," he added.
But the deputy mayor of Brescica, said: "I thought I lived in a secular state. I was also convinced that there was no state religion in Italy."
Although the sign was not directly aimed at Muslims, areas of the north of Italy have been strongly opposed to accommodating refugees from Syria and elsewhere, according to The Local.
Join our new commenting forum
Join thought-provoking conversations, follow other Independent readers and see their replies