Italy's referendum result marks 'phase of instability,' senior German MEP warns
Other commentators have cast doubt on whether the referendum will have dire consequences for Europe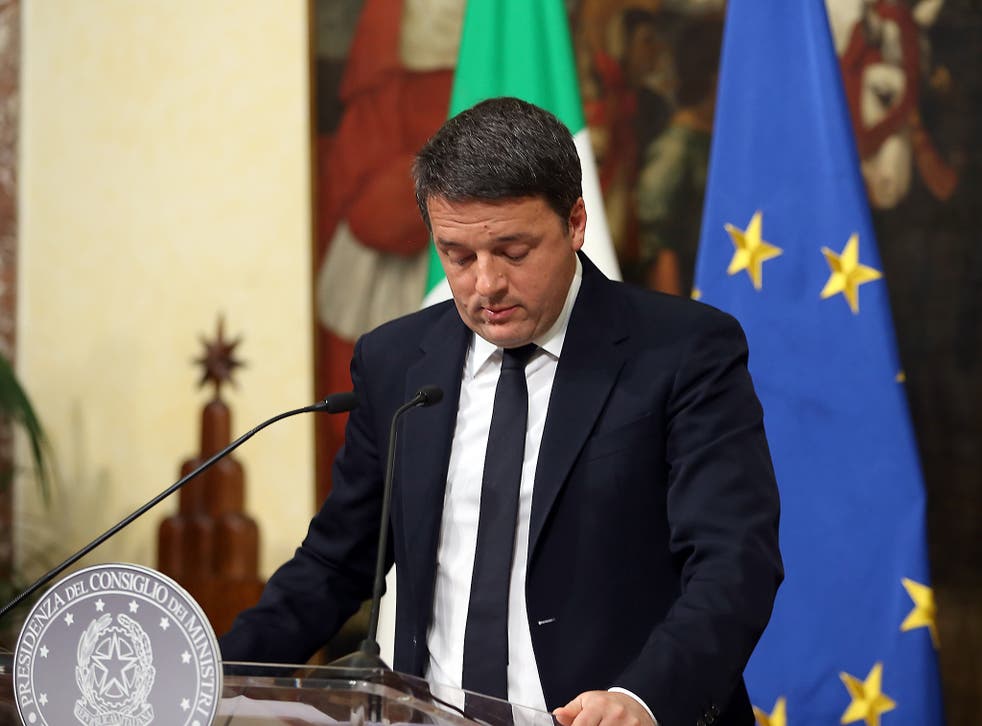 The result of Italy's referendum heralds a period of instability and is a setback for those who want to see reform in Europe, a senior MEP from Germany has said.
"Initially, a phase of instability now lies ahead of us — how will one of the biggest countries in the European Union now stabilise itself?" Manfred Weber, the head of the main conservative group in the European Parliament, told ZDF television.
"It is also a setback for those who want readiness for reform, those who want European countries to change," he added. "That is the only way we can deal with globalisation."
Italy's PM Matteo Renzi quits after losing reforms vote
German's foreign minister also expressed concern about the result, which prompted Prime Minister Matteo Renzi to resign.
Speaking during a visit to Greece, Frank-Walter Steinmeier said that while the result of the Italian referendum on constitutional reform was "not the end of the world," it was also "not a positive development in the case of the general crisis in Europe."
The euro tanked to a 20-month low against the dollar overnight as shares across Europe opened lower after Mr Renzi conceded defeat in a referendum over his plan to reform the constitution and said he would resign.
At one stage the euro hit $1.0505, its lowest level against the US currency since March 2015.
However, the picture changed dramatically with the single currency climbing to $1.075 – its highest level for two weeks.
Despite concern about the result, other commentators cast doubt on whether the referendum will have a knock-on effect in Europe.
Luxembourg's foreign minister, Jean Asselborn, said the vote was an Italian domestic issue and he doesn't see it as a defeat for Europe.
He told German news agency dpa: "Italy voted on a reform. It would be wrong to extrapolate that now to the European level. It was a domestic political argument."
World news in pictures

Show all 50
Germany's finance minister called for a calm response to the outcome said there's no basis to talk of it triggering a "euro crisis."
Wolfgang Schaeuble said Italy needs a government that is capable of acting and he hopes it will continue pursuing reforms despite the referendum result.
Mr Schaeuble added: "I think we should take note of this with a degree of calm. The Italians have decided; we have to respect that. They will make the best of it."
The minister added: "There is no reason to talk of a euro crisis and there is certainly no reason to conjure one up."
Similarly, the European Union's finance commissioner played down the impact of the referendum on the Euro and European unity.
Pierre Moscovici told reporters in Brussels that he has "full confidence in Italian authorities to manage this situation" after Italian voters rejected constitutional reforms and pro-EU Prime Minister Matteo Renzi announced his resignation.
With the euro trading lower on world markets, Mr Moscovici said, "I'm very confident in the capacity of the Eurozone to resist all kind of shocks."
French Finance Minister Michel Sapin insisted that the Italian referendum "is a question of internal politics. The referendum wasn't about Europe."
Both Mr Sapin and Mr Moscovici hailed the victory of a left-leaning, pro-EU Austrian president and defeat of his far right challenger.
Mr Moscovici added: "Populism is not inevitable. The extreme right is not irresistible."
Additional reporting by AP
Register for free to continue reading
Registration is a free and easy way to support our truly independent journalism
By registering, you will also enjoy limited access to Premium articles, exclusive newsletters, commenting, and virtual events with our leading journalists
Already have an account? sign in
Register for free to continue reading
Registration is a free and easy way to support our truly independent journalism
By registering, you will also enjoy limited access to Premium articles, exclusive newsletters, commenting, and virtual events with our leading journalists
Already have an account? sign in
Join our new commenting forum
Join thought-provoking conversations, follow other Independent readers and see their replies