Italy's cultural heritage at risk amid neglect and bad management - with private sponsors brought in to help protect iconic landmarks
France spends 1 per cent of its GDP on culture compared with just 0.2 per cent in Italy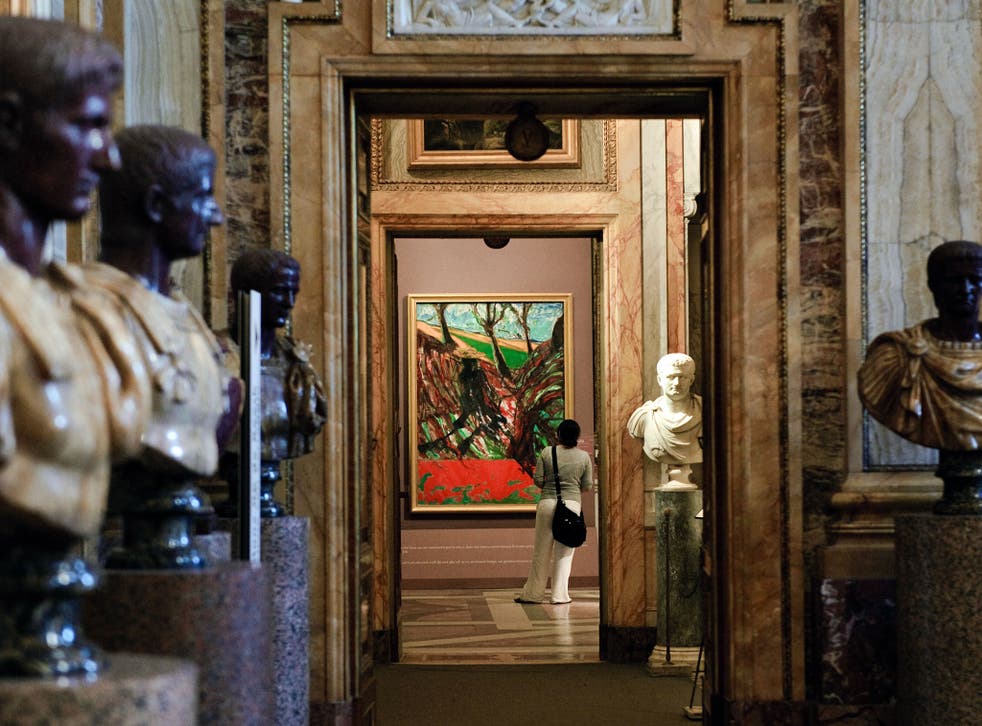 When it emerged that one of the greatest masterpieces of the Italian Renaissance had been left to warp in a Rome museum because calls to repair the air conditioning had gone unheeded, staff at the Galleria Borghese had to resort to emergency measures to save the depiction of Christ being carried down from the Cross.
In September, the museum's director Anna Coliva said other priceless artworks including paintings by Caravaggio, Titian and Rubens, and sculptures by Bernini and Canova, were at risk, including the depiction of Christ which the High Renaissance master Raphael painted on a wooden panel in 1507. As early as May 2014, Ms Coliva warned that the air conditioning system, which was fitted in 1997, was "completely worn out".
Now, however, the same alarm bells are ringing. This time a former director of the gallery, Kristina Herrmann Fiore, says that nothing has changed. The air conditioning is still on the blink and the frames of priceless works of art were warping in the heat and humidity of an exceptionally hot spring – raising questions once again over Italy's ability or willingness to look after its precious cultural heritage.
The apparent carelessness seems perverse given the vital role of art and antiquities in Italy's tourist trade. France, spends 1 per cent of its GDP on culture compared with just 0.2 per cent in Italy. Restoration experts have noted that even economically hamstrung Greece has done a better job of caring for its antiquities.
Various reasons are given for this. They include the fact that precious monuments are two-a penny in Italy – particularly in the south, where you can practically find yourself tripping over them. Another is 20 years of Silvio Berlusconi in power. It is claimed he dumbed down Italy and diverted state funds to television rather than art and opera.
The government of centre-left Prime Minister Matteo Renzi is certainly not relying on the cheque book to put things right. Instead, his Culture Minister Dario Franceschini is involved in a giant fund-raising campaign, in which he hopes to attract private donations from companies and wealthy individuals. He prefers not to use the term "sponsorship".
Some of the signs are good. Tod's leather goods had already stumped up €30m to clean and restore what is probably Italy's most famous site of all, the Colosseum. The restoration hasn't come a minute too soon; the Italian state had left the celebrated structure to turn black from pollution, and chunks of masonry had started to fall off. As part of the same trend, Roman fashion house Fendi is paying €2m to spruce up the Trevi fountain and Diesel is donating €5m to repair Venice's Rialto bridge. The German lighting company Osram has fitted a sophisticated LED system that illuminates Michelangelo's work in the Sistine Chapel while protecting it from harmful UV rays.
But as events at the Galleria Borghese show, there are so many artworks and monuments to protect that simply relying on private sponsors will not be enough. While critics of government policy continue calls for more state funding, nearly everyone agrees that without better management, new money will wasted. Mr Franceschini has set out to hire international managerial talent for Italy's leading 20 museums, including the Galleria Borghese and Florence's Uffizi. Serious cash is now flowing into Italy's most spectacular museum, Pompeii.
Two months ago Mr Franceschini hailed the reopening of the site's House of the Mysteries, which was by Italian standards, a mere 30 days late. From today "Pompeii and Italy are turning the page," he declared.
Doubts remain, though. Having finally got its hands on the sort of money it needs for restoration, Pompeii is in a race against time to spend it. The EU's €75m has to be used by the end of this year; if not, Brussels wants it back. Unfortunately around €30m of the funding has yet to be assigned, according to Il Giornale Dell'Arte.
Join our new commenting forum
Join thought-provoking conversations, follow other Independent readers and see their replies