Italy's far right deputy PM Salvini under investigation for 'kidnapping' after refusing to let rescued refugees off boat
'If he wants to interrogate me or even arrest me because I defend the borders and security of my country, I'm proud ... Being investigated for defending the rights of Italians is a disgrace'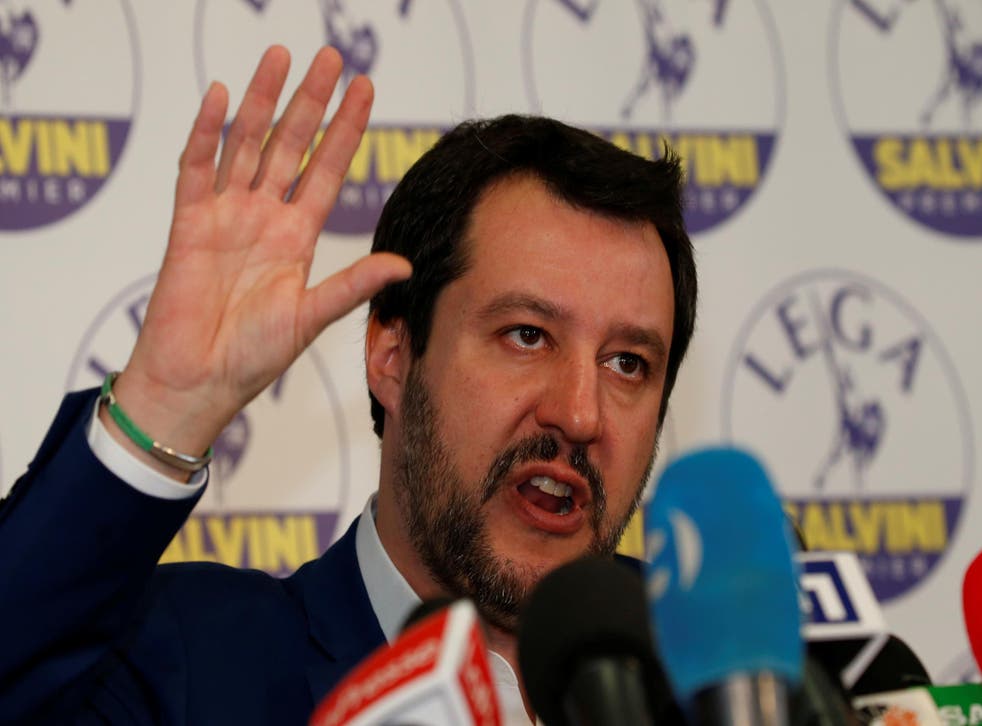 A Sicilian prosecutor has launched in investigation into far right Italian interior minister Matteo Salvini for alleged abuse of office, kidnapping and illegal arrest, after the deputy prime minister forced a ship carrying 150 rescued refugees to stay in port for five days – in what constitutes an apparent human rights abuse – until relenting and allowing them to disembark on Sunday.
The decision to let people off the vessel concluded a bitter stand off between Rome's anti establishment government and its European Union partners, after Italy initially insisted other European nations agree to take the majority of the migrants, who are mainly from Eritrea.
Albania said it would take in 20 of the migrants – who had been rescued in the Mediterranean on August 15 – and Ireland said it would receive up to 25; with the rest to be hosted by the Italian church, to "put an end to this dramatic situation and sufferance", a spokesman for the Episcopal Conference of Italy said.
Mr Salvini – who has led a populist crackdown against immigration since the coalition government took office in June – was unrepentant on Saturday night, saying: "If he wants to interrogate me or even arrest me because I defend the borders and security of my country, I'm proud."
"Being investigated for defending the rights of Italians is a disgrace," he said, tweeting a Sicilian prosecutor had asked him for personal data.
It had appeared Italy was in violation of the European convention on human rights during the impasse, with the international rules stipulating any asylum seeker detained for more than 48 hours should be released and given the opportunity to apply for refugee status.
This prompted state prosecutors to question high ranking interior ministry officials as part of a criminal investigation, since the refugees were being held against their will, while magistrates travelled to Rome on Friday to question Mr Salvini.
At that time, the investigation was said to be against "unknown persons", but Mr Salvini said he was responsible for his ministry's actions and challenged the prosecutor to arrest him. That is a separate investigation to the one now being pursued by Sicilian prosecutors.
Some 43 of the 190 migrants rescued were earlier allowed to leave the ship since they were unaccompanied minors and those in need of urgent medical care, reportedly including three people with tuberculosis symptoms and two with possible pneumonia.
The Diciotti crisis – in reference to the name of the rescue vessel – began on August 15, when 190 people mainly fleeing unspeakably harsh conditions in Eritrea – where military service is compulsory and poverty is rife – were rescued from an overcrowded boat off the Italian island of Lampedusa.
Around 200 protesters gathered at the port on Saturday, some of whom waved left wing flags, calling for the refugees to be allowed off, with skirmishes with police reported to have followed.
The remaining 137 migrants disembarked in the early hours of Sunday and were set to be taken to a reception centre in the Sicilian city of Messina, from where they will go to the church dioceses, as well as Ireland and Albania.
The only help from within the EU came late on Saturday from Ireland, whose offer to take in 20-25 migrants followed a pledge from non EU Albania to accommodate 20.
Italy's Foreign Ministry called Albania's offer "a signal of great solidarity and friendship that Italy greatly appreciates".
World news in pictures

Show all 50
The United Nations had called for reason from all sides on Saturday, after a meeting of envoys from 10 EU states in Brussels a day earlier failed to break the deadlock.
"Frightened people who may be in need of international protection should not be caught in the maelstrom of politics," the UN refugee agency UNHCR said in a statement.
The agency appealed to EU member states to "urgently" offer relocation places to the rescued people – in line with an agreement reached at an EU summit in June – and in the meantime, urged Italy to allow "the immediate disembarkation of those on board".
Rome had refused to back down, despite criticism from rights groups and the opposition, with Mr Salvini saying he considered the attacks he received a "badge of honour".
More than 650,000 people have reached Italian shores since 2014, and even though the numbers have fallen steeply in the last year, Rome says it will not let any more rescue ships dock unless the migrants are shared out around the EU, and threatened to suspend the country's financial contribution to the EU if its demands were not met.
"The next ship can turn around and go back where it came from, because our limit has been reached," Mr Salvini said.
The EU described the threats as unhelpful.
Join our new commenting forum
Join thought-provoking conversations, follow other Independent readers and see their replies