'Hurry up, I'm dying': Final words of gored matador Ivan Fandino revealed
Ivan Fandiño died in hospital after the bull's horn pierced his lungs and other organs
Caroline Mortimer
,
Jon Sharman
Tuesday 20 June 2017 11:34 Comments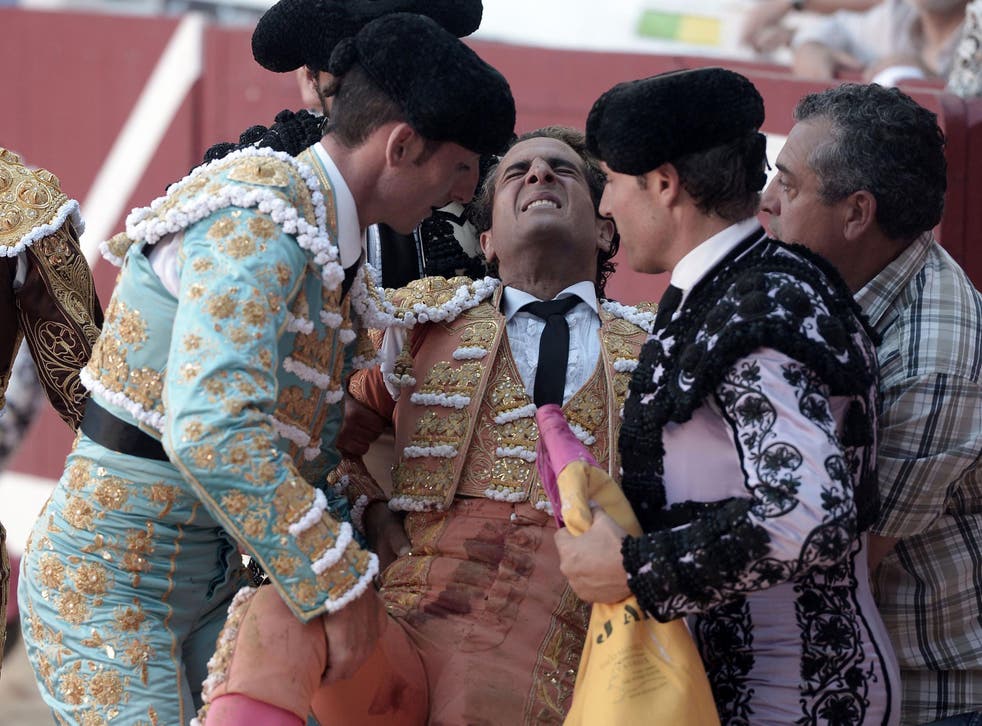 The final words of matador Ivan Fandiño as he was rushed to hospital after being gored in the ring were reportedly: "Hurry up, I'm dying."
The 36-year-old veteran was impaled by a half-tonne bull after tripping on his cape during a corrida in south-west France on Saturday.
Juan del Alamo, the matador who later killed the bull, said: "I can't believe it. None of us understand how it could have happened; it was all so fast. The bull knocked him down with its hindquarters and he fell face down."
Mr Fandiño, a matador for 12 years, was originally from the Basque country. He died after the bull's horn pierced a number of vital organs in his torso, including his lungs.
French media said he suffered a heart attack on the way to hospital.
He had been injured in the ring twice before, most recently in 2015 and is believed to be the first bullfighter to die in the ring in France since 1921, The Times reported.
It is thought around 1,000 bulls die every year in French fighting rings.
The Spanish royal family and prime minister, Mariano Rajoy, honoured Mr Fandiño.
King Felipe, who not known as a supporter of the sport, tweeted his tribute to a "great bullfighter figure".
Although bullfighting is traditionally associated with areas of northern Spain such as the Basque country and Catalonia, it is also popular in the Basque speaking areas of south-west France.
Mr Fandiño's death comes almost a year after the death of Spanish matador, Victor Barrio, who was gored on live television in Teruel, eastern Spain.
Many have condemned the sport for its cruelty and in 2010 the Catalan regional government in Barcelona voted for a ban in 2010.
The ban was struck down by the Spanish constitutional court last year as they said Catalonia had exceeded their authority in preceding over cultural heritage.
Register for free to continue reading
Registration is a free and easy way to support our truly independent journalism
By registering, you will also enjoy limited access to Premium articles, exclusive newsletters, commenting, and virtual events with our leading journalists
Already have an account? sign in
Join our new commenting forum
Join thought-provoking conversations, follow other Independent readers and see their replies