Jan Kuciak murder: Four charged over killing of journalist in case that forced Slovakian PM to resign
Reporter had been investigating alleged government corruption linked to Italian mafia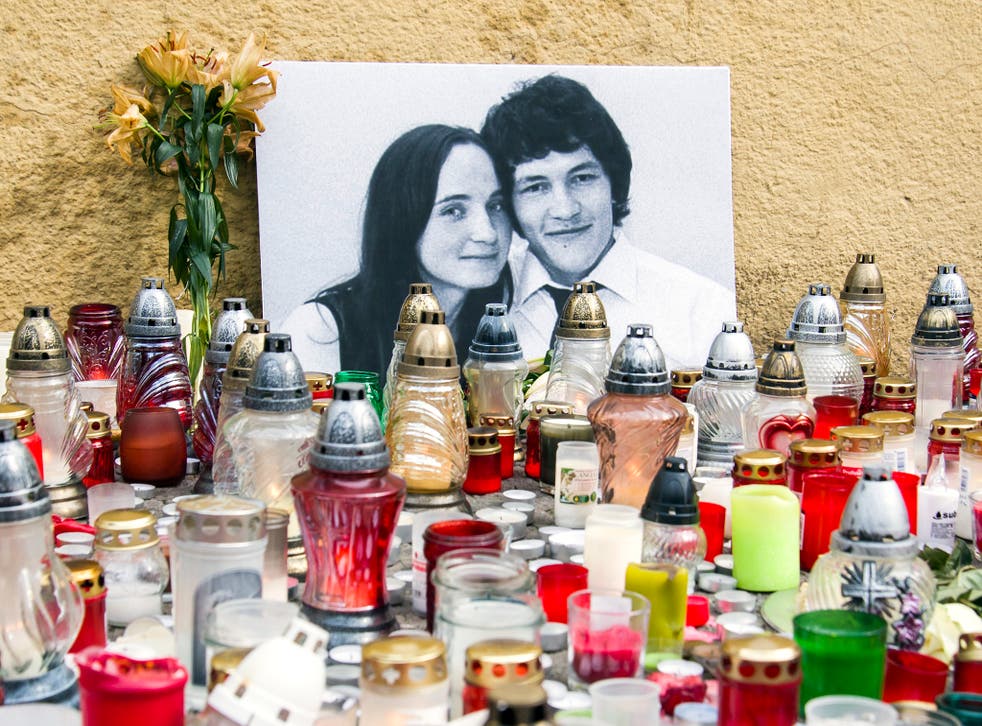 Four suspects have been charged in connection with the murder of an investigative journalist and his fiancee, in a case that triggered the Slovakian prime minister's resignation and drove tens of thousands into the streets to protest.
Jan Kuciak had been investigating alleged high-level corruption linked to the Italian mafia when before he was shot dead at his home near Bratislava along with his partner Martina Kusnirova in February 2018.
Slovakia's premier Robert Fico and his deputy Robert Kalinak were forced to resign in the wake of the killings, after an estimated 70,000 people protested against the perceived corruption in more than 50 towns and cities across the country.
The suspects have been charged with six offences including premeditated murder, state prosecutors said on Monday.
Prosecutors believe the murder was a contract killing ordered by Marian Kocner, a politically connected entrepreneur who was a key subject of Mr Kuciak's reporting on corruption and cronyism in the central European country. He was charged in March and has pleaded not guilty.
World news in pictures

Show all 50
Two other suspects, who were arrested in September, also deny wrongdoing.
The fourth, an ex-soldier, has confessed to shooting Mr Kuciak. A fifth man admitted to facilitating the 27-year-old's murder and will enter into plea deal to testify in the trial of the other four.
Shortly after his death, Mr Kuciak's final, unfinished article was published by his employer, the news website Aktuality.sk. It mapped links between the Italian 'Ndrangheta crime group and high-ranking Slovakian government officials.
Mr Fico denied the late journalist's allegations that a senior adviser, Maria Troskova, had links to Italian organised crime. He posed with bundles of cash worth €1m (£860,000) which he offered as a reward for information about the murder.
But the left-leaning premier and his cabinet were forced to resign in the face of the largest political demonstrations since the end of communist rule three decades previously.
His three-party coalition has survived, led by Mr Fico's hand-picked successor, Peter Pellegrini.
But public anger has flared once more after new details from the investigation into Mr Kuciak's killing indicated Mr Kocner held some sway over state bodies.
The suspects face life in prison if convicted.
Additional reporting by Reuters
Register for free to continue reading
Registration is a free and easy way to support our truly independent journalism
By registering, you will also enjoy limited access to Premium articles, exclusive newsletters, commenting, and virtual events with our leading journalists
Already have an account? sign in
Register for free to continue reading
Registration is a free and easy way to support our truly independent journalism
By registering, you will also enjoy limited access to Premium articles, exclusive newsletters, commenting, and virtual events with our leading journalists
Already have an account? sign in
Join our new commenting forum
Join thought-provoking conversations, follow other Independent readers and see their replies