Slovak Prime Minister denies link to mafia as he offers €1m to find investigative journalist's killer
'A murder of an investigative journalist is inadmissible in every society. Let us show that we care about Slovakia and that we do not want to be the citizens of a country ruled by fear'
Jane Dalton
Wednesday 28 February 2018 18:33 Comments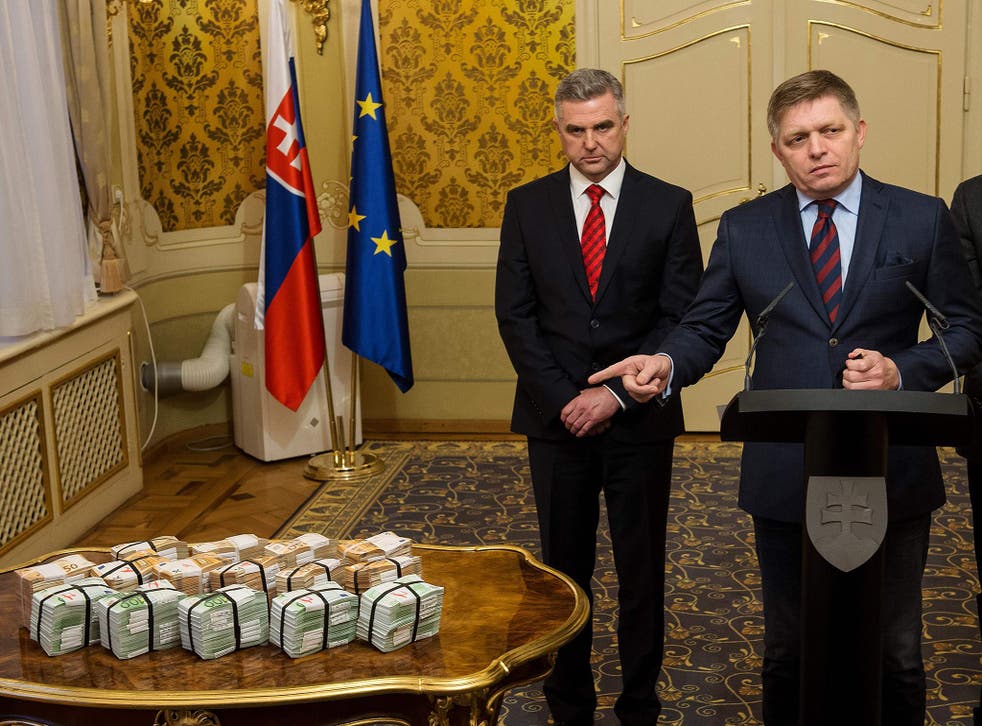 Slovakia's Prime Minister has denied one of his senior advisers has links to the Italian mafia – a key claim in a corruption investigation by a journalist who was murdered last week.
"You are connecting innocent people with double murder. That is over the line," said PM Robert Fico, who later posed next to a pile of €1m in cash he is offering in return for information leading to the culprit.
Jan Kuciak, 27, and his fiancée, Martina Kusnirova, were found shot dead at home on Sunday. He is believed to be the first journalist killed for his work in Slovakia.
The website for which he was working, Aktuality.sk, today published his last, unfinished story, describing the activities of members of the Italian 'Ndrangheta criminal group in eastern Slovakia.
The article sets out Mr Kuciak's findings on the 'Ndrangheta's dealings in Slovakia and the alleged business ties of one member with a senior government assistant, Maria Troskova.
Of Italians who have mafia links and second homes in Slovakia, Mr Kuciak wrote: "They started doing business here, receiving subsidies… but especially building relationships with influential people in politics – up to the Office of the Government of the Slovak Republic.
"At home in Italy, there were so many problems with the law."
He also gave examples of cases involving suspected extortion, money-laundering and tax fraud. "Money-laundering is the core business of 'Ndrangheta business abroad as well. The goal is to clean money and do business in a way that looks legitimate," he wrote.
But Mr Fico warned: "You link innocent people to a double murder without any evidence. Don't do it."
Mr Kuciak, who had worked for Aktuality.sk for three years, and his girlfriend were found dead in their house in Velka Maca, east of the capital Bratislava. The couple had been planning to get married in May, according to fellow Slovak journalist Filip Struharik.
In his story Mr Kuciak detailed the Italian mafia man's alleged business ties to Ms Troskova, chief state adviser at the government office, and Viliam Jasan, the secretary of Slovakia's security council.
Police chief Tibor Gaspar said the killings were likely to have been linked to Mr Kuciak's reporting. "It seems that the most likely version is a motive connected to the investigative work of the journalist," he told a televised news conference.
Mr Gaspar said authorities had questioned 20 people since Monday, and had contacted the Czech Republic and Italy about the investigation. Europol have offered their specialist assistance with the investigation.
He said the police were also investigating 'Ndrangheta and the Italian citizen at the centre of the report.
Political opponents of Mr Fico called on Mr Gaspar and Interior Minister Robert Kalinak to resign, and were planning a protest rally in Bratislava.
Friends and supporters of press freedom are planning demonstrations and candle-lit vigils in 11 cities on Friday, mostly in Slovakia but also outside the Slovak embassy in London – where more than 100 people hope to attend – and in Aberdeen.
One supporter helping organise the events posted on Facebook: "It was a tragic death of two young people who had their whole lives ahead, who liked Slovakia and worked boldly to make it better. This effort was the only 'mistake' of Ján Kuciak, that cost the lives of both of them.
"A murder of an investigative journalist is inadmissible in every society. Let us show that we care about Slovakia and that we do not want to be the citizens of a country ruled by fear."
Other supporters wrote: "The killing of Jan Kuciak is widely seen as an attack on the freedom of speech in Slovakia and attack on journalism.
"By this symbolic event, we would like to express our condolences to the family of both Jan and Martina and express our concerns about the state of the affairs in our home country of Slovakia."
Fellow journalists and media chiefs vowed to stand firm against attempts to silence them and to continue investigative work.
The editors-in-chief of major Slovak newspapers and news broadcasts said in a joint statement: "The murder of a journalist is a serious sign that the crime is turning against one of the most important pillars of freedom: the freedom of speech and the right of the public to control the powerful and those violating the law."
Ringier Axel Springer, the publisher for which Kuciak worked, said in a statement: "We are shocked and terrified by news that Jan Kuciak and his fiancée were probably victims of a vicious execution. If this crime was an attempt to discourage an independent publisher such as Ringier Axel Springer not to pursue revelations about breaking the law, we will use this occasion for further strengthening of our journalistic responsibility."
At least two Slovak newspapers printed all-black front pages with stark white headlines in response to the murders.
After Mr Fico offered the reward for information in a live broadcast with the money on show, Mr Struharik tweeted: "How is it even possible for PM to take €1m from the state treasury in CASH and put it on the table during a press conference? What law allowed him to do this with taxpayers' money?"
World news in pictures

Show all 50
Mr Kuciak's last story for Aktuality.sk, on 9 February, looked at transactions by firms linked to businessman Marian Kocner and connected to a Bratislava luxury apartment complex that was at the centre of a political scandal last year. Mr Kocner denied any connection to the case.
Robert Mahoney, of the New York-based Committee to Protect Journalists (CPJ), said: "Slovak authorities must swiftly deliver justice for Jan Kuciak, which will only occur when all parties involved in his murder are prosecuted to the full extent of the law.
"This killing is a grim reminder that when journalists are threatened because of their work, the threats must be taken seriously."
According to CPJ research, at least 251 journalists worldwide who covered corruption have been murdered in reprisal for their work since 1992.
Aktuality.sk said Mr Kuciak was working with the Czech Centre for Investigative Journalism, the Investigative Reporting Project Italy and the international Organised Crime and Corruption Reporting Project.
The Czech centre said it had been working with him for more than 18 months.
Register for free to continue reading
Registration is a free and easy way to support our truly independent journalism
By registering, you will also enjoy limited access to Premium articles, exclusive newsletters, commenting, and virtual events with our leading journalists
Already have an account? sign in
Join our new commenting forum
Join thought-provoking conversations, follow other Independent readers and see their replies