Judge thrown off Yugoslavia war crimes tribunal for criticising 'change of direction' in verdicts
Danish judge Frederik Harhoff suggested in an email that Israel and the US were behind a series of acquittals of senior Croat and Serb defendants. The email was leaked to the media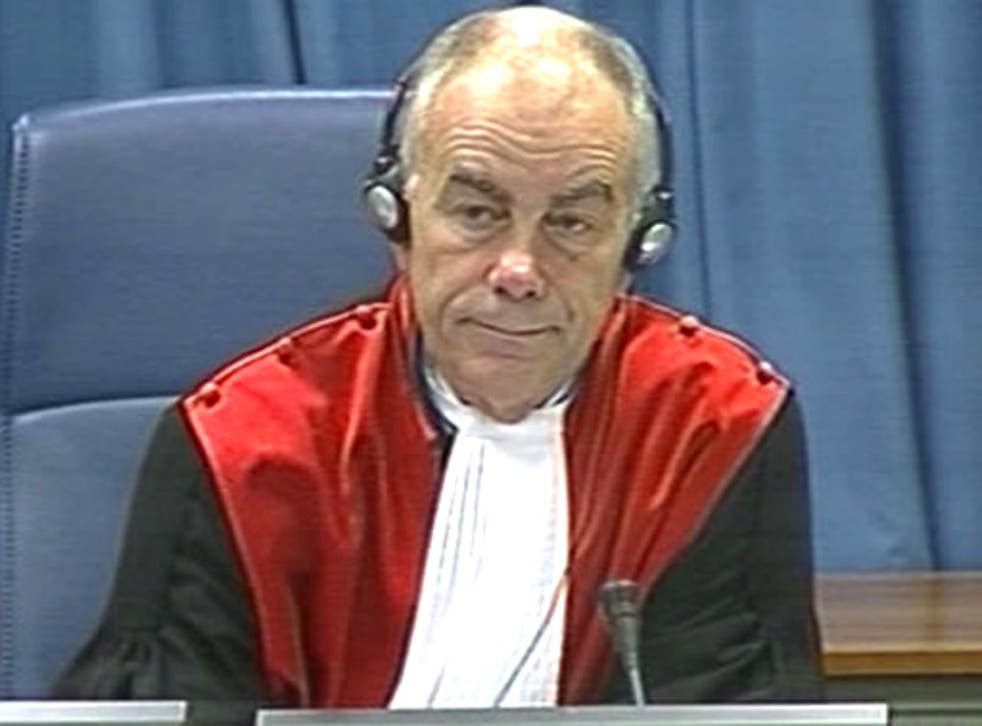 For the first time since its creation 20 years ago, the International Criminal Tribunal for the former Yugoslavia (ICTY) has disqualified one of its judges after he condemned a "change of direction" in the tribunal's verdicts, and suggested Israel and the United States were behind it.
Last June, Danish judge Frederik Harhoff wrote what he described as a private email to 56 of his colleagues in which he harshly criticised a series of acquittals of senior Croat and Serb defendants and accused the tribunal's president Theodor Meron – an American and former Israeli diplomat – of exerting "tenacious pressure on his colleagues" in these cases. The email was quickly leaked to the media.
He argued the acquittals went against the ICTY's set practice of holding military commanders responsible for war crimes committed by their subordinates.
"Now apparently the commanders must have had a direct intention to commit crimes – and not just knowledge or suspicion that the crimes were or would be committed," he wrote, before adding "Well, that begs the question of how this military logic pressures the international criminal justice system? Have any American or Israeli officials ever exerted pressure on the American presiding judge" to "ensure this change of direction?"
The court's decision to remove Judge Harhoff came after a complaint by Serbian far-right leader Vojislav Seselj following the release of the email. The court found that Judge Harhoff had "demonstrated an unacceptable appearance of bias in favour of conviction." Judge Harhoff, who has contested the ruling, is not sitting on the bench of any other cases at the ICTY. Mr Seselj has been on trial for 10 years and the verdict in his case had been expected on 30 October. Following Judge Harfoff's removal though, the court decided last week to postpone it to an unspecified date.
Kevin Jon Heller, an associate professor in international criminal law at Melbourne Law School, said the court's decision to remove Judge Harhoff was to be expected, and "absolutely the right decision."
"How can you accuse the president of a tribunal of being a puppet of the Israeli and the US governments without offering any kind of evidence," he said, calling the email "fundamentally unethical" and the accusations "appalling, widely speculative and implausible."
Mr Heller said that Judge Harhoff's complaint and subsequent removal was "probably the worst scandal" of the tribunal's history, even more so than A US diplomatic cable from 2003, which was published by WikiLeaks, in which a US ambassador described Judge Meron as "the tribunal's pre-eminent supporter of United States government efforts."
To Richard Dicker, Human Rights Watch's International Justice Programme Director, "part of the challenge international courts face is that they're mandated to deliver justice fairly and impartially on a highly politicised landscape, where state actors have a lot of interests at stake." He said it was then "imperative" for these officials to "remain immune from whatever influence that may be exerted by state actors."
While Mr Dicker preferred not to speculate over Judge Harhoff's accusations, he admitted the email raised a legitimate question, especially concerning the acquittal last February of former Yugoslav army chief General Momcilo Perisic, which he called a "step in the wrong direction."
"It creates a very dangerous and undermining precedent" of "immunising senior officials" when it comes to aiding and abetting liability, that he said had already been applied with the following acquittals of former Chief of the Serbian State Security Service Jovica Stanisic and his deputy Franko Simatovic.
In May, the ICTY found that their assistance to special units that "murdered, persecuted, deported and forcibly transferred non-Serb civilians" from Bosnia and Herzegovina and Croatia between 1991 and 1995, was not "specifically directed" towards the commission of crimes.
What these series of decisions put in place, said Mr Dicker, is a "very high standard" for conviction on aiding and abetting, which requires a senior accused to have "specifically known" that a crime would have been committed," and "practically rules out conviction of senior accused not present." Leaders are generally not at the front lines, and are "smart enough not to put their criminal instructions into writing," he added.
This could potentially have consequences if, for example, an international court ever looks into crimes committed in Syria, where aiding and abetting liability would likely be needed to link senior officials to the crimes committed by the Shabiha militias, loyal to Syrian President Bashar Al-Assad.
While Mr Dicker insisted other international courts are not bound by the ICTY's decisions, he hoped their judges wouldn't be influenced by these "regressive" rulings, and that the ICTY wouldn't continue in this direction.
"There will be other cases involving aiding and abetting coming to the Appeals Chamber at the ICTY, and one hopes that the judges there will get it right," he concluded.
Join our new commenting forum
Join thought-provoking conversations, follow other Independent readers and see their replies