Just what Greece didn't need: BNP leader Nick Griffin seeks Golden Dawn alliance
Athens plays centre stage to a worrying political development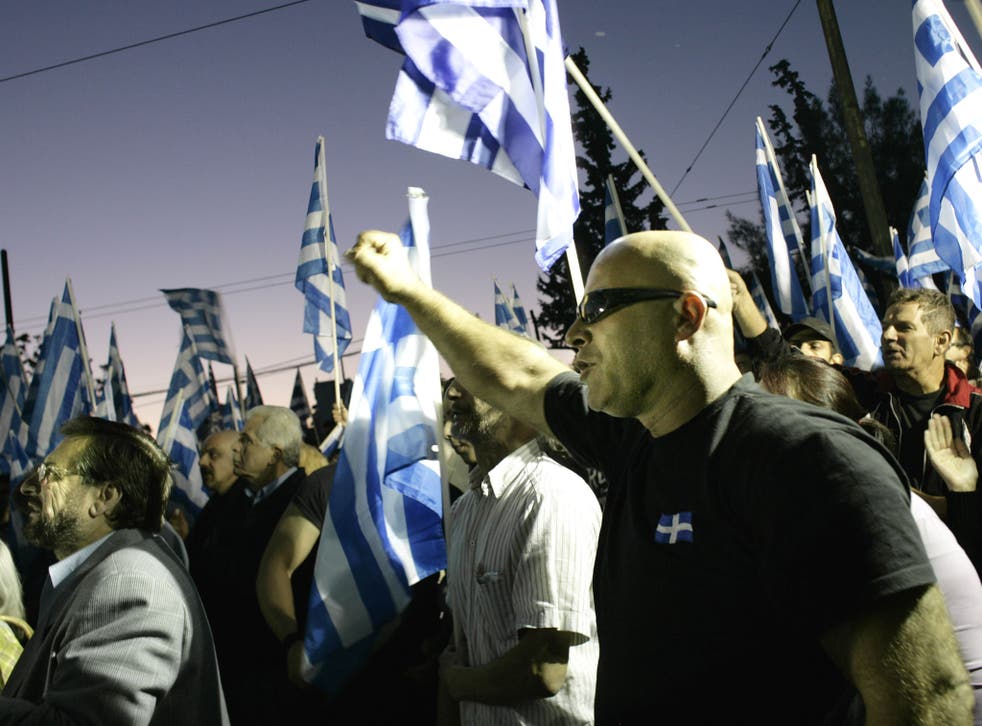 The people of Greece have endured years of soaring unemployment, huge public spending cuts and all the other problems associated with one of world's most serious recessions, but arguably the situation was made infinitely worse on Friday when Nick Griffin, the leader of the British National Party, turned up in Athens with a promise of a far-right coalition in Europe.
Mr Griffin had been invited to Greece by Golden Dawn - which many regard as neo-Nazi. He said he planned to forge an alliance of as many as five far-right parties after May's European parliamentary elections, in which they are expected to do well.
As well as Golden Dawn, whose leader is in prison awaiting trial on charges associated with the fatal stabbing of an anti-racism activist, Mr Griffin highlighted Hungary's Jobbik as another party he could do business with. Jobbik has long been accused of being a racist party.
Mr Griffin said the parties should agree on a range of policies such as immigration from Third World countries and the break-up of the European Union.
"There are a common core set of values: opposition to mass immigration from the Third World, defence of Christian traditional values, the eventual breakup of the European Union, as quickly as possible, and opposition to globalism," he told The Independent. "To an extent I am [taking the lead] but Jobbik is very seriously involved as well. Jobbik tends to work with people in Central and Eastern Europe whereas I tend to do Western and Southern Europe - it's a joint effort.
"Effectively now, we are all tied up or getting tied up with our own election campaigns, on local things. So this will be in July - the elections are in May. There will then be short informal talks, discussions after that. But all the new MEPs will come together at the very start of July in Strasbourg, so that's when it will all really begin. The relationship [with Golden Dawn] is still very much in its infancy. From what I've seen of them they are very similar to the other nationalists in Europe."
Mr Griffin, who dismissed Golden Dawn's portrayal as a neo-Nazi party as a "ridiculous smear", was invited to Athens to show support for the party as it announced plans to appeal to the European Court of Human Rights over the "political conspiracy" against it.
In October, six Golden Dawn MPs, including the group's leader, Nikos Mihaloliakos, were arrested after the fatal stabbing of anti-racist musician, Pavlos Fyssas, a month earlier. Mr Mihaloliakos was remanded in custody on charges of organising a criminal group.
A man held on suspicion of the stabbing reportedly told police he was a Golden Dawn supporter. The party, and Mr Mihaloliakos, have strongly denied any link to the attack.
Attacking the Greek government, which has imposed harsh austerity measures to bring public finances under control, Mr Griffin said the authorities had staged a "multi-level assault" against Greek people's right to "choose or reject" a radical right-wing party.
After parliament voted recently to cut state funding for the party, Golden Dawn rejected all accusations against it as a plan to "annihilate" it because of its popularity.
Greece's Prime Minister, Antonis Samaras, said earlier yesterday: "We do not use unnecessary, extraordinary weapons to fight this extremist group. They are in prison according to today's laws. To fight your enemy you must not be like your enemy … everything is dependent on the judicial side."
Polls suggest that Golden Dawn would become the third-largest party in parliament if elections were to be held now.
But despite losing the backing of three parties and seeing his support in the 300-seat parliament shrink to 153, Mr Samaras insisted that there would be no new elections in Greece until at least 2015.
He conceded that some people "will continue to react on this extreme austerity programme that we went through" by turning to parties like Golden Dawn, but said that finishing the economic reforms and returning the country to growth were the best solutions.
"I think that the moment you have unemployment falling the potential for those parties to capitalise on the Greek weakness will no longer be there," he said.
Youth unemployment is pushing 60 per cent, and despite signs of recovery, it has yet to translate into jobs and prosperity for ordinary people. Figures released on Thursday show the jobless rate rose slightly to a record 27.8 per cent in October from 27.7 per cent the previous month while industrial output contracted in November for a fifth consecutive month, by 6.1 per cent.
Ministers, however, are confident Greece will exit its recession by the end of the year, and are now seeking agreement with their creditors on debt relief measures, specifically a lower interest rate or an extended schedule to repay their loans.
Mr Samaras's New Democracy Party is also facing a threat from the left, with the opposition Syriza party now showing a narrow lead in the polls.
Join our new commenting forum
Join thought-provoking conversations, follow other Independent readers and see their replies