Kiss and yell: Italian protester charged with sexual assault after kissing riot police officer
The photograph of Nina De Chiffre subsequently went viral on social media and was hailed as a symbol of peaceful protest in the country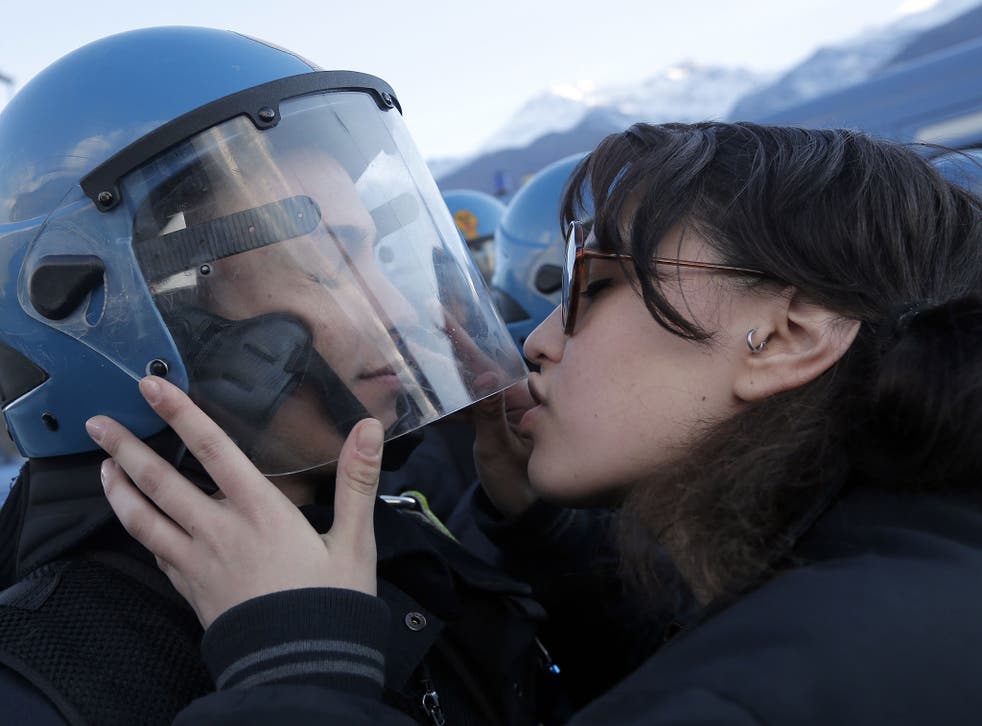 An Italian student protester has been charged with sexual assault after she was pictured kissing a riot police officer's helmet during a demonstration last month.
The 20-year-old student was photographed kissing officer Salvatore Piccione during a protest against a planned rail link in Northern Italy.
Construction of the high-speed line is expected to reduce journey time from Milan to Paris from seven to four hours
The photograph of Nina De Chiffre subsequently went viral on social media and was hailed as a symbol of peaceful protest in the country.
However, COISP, a union representing Italian police officers, later revealed that they had lodged a complaint with Turin prosecutors.
Franco Maccari, the union's general secretary told La Repubblica: "We have accused the protester of sexual violence and insulting a public official.
"If the policeman had kissed her, World War III would have broken out," he said. "Or what if I had patted her on the behind? She would have been outraged. So if she does that to a man on duty, should it be tolerated?", he added.
"A kiss is a positive thing," he said. "But in this context, between these two people, it was just disrespect."
It later emerged that Nina De Chiffre had not only kissed the officer but had also licked her fingers and touched his mouth.
According to reports the protester has since been charged with "sexual violence" and causing "offence to a public official".
Speaking to TheLocal, riot officer Salvatore Piccione said: " When I'm wearing my uniform I represent the police institution, and I have an obligation not to react to provocation."
"The important thing is that, in the end, the demonstration went ahead without disturbance."
Register for free to continue reading
Registration is a free and easy way to support our truly independent journalism
By registering, you will also enjoy limited access to Premium articles, exclusive newsletters, commenting, and virtual events with our leading journalists
Already have an account? sign in
Register for free to continue reading
Registration is a free and easy way to support our truly independent journalism
By registering, you will also enjoy limited access to Premium articles, exclusive newsletters, commenting, and virtual events with our leading journalists
Already have an account? sign in
Join our new commenting forum
Join thought-provoking conversations, follow other Independent readers and see their replies