La Samaritaine: Court ruling on derelict Parisian Art Nouveau landmark could change the city's profile
Disused former department store gets go-ahead to be transformed into luxury hotel and supermarket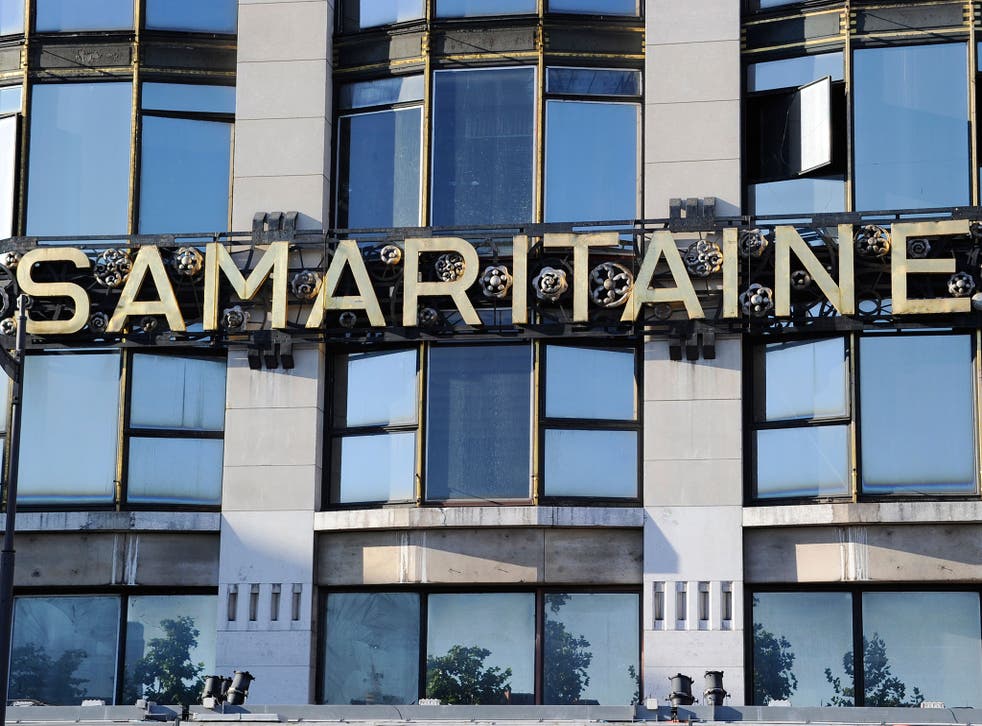 Paris's answer to Grace Brothers, a sprawling department store that has stood derelict for 10 years, is finally to be reborn as a riverfront hotel and a luxury supermarket for tourists.
After endless legal wrangles. France's highest administrative court has decided that part of the spectacular site near the Pont Neuf could be reconstructed in an adventurous, modern style.
The original La Samaritaine building, an icon of Art Nouveau architecture, will be preserved and turned into an upmarket hotel with a rooftop restaurant. An adjoining building, a later addition and already partly demolished, will be reconstructed as a luxury brand "supermarket" with a wavy glass front that has already been nicknamed by its critics "the shower curtain".
La Samaritaine was once the most popular and eccentric shop in Paris – a place where you could buy everything from a piranha fish to a concrete mixer. Its fate has become emblematic of an architectural guerrilla war in Paris between traditionalists, who want the classic 19th century line of the city to be preserved, and modernists who believe that a great capital city must have some interesting, modern buildings.


The battle was concluded by the Conseil d'Etat, the court which has the final word on the legality of French central and local government decisions. The Paris appeal court decided in January that the "shower curtain" street frontage, designed by two Japanese architects, broke rules established by the Paris city council for what is acceptably "Parisian".
Now the Conseil d'Etat ruled though that the appeal court was wrong and that modern architecture, within limits, was acceptable.
As a result, the €460m (£328m) project will resume next month and should be finished within three years, If the decision had gone the other way, the prime site between the Rue de Rivoli and the Seine might have remained a "black hole" indefinitely.
The ruling also opens the way for the construction of other modern buildings in Paris. Critics complained that, under the original restrictive court rulings, buildings such as the Centre Pompidou and even the Eiffel Tower could never have been contemplated.
Samaritaine, founded in 1870, was once a chaotic Gallic version of the Grace Brothers store in the 1970s television series Are You Being Served? Its slogans were: "All of Paris comes to Samaritaine" and "You can find anything at Samaritaine".


It had five adjoining buildings which housed, among other things, the biggest book shop in Paris, a DIY store, a pet shop, a toy shop and a garden centre. If you wanted a budgerigar, a gold watch or a ride-on lawn-mower, Samaritaine was the place to go.
But to find what you were looking for required perseverance and a thick skin. The staff were legendarily rude. Entering the main building was like playing snakes and ladders. Each floor had six or seven levels, negotiated by short ramps or flights of steps.
From the 1970s, suburban malls and specialist shops stole much of Samaritaine's clientele. After years of losses, the store was bought in 2001 by the French luxury-goods giant Louis Vuitton Moet Hennessy (LVMH). It was closed in 2005 for "safety reasons."
Three years later, LVMH announced plans to turn the site into a luxury riverfront hotel – the only one of its kind in Paris – and a shopping centre for its own and other up-market brands. There would also be expensive flats.
After several years of wrangling with trade unions and the Paris city hall, a revised version of the plan – including 96 council flats and a crèche – was approved in 2012.
The facade of the principal Art Nouveau La Samaritaine building, dating to 1905 and declared a historic monument in 1990, was to be preserved. A newer building fronting on the Rue de Rivoli shopping street was to be redeveloped with a wavy glass front.
In 2014, and again in January this year, the design for this building was successfully challenged by a residents' association and a pressure group dedicated to preserving the Frenchness of France.
Building work on the whole site was frozen pending today's decision.
Join our new commenting forum
Join thought-provoking conversations, follow other Independent readers and see their replies