Le Pen feud: Jean-Marie in outspoken attack on daughter Marine over her 'betrayal'
Mr Le Pen says his daughter Marine is 'neither ethically nor politically' qualified to run for the presidency in 2017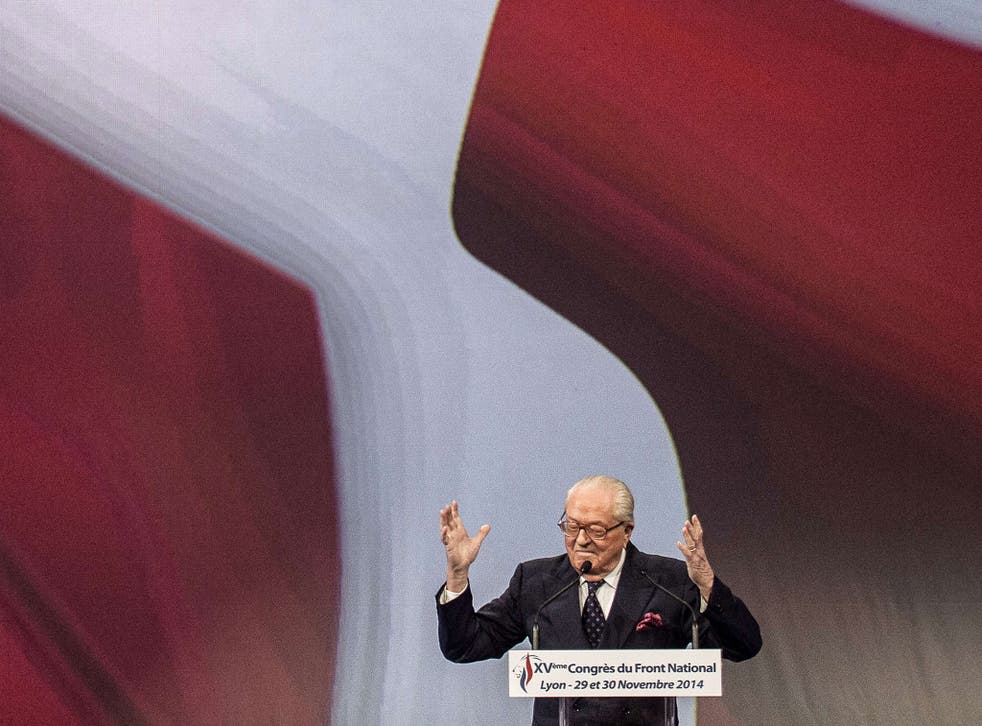 The battle for the dark soul of the French far right intensified this weekend with an extraordinary personal attack by Jean-Marie Le Pen on his daughter, his successor as leader of the Front National.
Mr Le Pen – who faces expulsion from the party that he led for almost four decades – said his daughter Marine was "neither ethically nor politically" qualified to run for the presidency in 2017.
The far-right patriarch, 87, said he would refuse to vote for his daughter in two years' time. He left open the possibility that he might lead a dissident far-right campaign in the south of France in regional elections in December.
Always partial to conspiracy theories, Mr Le Pen suggested that Marine Le Pen's efforts to clean up the FN over the past four years might be the result of a plot concocted by Nicolas Sarkozy, the centre-right former president.
In pictures: Extremists in the EU

Show all 6
"Her new line opens up a space for the hard right and that helps Sarkozy," Mr Le Pen said in an interview with the conservative Sunday newspaper Le Journal du Dimanche. "He is now pushing into that breach. We know what a skilful maneuverer he is."
Mr Le Pen was suspended from the Front National in April after making a series of extremist comments that challenged his daughter's attempts to "de-demonise" the FN and move it away from its racist and anti-Semitic roots.
Amongst other things, Mr Le Pen defended the Vichy regime, which collaborated with the Nazis between 1940 and 1944. He also minimised the Holocaust, suggested that the "white world" faced oblivion and warned that democracy could be "dangerous".
He accused his daughter of "betrayal" because she disowned his renewed statement that the Nazi gas chambers were "just a detail" within the Second World War.
His suspension was overturned last month after a legal challenge. He also successfully opposed through the courts an attempt by Ms Le Pen, 47, to abolish his status as honorary President for life.
In retaliation, she announced last week that she had called her father to a disciplinary meeting of the FN executive bureau on 20 August. It is expected that Mr Le Pen will there be expelled from the party he founded in 1972 and led until 2011.
Mr Le Pen initially protested that it was "scandalous" that he should be ordered to break his August holidays – sacrosanct in France. He now says, however, that he will go along to force Ms Le Pen and the other bureau members to "look me in the eyes".
READ MORE: Analysis: Battle for the soul of FN
Watch: Ukip MEP squares up to Front National founder
Le Pen is 'ashamed' of his daughter
Asked in his interview what separated him from his daughter, Mr Le Pen said "morality and legality".
"She proclaims she wants to be head of state but she deprives herself of the means to achieve her ambition. She is qualified neither ethically nor politically," he added.
"She is sawing off the branch on which she sits with these actions [against me], which even revolt her enemies."
As to whether he would support her campaign for the presidency in 2017, Mr Le Pen said: "If Marine Le Pen follows the same line as she does today and acts in the same way, and if God allows me to live that long, no, I will not support her."
The epic family quarrel has, so far, not diminished Ms Le Pen's poll ratings, which suggest that she will win the first round the of the 2017 presidential election but lose comprehensively in the two-candidate run-off. There are, however, unconfirmed claims of a mass departure of hard-line party members.
Join our new commenting forum
Join thought-provoking conversations, follow other Independent readers and see their replies