Little for François Hollande to celebrate as the French President reaches his 60th birthday
Premier keeps his anniversary quiet in effort to avoid torrent of negative headlines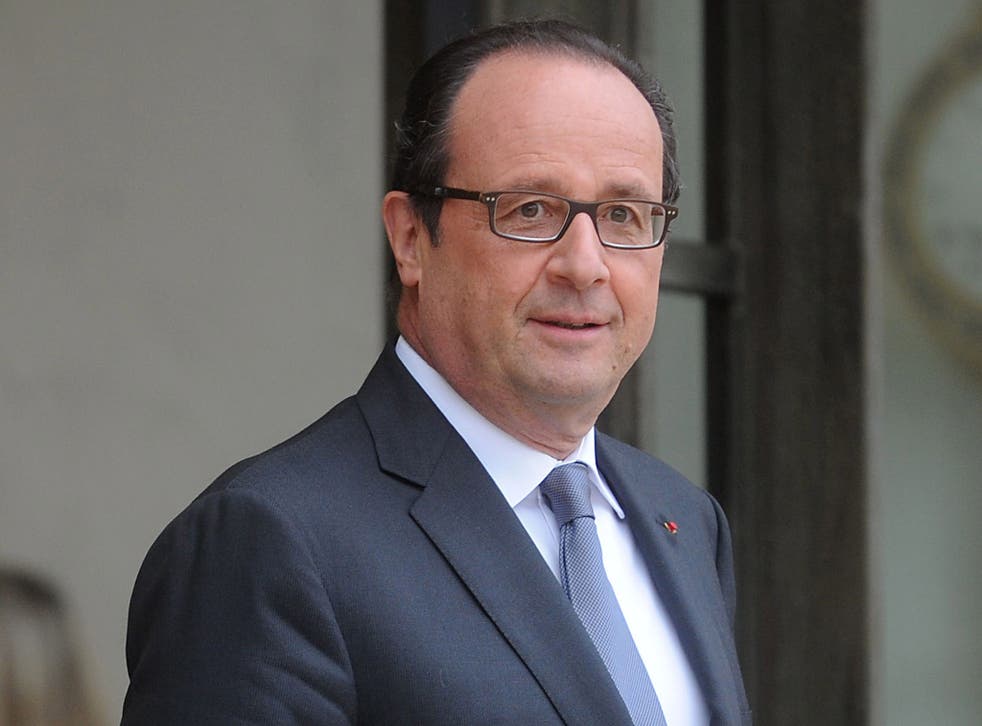 France's President, François Hollande, went underground today to celebrate his 60th birthday, fleeing the gossip mags and negative headlines in the right-wing media.
The Elysée palace said only that the President was somewhere in south-eastern France with his four children – born to Mr Hollande and his former partner Ségolène Royal. His only known work-related activity was a lunchtime phone call to Vladimir Putin, in which Mr Hollande expressed "serious concern" about Russia's "unilateral" dispatch of a so-called humanitarian convoy to eastern Ukraine. It is not known whether Mr Putin wished the French President a happy birthday.
His critics in the French press made it clear that the President, whose 16 per cent approval rating is two points above his record low of 14, has nothing to celebrate. Le Point, a right-wing news magazine, asked its readers to prioritise their birthday wish list for him: their top one was that he should leave office.
Some opposition politicians took to Twitter suggesting that he should have the courage of his socialist convictions and retire on his 60th birthday.
Le Figaro today published the eighth instalment of a fictional series entitled Hollande Leaves. In the latest instalment, the Prime Minister, Manuel Valls, considers throwing his hat into the ring to replace the President who has stepped down 18 months before the end of his term. Unfortunately for Mr Hollande, the plot – whose backdrop is a France mired in debt, with rising unemployment, mass demonstrations and a split within the political left – doesn't seem far-fetched.
In an editorial, Le Figaro claimed the President's performance has been greeted with "general disappointment, even within his own camp". The paper predicted the situation will worsen, with growth figures and the unemployment rate "expected to confirm the head of state's goals are out of reach on both fronts".
Last week Mr Hollande received a major setback for his flagship economic policy when the Constitution Council, the country's top constitutional authority, ruled that a key tax cut proposal was illegal in a "responsibility pact" which promises a deal with business.
One gossip magazine also kept Mr Hollande in pole position for his birthday. Closer reported that the actress Julie Gayet – exposed as the presidential lover by the magazine, prompting his separation from his partner Valérie Trierweiler last January – is on location a long way from where the President is celebrating. "Will they meet today? It's a mystery," the magazine said.
It was only last week that the magazine Voici splashed a photograph of the actress on a Corsican beach with another man. The President was reported to have felt "liberated" by the publication, after being forced to earlier deny rumours that he and Ms Gayet would wed on his birthday.
But further humiliation stalked Mr Hollande in today's Le Figaro. A review of a book about Ms Royal by a former adviser highlighted a comment by a leading Socialist, Lille's mayor Martine Aubry, saying to her: "But how could you stick with a wet like that for so many years?"
Register for free to continue reading
Registration is a free and easy way to support our truly independent journalism
By registering, you will also enjoy limited access to Premium articles, exclusive newsletters, commenting, and virtual events with our leading journalists
Already have an account? sign in
Register for free to continue reading
Registration is a free and easy way to support our truly independent journalism
By registering, you will also enjoy limited access to Premium articles, exclusive newsletters, commenting, and virtual events with our leading journalists
Already have an account? sign in
Join our new commenting forum
Join thought-provoking conversations, follow other Independent readers and see their replies