Le Louvre terror attack: Suspect identified as Egyptian Abdullah Reda al-Hamany
29-year-old arrived in France on one-month tourist visa issued in Dubai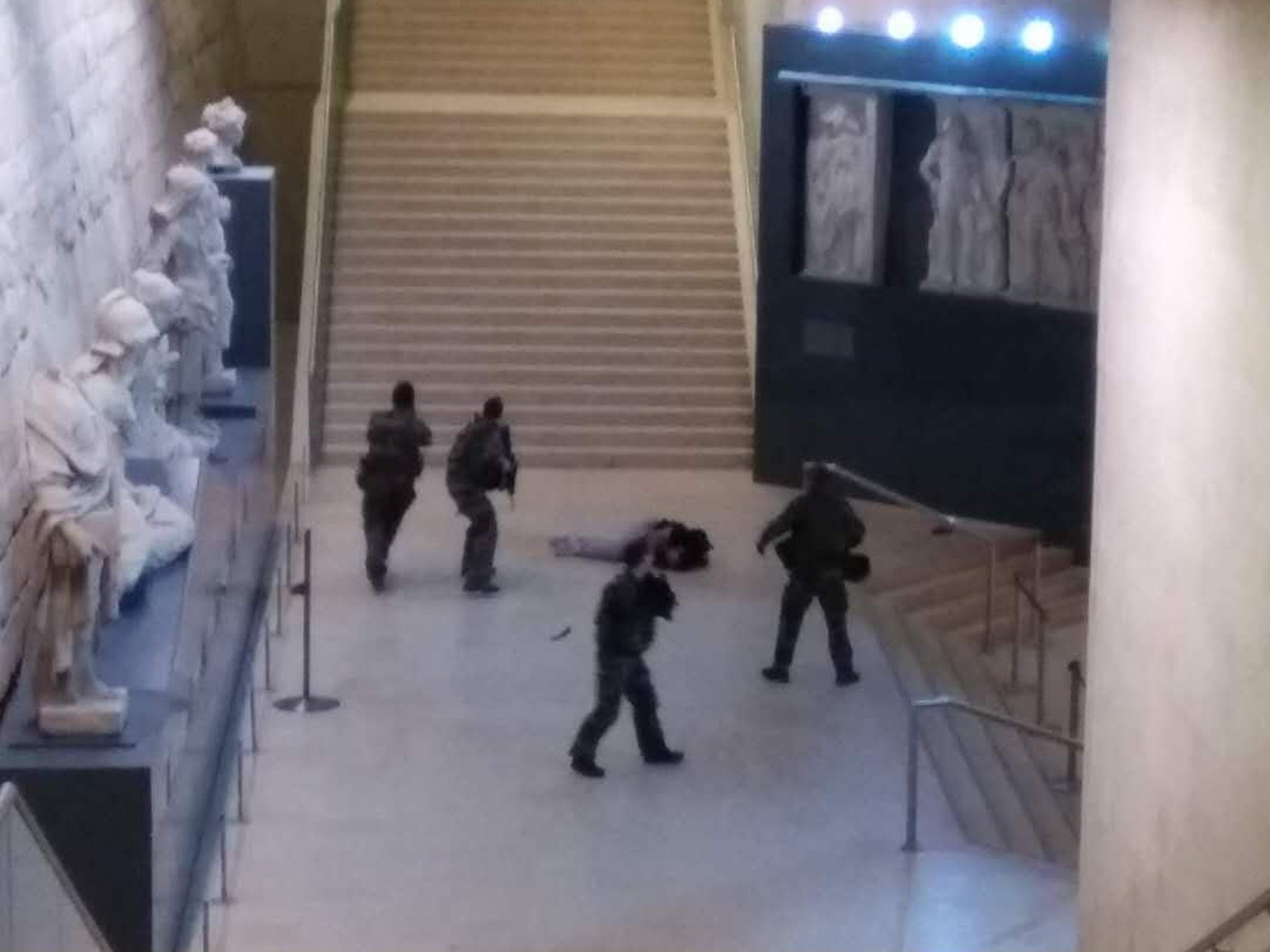 A man who attacked soldiers with a machete near the Louvre art gallery in Paris has been identified as Egyptian national Abdullah Reda al-Hamamy.
The 29-year-old was shot and wounded by police after he launched an attack on a soldier who was guarding the entrance to the Carrousel du Louvre shopping centre. The four-man patrol had told him he could not enter with his bags.
Michel Cadot, the head of Paris police, said the man was shouting "Allahu Akbar" and injured the soldier's scalp before being shot five times.
He confirmed that the attack was being treated as a terrorist incident but they were still trying to determine whether he was acting alone or under instruction.
Al-Hamamy is said to be in a life-threatening condition in hospital following the incident at 10am local time (9am GMT).
Mr Cadot said: "We are dealing with an attack from an individual who was clearly aggressive and represented a direct threat, and whose comments lead us to believe that he wished to carry out a terrorist incident.
"There was also a second individual who was behaving suspiciously, who has also been detained, but for now there does not appear to be a link between that individual and the attack."
In a press conference on Friday evening, Paris prosecutor Francois Molins said the man was an Egyptian national who had entered the country on a one-month tourist visa issued in Dubai on 26 January.
Soldier shoots 'attacker' outside Louvre museum in Paris
This was later confirmed by the Egyptian interior ministry in Cairo.
One witness, Olivier Majewski, described leaving his scooter in the parking area beneath Le Louvre after he saw around 30 people fleeing the scene shouting that "there had been a terror attack".
He said he then hid for 15 minutes before going upstairs and people were "panicking" around him.
Hundreds of people were evacuated and around 250 people inside were held in "safe areas" by police who moved tourists away from the windows and pulled shutters down.
Following the attack, US President Donald Trump cited it as justification for his controversial ban on citizens from seven Muslim-majority countries entering the US – but neither Egypt or Dubai are on Mr Trump's list of banned countries.
Nor is there any evidence the man had claimed or intended to claim asylum in France.
It comes as the country is on high alert following a succession of terror attacks over the past two years.
Last month, the Louvre reported a two million drop in visitors, resulting in a lost of almost €10m (£8.6m), which it said was due to increased anxiety about terrorism.
Although the number of French and American visitors has remained stable 2016 saw 61 per cent fewer Japanese visitors, 53 per cent fewer Russians, 47 per cent fewer Brazilians, and 31 per cent fewer Chinese people.
World news in pictures
Show all 50
Twelve people were killed at the offices of satirical magazine Charlie Hebdo in January 2015 and 130 people were killed in a string of coordinated attacks around the city in November that year.
A further 84 people were killed by a driver who rammed his lorry into the Bastille Day crowds in Nice in July 2016, killing 84 people.
The far-right political party, Front National (FN), looks set to make it into the second round of the presidential run-off in April after the party played on fears about Muslim refugees arriving in the country from Syria and Iraq.
FN leader Marine Le Pen has denounced the country's "crazy immigration policies" and said France "must deport illegals back where they came from and control our national borders, if not the camps will reconstruct themselves".
Additional reporting by agencies
Join our commenting forum
Join thought-provoking conversations, follow other Independent readers and see their replies