Malaysia Airlines MH17 crash: Blogger captures footage 'showing BUK missile launcher that shot down jet' now back in Russia
Ukrainian sources said the apparent Russian military truck had been travelling from the Ukraine-Russia border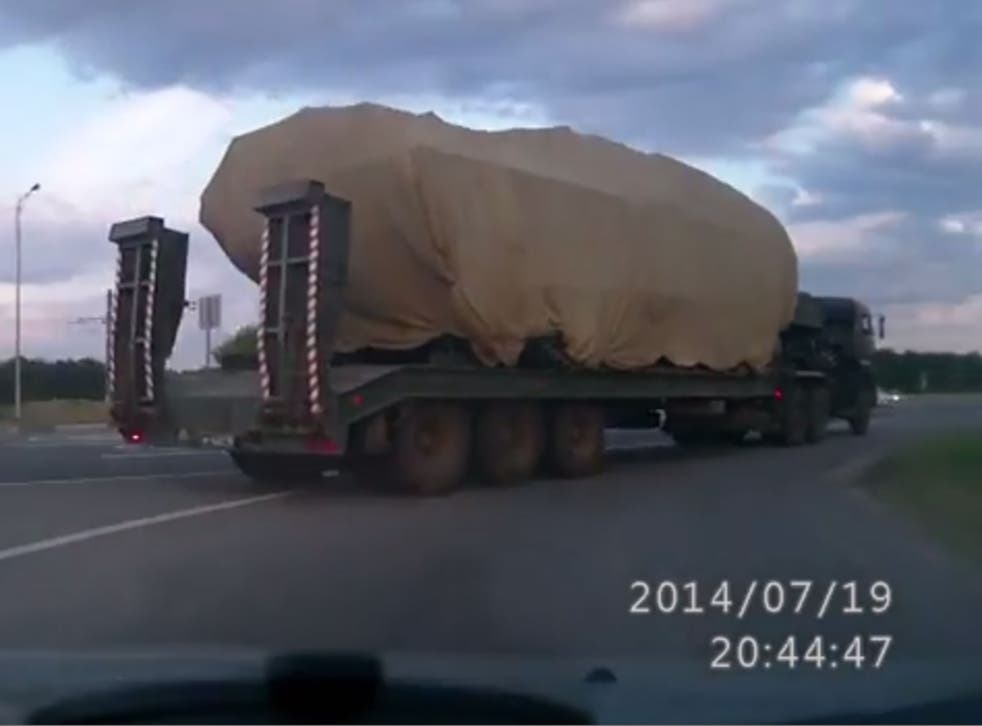 A Russian blogger has uploaded video footage that may show the BUK anti-air missile launcher which shot down Malaysia Airlines flight MH17 over Ukraine last week.
Ukrainian sources have seized on the clip as evidence that the launcher – key to the investigation into the deaths of the 298 people on board – has now been returned to Russia.
Though the exact location where the video was captured cannot be independently verified, it apparently shows a part of western Russia not far from the border with Ukraine.
Taken at around 8.45pm on Saturday, it shows a convoy of at least two trucks, one of which is loaded with a covered military vehicle with caterpillar tracks.
It comes after another video emerged at the end of last week which Ukrainian officials said showed the BUK M1 launcher – with one of its missiles missing – being moved on a truck towards the Russian border.
And the latest video has been shared online under the title: "A Russian blogger filmed the BUK M1 in Russia, the one that shot the Boeing".
A caption for the video reads: "For two kilometres, a blogger from Russia has been driving behind covered BUK 1M which, according to his words, had been driving from the Ukrainian border. His opinion is that it is exactly the BUK that made the shot."
While the Ukrainian government continued to scramble for evidence that the passenger jet was shot down by separatists using Russian military supplies, Vladimir Putin condemned what he described as the exploitation of the tragic incident for "mercenary objectives".
In a statement posted to the Kremlin website, Mr Putin said that the crash was being manipulated by forces keen to use it for their own purposes, without hinting as to who that might be.
He also said that his government supports an investigation run by a "full team of experts" working at the behest of UN agency the International Civil Aviation Organisation (ICAO).
In pictures: Malaysia Airlines flight MH17 crash

Show all 109
He criticised Ukraine for reigniting fighting with the rebels and said: "We can say with confidence that if fighting in eastern Ukraine had not been renewed on 28 June, this tragedy would not have happened.
"Nobody should or does have a right to use this tragedy for such mercenary objectives."
His comments come on the day that UN Security Council membersconsider an Australia-proposed resolution calling on separatists to make way for international experts, as well as a cease-fire in the vicinity.
Permanent council members will convene later this afternoon, with Australia's foreign minister, Julie Bishop, expecting all 15 members to support the vote.
Register for free to continue reading
Registration is a free and easy way to support our truly independent journalism
By registering, you will also enjoy limited access to Premium articles, exclusive newsletters, commenting, and virtual events with our leading journalists
Already have an account? sign in
Register for free to continue reading
Registration is a free and easy way to support our truly independent journalism
By registering, you will also enjoy limited access to Premium articles, exclusive newsletters, commenting, and virtual events with our leading journalists
Already have an account? sign in
Join our new commenting forum
Join thought-provoking conversations, follow other Independent readers and see their replies