Malaysia Airlines MH17 crash: Ukrainian military jet was flying close to passenger plane before it was shot down, says Russian officer
Russians still deny supplying missiles but imply presence of fighter may be linked to tragedy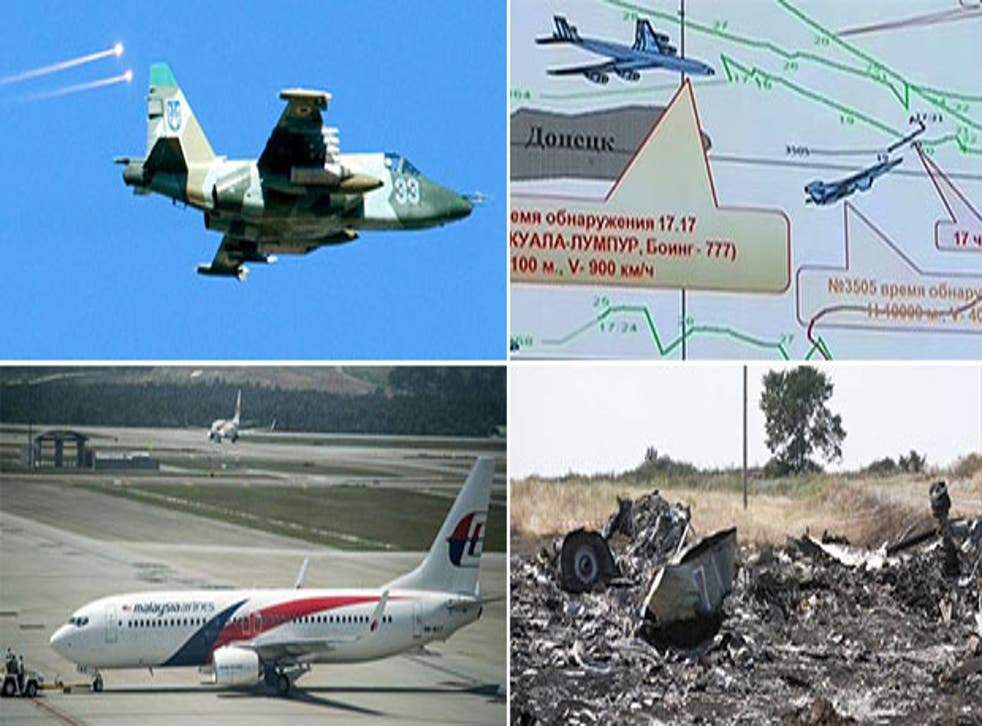 A senior Russian officer has claimed that a Ukrainian military jet was flying just a few kilometres from the Malaysia Airlines plane minutes before it was downed, while also refuting allegations that it had provided separatists with BUK missile launchers.
Scroll down to see videos
In a statement to a press conference today, Lieutenant-General Andrei Kartopolov said the Defence Ministry would like to know "why the military jet was flying along [the same civil aviation lines] at almost the same time and at the same level as a passenger plane."
The SU-25 was, Mr Kartopolov says, gaining height and reached a distance of three to five kilometres from the Boeing 777.
Mr Kartopolov, a senior member of the Russian military forces, said that Ukraine's claims that no military jet operated near the site of the crash last Thursday are "false."
He told the room that the jets "can briefly climb up to 10,000metres [and are] regularly equipped with air-to-air missiles R-60 that can capture and destroy targets of a distance up to 12km and up to 5km as guaranteed."
In pictures: Malaysia Airlines flight MH17 crash

Show all 109
Russian officials say they have evidence of the jet's presence following images taken by the Rostov monitoring centre, and has urged the US to release satellite images taken at the time of the crash.
"According to the statement by the US representative, they have some pictures from space that confirm that the missiles were launched by the rebels. By nobody has seen these shots," Mr Kartopolov added.
He said that a US satellite was present over Ukraine territory at the time of the crash and and would like American authorities to release these images to the "world community for further investigation."
The audience was shown graphics and video that purport to be three civilian aircrafts flying at the same time at MH17, including a Copenhagen to Singapore flight.
"Ukrainian officials reported that on the day of the Boeing 777 crash there were no military aircraft available in the region, so as you can see, this doesn't appear to be true."
He said that Ukraine had self-propelled, anti-aircraft BUK missile launchers 8km north-western from Lugansk, close to the territory controlled by the rebels and that images show it was present on 14 July, but absent on 17 July.
He also denied that the Russian military had supplied pro-Moscow rebels with any weapons, according to journalists tweeting from the meeting.
Sweden's Foreign Minister Carl Bildt has tweeted: "There are those who remember press conference where Soviet Ministry of Defence denied everything concerning shooting down of KAL007."
Koren Airlines KAL007 was a passenger plane shot down by a Soviet fighter jet in September 1983, after the Seoul-bound New York flight flew into USSR airspace during heightened US-Soviet tensions.
Russia's latest attempts at distancing itself from the downing of flight MH17, refuting allegations that it is somehow culpable, could inflame relations with Western leaders.
David Cameron had said that if President Putin failed to adjust his stance "radically," there could be sweeping sanctions imposed on Russia and its business operations abroad.
Kiev stresses that its military has not used surface-to-air missiles and it, too, has evidence including video recordings of an anti-aircraft weapon being moved across the country by "Russian-backed bandits."
Ukrainian Prime Minister Arseniy Yatsenyuk said its "Defense Ministry will provide complete information about the whereabouts of all air defense missiles."
In a statement on the Ukrainian government's website, it said it was committed to a "broad and deep international investigation of the MH17 disaster."
According to Reuters, Ukrainian security forces stand by information it holds that rebels received BUK-M1 missile systems from Russia.
Join our new commenting forum
Join thought-provoking conversations, follow other Independent readers and see their replies