Marine Le Pen's chief of staff charged in misuse of EU funds probe
Right-wing French presidential candidate is ahead in polls but predicted to lose in final round of voting to either Francois Fillion or Emmanuel Macron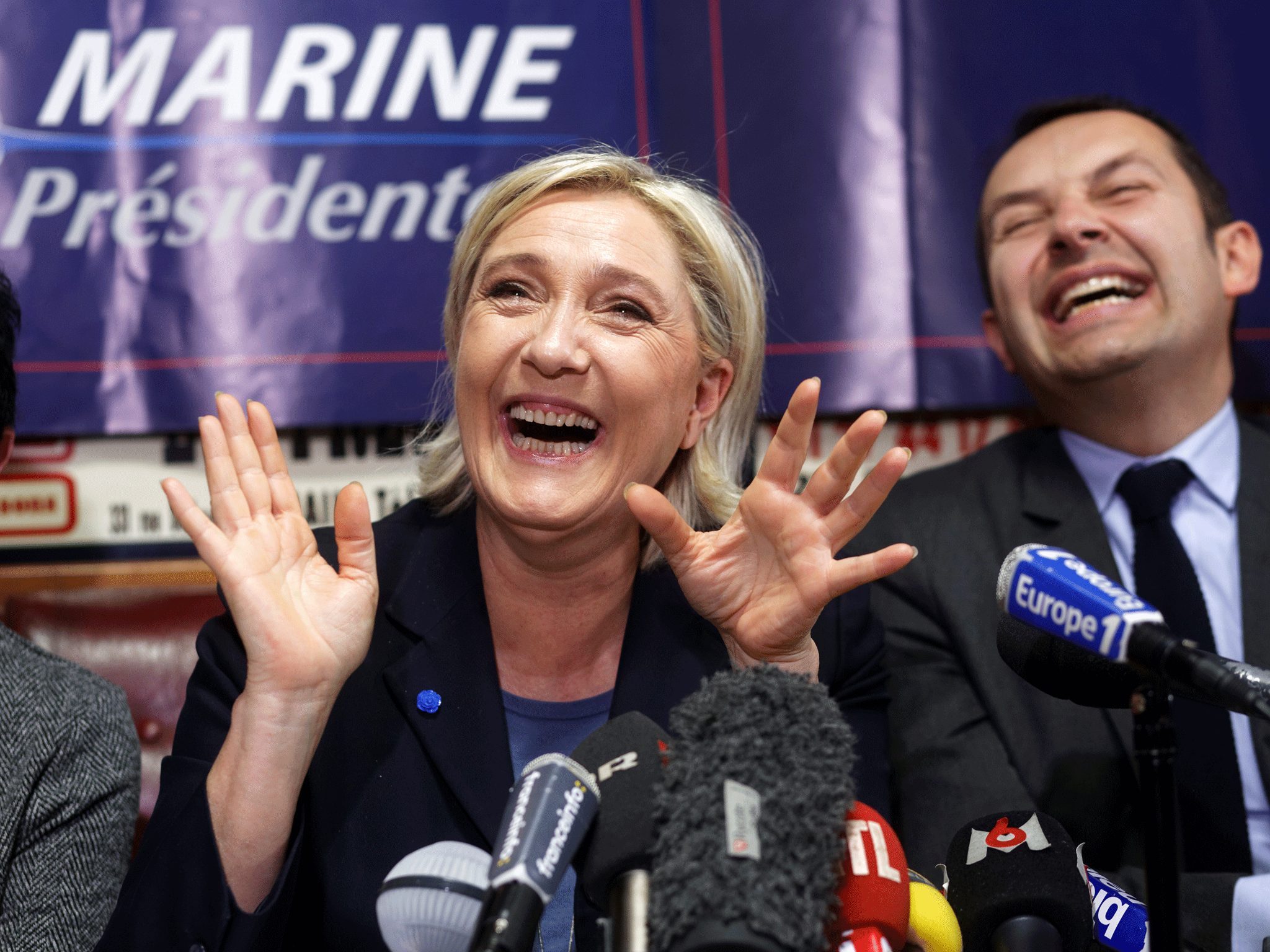 Marine Le Pen's chief of staff has been charged with breach of trust in an investigation over alleged misuse of European Union funds, according to a judicial source.
An official close to the investigation said aide Catherine Griset was being held by officers near Paris while the presidential candidate's bodyguard, Theirry Legier, had been released without charge.
Brussels' anti-fraud agency alleged that Ms Le Pen gave the pair, who are also employed as European Parliament assistants, fake jobs paid for out of EU funds.
It comes two days after the Front National (FN) party headquarters were raided while Ms Le Pen was abroad.
The far-right candidate, who is tipped to at least make the final round of voting in May, is accused of paying staff with European Union money – something Ms Le Pen and her party deny.
The Paris prosecutor's office, prompted by a similar European Commission probe, opened a judicial inquiry on potential charges including fraud, abuse of trust and organised criminal activity.
Investigators are also looking at other FN members' use of parliamentary aides.
Asked about Mr Legier and Ms Griset, Ms Le Pen branded the probe "political manoeuvring".
"The French can tell the difference between genuine scandals and political dirty-tricks," the FN leader told reporters.
"It looks on the face of it like a media operation whose goal is to disturb the course of the presidential campaign," said a statement from the party.
And FN vice president Florian Philippot, who claimed the raids actually took place a year ago, told BFM television: "This is as void as space.
"These are media-stunt searches on the day when Ms Le Pen gets a two-point bounce in the polls. It's always when the system is in panic that these affairs come out."
Far-right politician Ms Le Pen is polled to scoop 26 per cent of the vote in the first round of the election in April, while independent pro-European centrist Emmanuel Macron is expected to win 22 per cent.
France presidential race: Francois Fillon wins conservative candidacy
Republican candidate Francois Fillon, already being investigated over alleged €900,000 payments to his family for work not always done – something he denies – is polling at 21 per cent.
Ms Le Pen however is expected to lose the second round of voting, either to Mr Fillon's 58 per cent or Mr Macron's 59 per cent.
Francois de Rugy, who stood in vain as an ecology candidate in the leftist primaries for a candidate, said on Wednesday he would back Mr Macron.
"For me, it's not unity for its own sake that I see, I've been saying I want the unity of the left and of progressive forces in which I include Emmanuel Macron," Mr de Rugy said on France Info radio.
"That's why I draw this conclusion today that I want to take part in the renewal of politics that Emmanuel Macron has launched."
Veteran French centrist Francois Bayrou, 65, also said, on the same day, he will drop out of the election race and has offered to support Mr Macron in a potential alliance.
The Independent has contacted police in Paris and Ms Le Pen's team for further comment.
Join our new commenting forum
Join thought-provoking conversations, follow other Independent readers and see their replies