French presidential election: Francois Bayrou backs Emmanuel Macron boosting fight against Marine Le Pen
'To tackle this exceptional situation, I think we need an exceptional response,' says centrist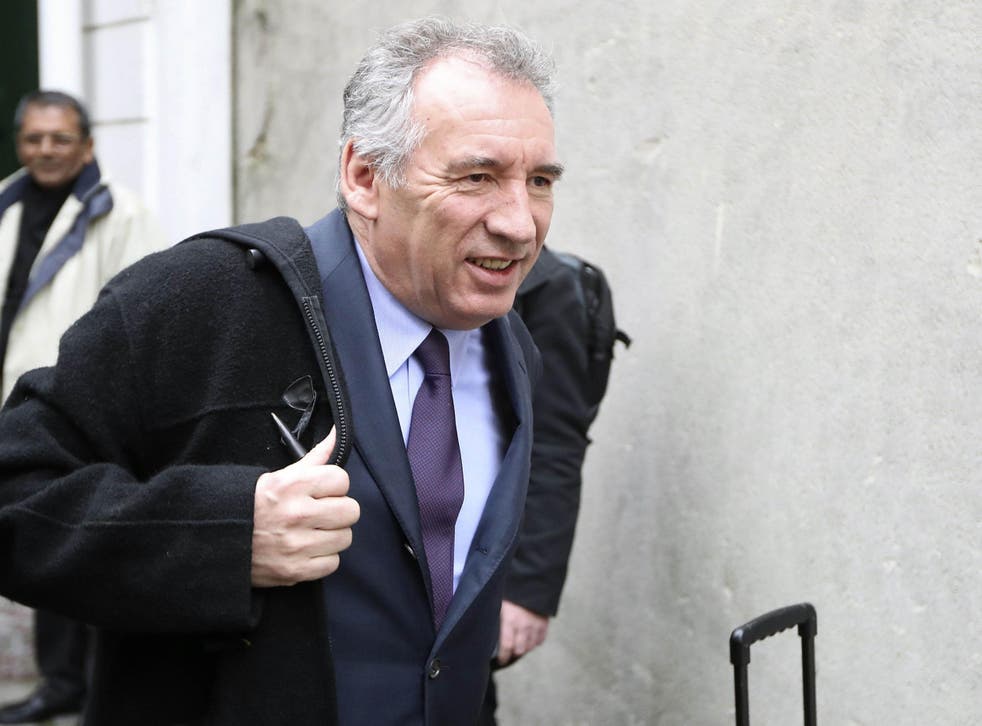 Centrist politician Francois Bayrou has confirmed he will not stand in France's presidential election and has offered an alliance to independent candidate Emmanuel Macron.
The move could give former investment banker Mr Macron a much-needed boost against far-right candidate Marine Le Pen and Republican Francois Fillon in the race to reach the final round of the election on 7 May.
"We are in an extremely risky situation, and to tackle this exceptional situation, I think we need an exceptional response," said Mr Bayrou.
"I have decided to offer Emmanuel Macron an alliance. The danger is too big we must change things," he said, describing his decision as a "sacrifice."
Pro-EU politician Mr Bayrou won about nine per cent of first round votes when he ran in the 2012 presidential election as leader of the Democratic Movement party, or MoDem, which he founded in 2007.
He said he would hold talks with Mr Macron in the coming hours and would set several conditions for the alliance, although they are unlikely to deter Mr Macron's camp.
Describing French democracy as under threat, Mr Bayrou said that the conservatives under Mr Fillon were riddled with scandals and the Socialists, who he backed in 2012, were in disarray, a situation that could pave the way for the far-right.
"What's at stake with this alliance is to restore hope," said Mr Bayrou.
Marine Le Pen launches presidential campaign with hardline speech
The latest daily polls showed Ms Le Pen as the favourite to win the first round of voting on 23 April, followed by Mr Macron and Mr Fillon.
But projections of second-round run-offs between Ms Le Pen and either Mr Macron and Mr Fillon predict a loss for the Front National leader.
Ms Le Pen has described France as under the threat of two "totalitarianisms" – economic globalisation and Islamic fundamentalism.
Launching her campaign for the presidential race, she said mosques, "prayers in the streets" and the veil worn by Muslim women were threats to France's culture and values.
World news in pictures

Show all 50
Former finance minister Mr Macron has created his own party called 'En Marche!' in a bid to become France's next President.
The charismatic candidate told more than 3,000 French expatriate voters in London last night "we must believe in Europe, love Europe and breathe Europe".
He also met with Theresa May, an unusual move for a candidate not backed by any of the main political parties.
Additional reporting from Reuters
Register for free to continue reading
Registration is a free and easy way to support our truly independent journalism
By registering, you will also enjoy limited access to Premium articles, exclusive newsletters, commenting, and virtual events with our leading journalists
Already have an account? sign in
Register for free to continue reading
Registration is a free and easy way to support our truly independent journalism
By registering, you will also enjoy limited access to Premium articles, exclusive newsletters, commenting, and virtual events with our leading journalists
Already have an account? sign in
Join our new commenting forum
Join thought-provoking conversations, follow other Independent readers and see their replies