Marine Le Pen pledges to introduce tax on French employment contracts for foreigners
Presidential candidate says measure would force employers to introduce 'national priority'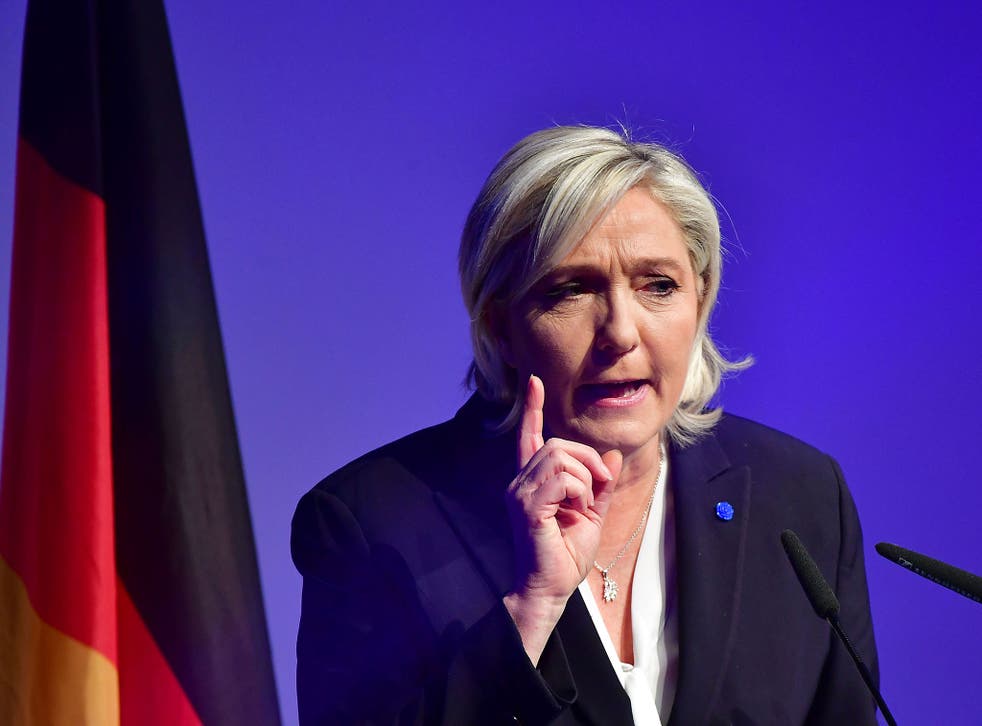 Far-right French presidential candidate Marine Le Pen has pledged to introduce a new tax to prevent foreign employees being hired.
The Front National leader, who is enjoying growing support in opinion polls, claimed the profit could be put into the French welfare system.
"We will apply national priority on employment through an additional tax on all new contracts for foreign employees," Ms Le Pen told Le Monde newspaper.
Marine Le Pen claims no difference between her policies and Ukip
"The income from that would pay for unemployment benefit."
Support for Ms Le Pen's previously fringe party has surged following a series of Isis-inspired terror attacks in France and immigration concerns sparked by the refugee crisis.
She claimed the "Anglo Saxon world was waking up" while hailing Donald Trump's presidency and Brexit last month, adding: "We are experiencing the end of one world and the birth of another."
Opinion polls frequently show Ms Le Pen winning or coming second in the first round of France's presidential election, to be held in April, but also consistently show her losing heavily in the second round.
Her campaign has been damaged by an expenses scandal over EU funds, seeing her refuse to pay almost €300,000 (£250,000) that were allegedly misspent on wages for two Brussels aides who in fact remained working in France.
A television journalist who questioned Ms Le Pen on the allegations was removed by security guards while touring the Salon des Entrepreneurs on Wednesday, being dragged away and shoved despite showing his accreditation.
World news in pictures

Show all 50
Her party, started by convicted racist and anti-Semite Jean-Marie Le Pen - the current leader's grandfather - is attempting to shake off its extremist image and capitalise on disaffection with the political mainstream.
But its ideology was again called into question after it emerged a man suspected of massacring six Muslims at a mosque in Quebec supported Ms Le Pen.
One of Ms Le Pen's rivals, the conservative candidate and former Prime Minister Francois Fillon, is struggling after a separate scandal over his wife's work engulfed his campaign.
He has pledged to stand down if he is put under formal investigation over allegations his wife was paid hundreds of thousands of euros in public funds for work she did not carry out.
Emmanuel Macron, a centrist candidate who founded his own En Marche! party last year, is currently leading most polls.
Join our new commenting forum
Join thought-provoking conversations, follow other Independent readers and see their replies