Marine Le Pen refuses to repay €300,000 in 'misspent' EU funds
Far-right presidential candidate claims to be victim of a politically motivated vendetta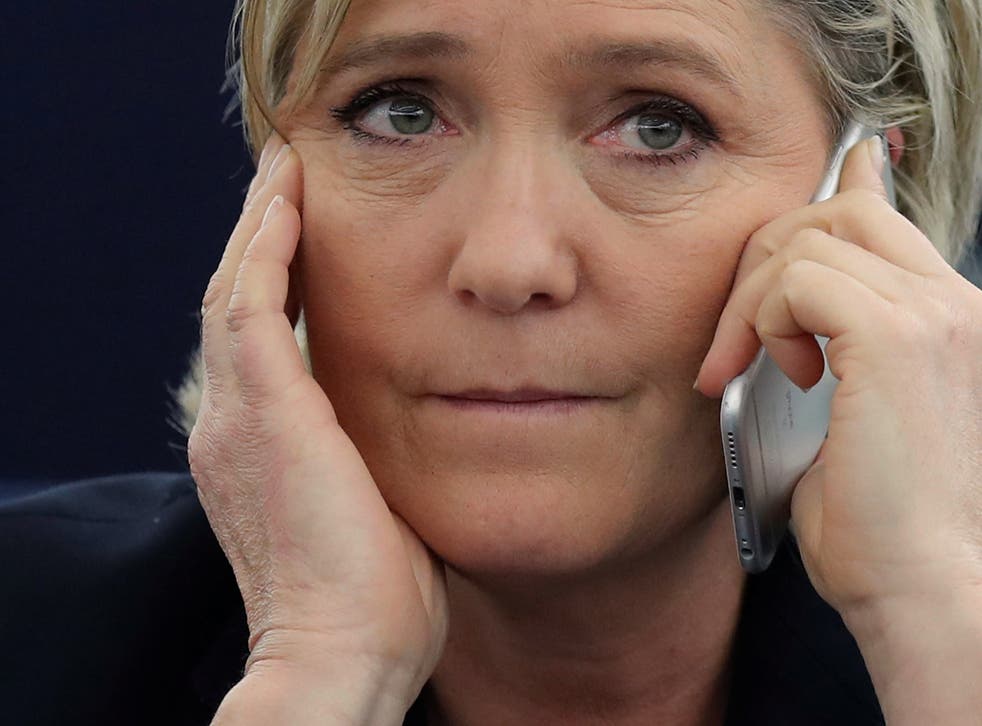 Marine Le Pen has refused to pay nearly €300,000 of EU funds that she allegedly misspent.
A European parliament watchdog claimed the National Front leader illicitly paid her party's staff between 2011 and 2012, using money that should only be used for MEPs to pay for legislative tasks.
The far-right presidential candidate had until the end of Tuesday to repay the money, but refused to do so, claiming she was the victim of a politically motivated vendetta.
"I will not submit to the persecution, a unilateral decision taken by political opponents [...] without proof and without waiting for a judgment from the court action I have started," Ms Le Pen told Reuters on Tuesday.
If the Front National leader does not repay the money, the parliament could now respond by withholding as much as half of her salary and allowances, which her opponents say amount to almost €11,000 (£9,406) a month.
The money was used to pay the salary of Catherine Griset, a close friend of Ms Le Pen and her cabinet director, on the condition that Ms Griset spent most of her working hours in Brussels of Strausbourg. But the watchdog reports that most of her time was spent working in the National Front's headquarters in Paris.
The party is also said to be facing a demand for €41,554 (£35,532) in wages paid to her bodyguard.
It comes as Conservative presidential candidate Francois Fillon was accused of paying his wife Penelope hundreds of thousands of euros in pay when she wasn't doing any work, prompting an official inquiry..
Asked if she would pay back the money, Marine Le Pen told AFP: "To pay the money back, I'd have had to have received the funds, but my name isn't Francois Fillon."
It is not the first time Me Le Pen has been embroiled in financial complications and attributed it to being a victim of politically motivated bias.
In December, it emerged French banks were refusing to give Ms Le Pen loans to help fund her presidential campaign, which a senior party official described as "discrimination based on political opinion".
Ms Le Pen appears to be retaining her lead in the polls ahead of France's presidential elections in April.
World news in pictures

Show all 50
A poll by Kantar Sofres on Sunday put Ms Le Pen on 25 per cent, ahead of Mr Fillon and independent candidate Emmanuel Macron, who were neck-and-neck.
Front National has grown rapidly since Mr Le Pen was expelled from the party in 2015 and is now considered one of the largest political forces in France.
The first round of the French presidential election will be held on 23 April 2017, and if no candidate wins an outright m
Join our new commenting forum
Join thought-provoking conversations, follow other Independent readers and see their replies