Marine Le Pen establishes lead in first round French election poll
Presidential favourite François Fillon still expected to beat far-right leader by comfortable margin in second round
Lucy Pasha-Robinson
Thursday 12 January 2017 16:44 Comments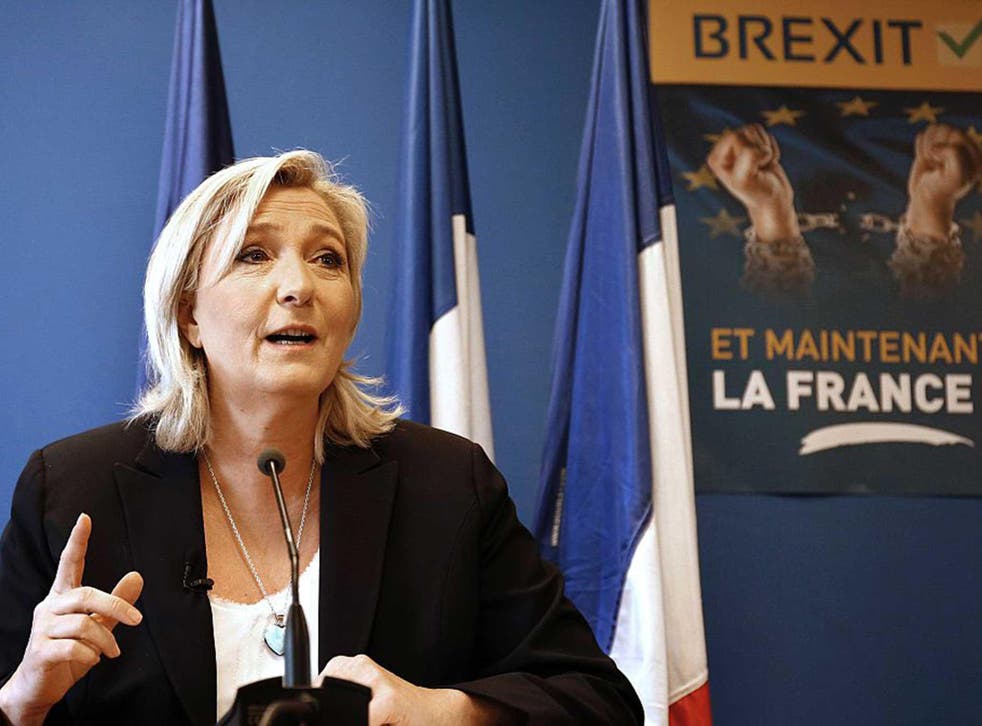 Marine Le Pen has overtaken French presidential favourite François Fillon to become the frontrunner in the latest first round election poll.
The Front National leader is now polling at 26.5 per cent, a lead of 1.5 per cent over former Conservative Prime Minister Fillon.
However, Mr Fillon is still expected to beat the far-right leader in a second round runoff in May, with polls giving him 64 per cent over Ms Le Pen's 36 per cent.
Anand Menon, director of The UK in a Changing Europe think tank, said that while the result was important, it was imperative not to exaggerate its significance at this stage.
"You can get a one off poll to say anything you like, so it is important not to get ahead of ourselves, but Le Pen is obviously in a strong position. The primaries on the left are going to be crucial because there are polls now putting Emmanuel Macron ahead of both Fillon and Le Pen," he told The Independent.
Former economy minister Mr Macron has gathered momentum with his own transpartisan political party En Marche, polling consistently in third place and between 17 and 20 per cent in the first round poll, likely to be helped by Manuel Valls' diminishing success with the ruling Parti Socialiste.
However Mr Valls' rivals former ministers Arnaud Montebourg and Benoit Hamon are polling close behind him, which could be damaging for Ms Le Pen.
The Ifop Fuducial poll for Paris Match showed Mr Fillon taking between 24 and 25 per cent of the vote in the first round, depending on the choice of Socialist candidate, who will be selected in the left-wing primaries on 22 and 29 January.
However, when pitted against Mr Macron in the runoff, Mr Fillon is set to lose to the newcomer by 48 per cent to 52 per cent.
Political sociology Professor Stephen Fisher at the University of Oxford said the unknown identity of the socialist candidate could be skewing the polls in Ms Le Pen's favour.
"Two polls showing Marine Le Pen in the lead mean it is looking a little more likely she will do well, but the main thing to consider is the public still know her much better than her likely two competitors, in particular they don't know who the Parti Socialiste competitor will be at all," he told The Independent.
"So what you would expect in this situation is the less known candidates in this election will become better known, and their popularity should increase. Another thing you tend to see is a slight rally towards the government towards the end of the election, whereas mid-term, people tend to grumble through the polls - although obviously, as seen in the US, this is not always the case."
Dr Joseph Downing, French politics expert and fellow at France's National Centre for Scientific Research (CNRS), warned a small margin between any of the front runners would allow for outside factors to weigh heavily on the final result.
"When you are dealing with such a small margin, a few percentage points can be quite trivial. In addition to further political developments, more terror attacks or an upsurge in the migrant crisis could have a big impact on the result, we don't know what the world will bring us before the second round," he told The Independent.
The poll, which had a margin of error of 1.3 per cent, was conducted between 3 and 5 January and was based on a sample of 1,860 people registered to vote.
Register for free to continue reading
Registration is a free and easy way to support our truly independent journalism
By registering, you will also enjoy limited access to Premium articles, exclusive newsletters, commenting, and virtual events with our leading journalists
Already have an account? sign in
Join our new commenting forum
Join thought-provoking conversations, follow other Independent readers and see their replies