Undecided voters and 'shy FN' supporters could win the French election for Marine Le Pen
Polls giving Emmanuel Macron a clear victory might be way off as fans of defeated conservative candidate Francois Fillon, though they won't admit it publicly, turn to Front National in their droves in the privacy of the ballot box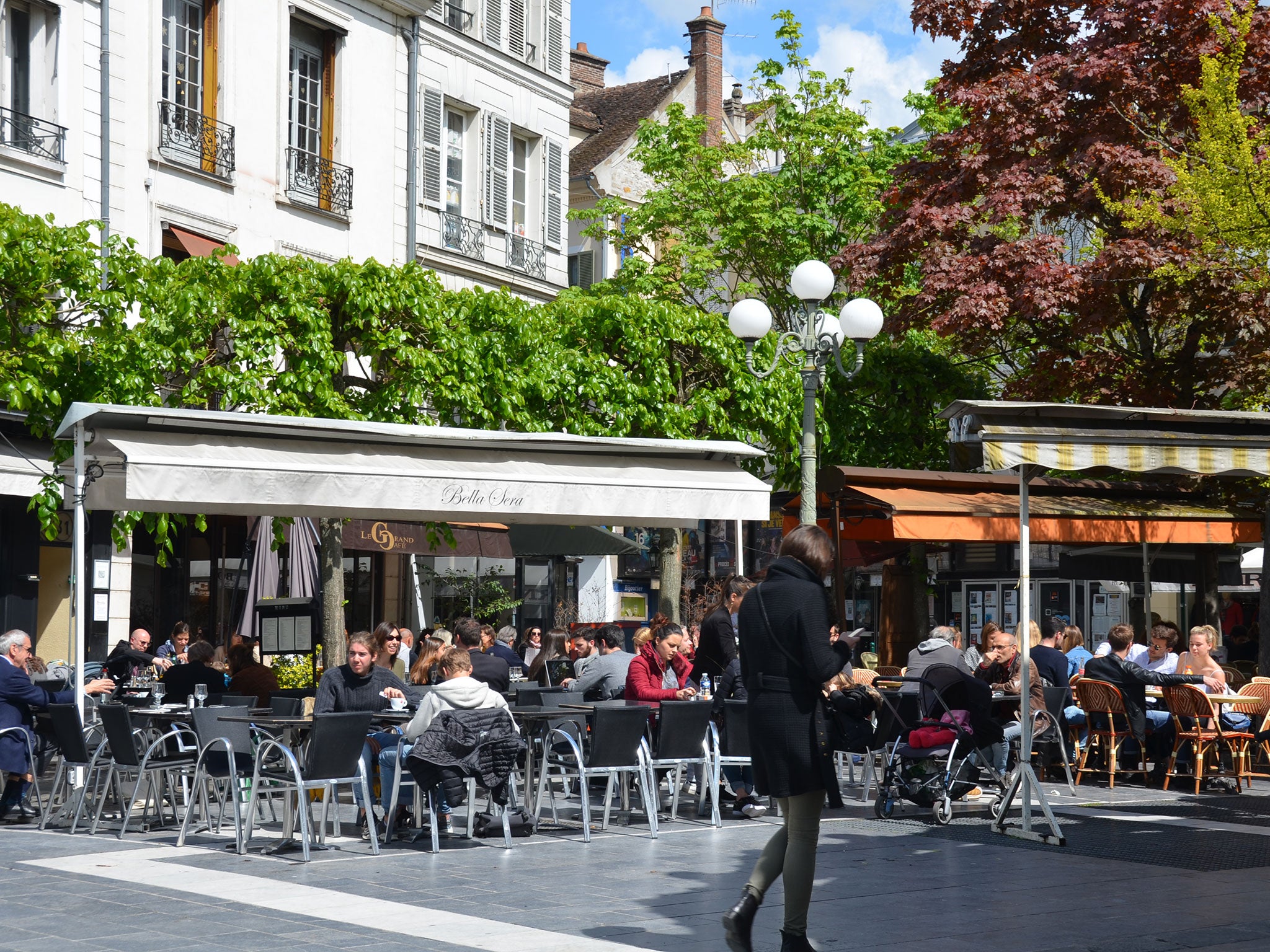 With just days to go before the decisive second round of the French presidential election, a large number of voters remain undecided between far-right Marine Le Pen and the youthful centrist Emmanuel Macron.
Mr Macron commands an impressive 20-point lead ahead of his rival in most polls – yet there are growing suggestions that in the secrecy of the polling booth, quiet sympathisers for Ms Le Pen could have a big impact on the result.
South of Paris in the wealthy commuter town of Fontainebleau, known for its royal chateau, traditional Catholic values and ageing population, voters in this conservative stronghold provide an insight into the country at large.
In the first round, people here backed right-wing Francois Fillon with nearly 28 per cent of the vote, ahead of Mr Macron on 20 per cent. But with Mr Fillon knocked out in the first round, many here have not yet decided who to cast their vote for in the final vote on Sunday.
Although Mr Macron has been welcomed ahead of Ms Le Pen by Brussels' liberal elite, in France the choice has been described by some as one "between the plague and the cholera".
In the narrow cobblestone streets of Fontainebleau, a multitude of independent cheese shops, patisseries and designer clothes boutiques do good business.
Sitting at the table of a café on the main square, Alain and Christiane Auger, 81 and 72 years old respectively, tell The Independent they voted for Mr Fillon in the first round. Now with no candidates from the traditional right, the couple are anxious about the outcome of 7 May.
Ms Auger said she feared an unofficial third round of the election could take place in the streets, warning of major protests if Ms Le Pen were to be elected president. Yet she still remained hesitant about the idea of voting for Mr Macron.
"We are quite old, but we are voting for our children. I was thinking of spoiling my vote but I don't think that's going to help my children.
"I have never spoilt my ballot before, I always made a choice, but this time I am so torn. This has never happened in my lifetime. I don't know what to do. If I decide to vote for Mr Macron I will make that decision on the day," she said.
French Presidential Election
Show all 20
Mr Auger disagreed and said he could not bring himself to vote for Mr Macron, reluctant to support a candidate who has been so deeply entrenched in the financial sector and who he accused of encouraging sectarianism after he announced there was "no French culture" but one that is diverse.
"My ballot will be blank," said Mr Auger. "We know a lot of people here who hesitate too. They don't want to say it, but in the secrecy of the ballot, they might well vote for Ms Le Pen."
In the marketplace, a few shoppers are strolling among the stalls. Days ahead of the vote, politics is not a conversation people want to have. Many here say they are undecided and no one wants to guess what might happen.
On Monday, Ms Le Pen faced ridicule when it emerged she had largely copied a speech by Mr Fillon during her rally in Villepinte.
Her campaign manager, David Rachline, played down plagiarism accusations and painted her speech as a form of tribute to Mr Fillon.
Besides the mockery, the incident clearly shows Ms Le Pen is chasing right-wing voters. She faces a fight against the current in doing so, as Mr Fillon himself has called on his supporters to vote for her opponent.
But for those who put their trust in the conservative candidate in the first round, it isn't that simple.
Francoise, 79, a traditional right-wing voter who has lived in Fontainebleau for nearly 30 years, said: "I think everyone is troubled. There are some people who want to spoil their ballot, but I don't see how that's useful. I am like everyone else, I am undecided.
"What will happen next Sunday? If Ms Le Pen wins, I don't know where she is going to lead France. The other one [Mr Macron] is a bit young – but he might be a little more grounded. I'm old and my life is done but it's for the young people."
Another Fillon voter said: "I am from the right but I don't know what Mr Macron stands for. It's him or I spoil my ballot, I will make that choice on Sunday."
The rejection of both traditional parties in the first round of the election has blurred political lines and the divide between France's left and right. But some see it as a positive thing.
"People wanted change, now either way they have it and they must accept the consequences," said one man.
In the area around Fontainebleau, the Seine et Marne department, fewer than 2,000 votes differentiated Mr Macron and Ms Le Pen in the first round.
The secretary of the Front National in the area is Aymeric Durox, 31, a history and geography teacher in the local lycée. Sitting down with The Independent, he said that gap could easily be closed.
A dynamic and ambitious activist, Mr Durox will be the party's candidate at the local election in June and is determined to grow the vote for Ms Le Pen in the region.
The teacher said the vote for the Front National attracted working- and middle-class people, which on the surface could be seen as unacceptable for the town's more bourgeois population.
French Election: Macron and Le Pen to fight for presidency
"The Front National is a popular revolution. It still has a bad reputation and many undecided people will not say they are considering to vote for Ms Le Pen. It is still perceived by some as a vote for the popular class and people here don't want to be associated with it.
"But some right-wing representatives for the town have come to me to say they will vote for Ms Le Pen in the second round. They just do not want to say it publicly."
Mr Durox said in Fontainebleau, those with strong Christian and patriotic values could be convinced by Ms Le Pen. And if it doesn't happen 2017, Mr Durox said he believed Ms Le Pen would be the government's main opposition and be elected in 2022.
He said young voters, who have grown up with unemployment and an atmosphere of insecurity, were increasingly attracted by the ideas of the far-right party.
"We are way beyond any form of racism in the party – there is no racism in the party. We should also leave the Second World War to historians. The Holocaust was a tragedy and we need to move forward. Those discussions do nothing to help the problems of the French people," he said.
Many still have not made a choice ahead on Sunday's vote. Although the polls suggest victory for Mr Macron, voters making up their minds with their ballot papers in front of them could make the result swing one way or the other.
Join our commenting forum
Join thought-provoking conversations, follow other Independent readers and see their replies