Marine Le Pen says French people will have francs in their pocket instead of euros within two years
Presidential candidate denies exiting the single currency will lead to run on French banks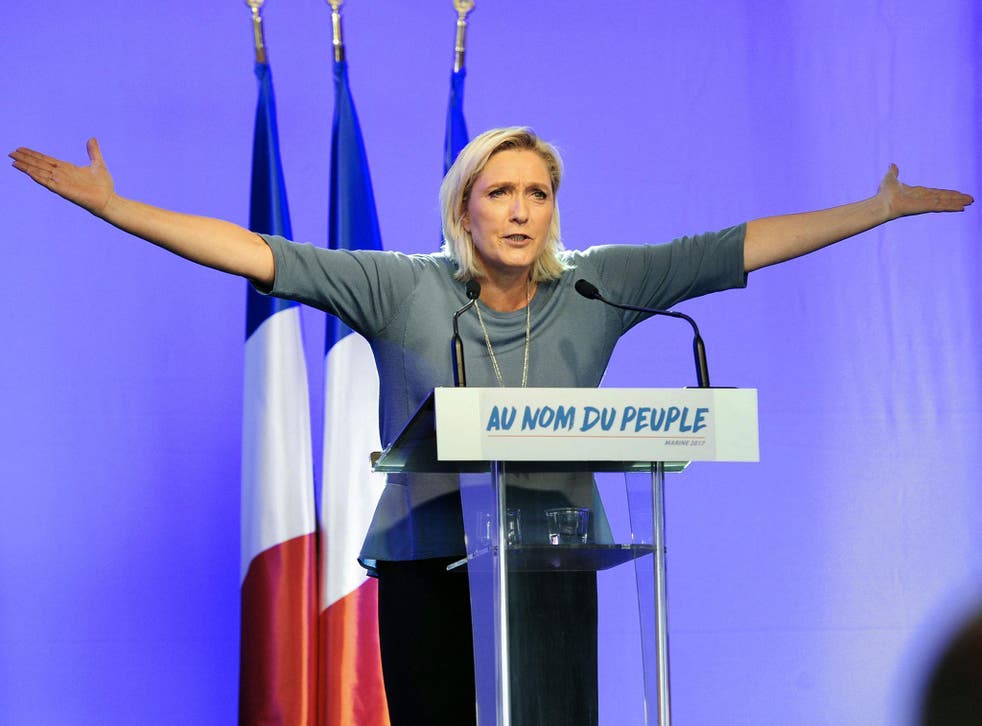 French presidential candidate Marine Le Pen has said her countrymen will be carrying francs instead of euros in their pockets within two years.
Reconfirming her promise to revert to France's former currency is she beats centrist candidate Emmanuel Macron in the final round of voting on Sunday,she said she wanted to see Europe's single currency replaced by another, looser type of cooperation.
This could take the form of the European Currency Union's basket of currencies that preceded the euro before it was introduced.
Ms Le Pen, a renowned Eurosceptic who has temporarily stepped down as the leader of far-right party the Front National said that could exist alongside a national currency.
"The objective is to transform the euro 'single currency' into a euro 'common currency', going back to the ancestor of the euro, the ECU, which was an accounting unit that did not stop each country from having each its own currency", she said.
She added that the euro was a deadweight on the French economy, which is the third largest in the EU behind Germany and the UK, and a new national currency would better protect French people's savings.
She claimed the "establishment" wants to "frighten" voters into thinking otherwise but denied that French negotiations to leave the single currency would lead to a banking crisis.
But she refused to rule out imposing capital controls, placing limits on how much people can withdraw from their bank accounts each day, if there was a run on the banks.
"If there's a run on banks, we could very well imagine such a solution for a few days, but I'm telling you it won't happen", she said.
French Presidential Election

Show all 20
Many of the richer, northern countries in the eurozone have become increasingly resentful about having to bail out their poor southern neighbours such as Greece.
The Greek, Irish, Spanish and Portuguese governments were forced to accept huge loans in exchange for harsh austerity measures when they suffered from financial crises in 2010.
Although Spain, Portugal and Ireland have largely recovered, Greece is still struggling to pay its debts and has had to go back to the European Central Bank, Eurogroup and the International Monetary Fund for debt relief and further loans on several different occasions.
A poll conducted just before the UK's EU referendum last year found more than 60 per cent of French voters now had an unfavourable view of the union as a whole – more so than any of of the other EU countries bar Greece.
During the campaign, Ms Le Pen has played up a call for French sovereignty and the return of its national identity.
She has attacked Brussels for trying to force its laws on the French people, has called for an immediate suspension on all immigration and vowed to fight against the perceived rise of Islamist extremism within civil society.
Additional reporting by agencies
Join our new commenting forum
Join thought-provoking conversations, follow other Independent readers and see their replies