Merkel accused of being 'female Don Corleone'
A new book, 'The Godmother', by a party insider, says the German Chancellor is obsessed with power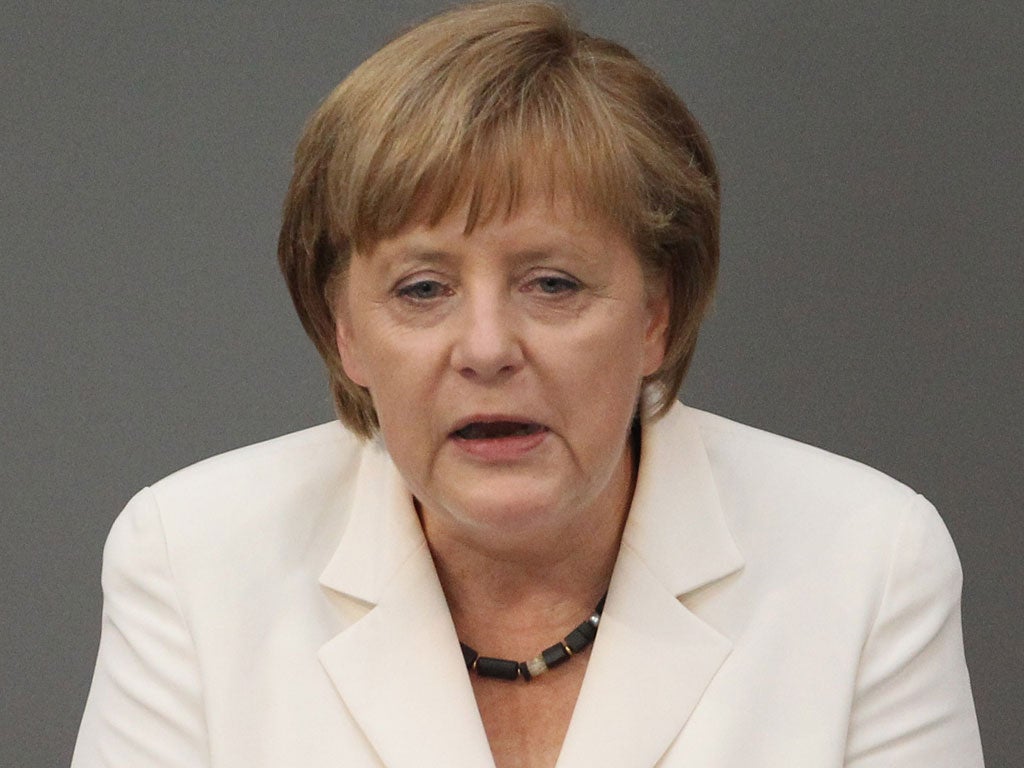 Has Angela Merkel turned into a female equivalent of Don Corleone, the sinister Mafia boss portrayed in The Godfather? A prominent female member of the German Chancellor's ruling conservative party, the Christian Democratic Union, is convinced she has – and she's not joking.
A withering attack on Germany's first female leader has been delivered in a new and savagely critical book that accuses Merkel of ruining the euro, being obsessed with her own political power and installing an autocratic regime which borders on the totalitarian.
The Godmother: How Angela Merkel Is Reconstructing Germany is the work of the veteran Christian Democrat, Gertrud Höhler, 71, a prominent and outspoken conservative who was both an adviser to Chancellor Helmut Kohl, and on the boards of several major Swiss and German companies.
Höhler argues that because Merkel was brought up in communist East Germany, she has no real understanding of democracy and is convinced that only remaining in power is paramount. As a result, Höhler claims, Merkel has muzzled all critics and dispensed with political rivals by ruthlessly sidelining or stabbing them in the back.
"That woman," Höhler maintained at a press conference held to launch her book last week, "has already installed an autocratic regime." To underline her point, the dust cover on Höhler's work displays its title splashed across a menacing black silhouette of a plump yet inscrutable-looking Angela Merkel.
Höhler's savage criticism could be dismissed as the anger of a piqued former rival venting her envy on someone who has made it to the top. Her book is dedicated to "those who still carry a clenched fist in their pocket". But, significantly, publication of The Godmother has coincided with attacks on the Chancellor from other leading members of Germany's Christian Democratic Union, which suggest that the author may have a point.
The most recent came last month. Josef Schlarmann, the party's influential business expert, caused uproar by publicly lambasting Germany's leader for stifling all criticism: "There are no fundamental debates any more because everything in Merkel's party is presented as being without alternative. It is like being in a school cafeteria that offers only one dish a day," he said.
In The Godmother, Höhler argues that Merkel's obsession with power has led her to ignore political convictions and principles to guarantee her own political survival. She claims that, as a Protestant pastor's daughter in East Germany, Merkel quickly learned that it was better not to become a dissident or fight for a principle that might jeopardise her career. On the night that the Berlin Wall fell in 1989, Höhler notes that Merkel "went to the sauna".
Merkel's dissident activities in the communist state, she adds, were minimal. One of her most daring criticisms of totalitarian rule appears to have been an admission to the wife of one of her father's colleagues that "the thing that annoyed me most about East Germany was that I couldn't buy decent yoghurt".
Höhler cites Merkel's decision last year to end Germany's nuclear power programme in the face of the huge public anxiety caused by the Fukushima disaster as clear evidence of an ingrained lack of principle. She says that nuclear power had until then been one of Merkel's main policy objectives.
In Europe, Höhler maintains that Merkel's desire to remain in power at all costs has obliged her to again pander to the anxieties of German voters and impose draconian and unreasonable bailout conditions on ailing eurozone countries such as Greece. Numerous critics outside Germany would agree.
Höhler claims that although Merkel sees herself as the "Queen of Europe", she is, in reality, ruining the euro. "Nobody can accuse the 'mistress of saving' of being wasteful," she writes, "But forced saving is in breach of the principles of market economics. Growth requires income and consumers," she insists.
The Godmother caused a big stir in Germany after excerpts from the book were published in the country's heavyweight conservative Frankfurter Allgemeine newspaper. Yet, so far, Merkel's critics are confined to opposition politicians and a small but increasingly vociferous band of dissidents within the CDU.
Gertrud Höhler has touched a nerve but, if anything, Angela Merkel's brand of power politics appears to be working. The latest opinion polls suggest she has regained her position as Germany's most popular politician. Her conservatives have also recovered from a popularity slump and now have a fighting chance of winning next year's German general election. For the time being, at least, no one appears to be planning to replace "The Godmother", however autocratic her regime might be.
Join our commenting forum
Join thought-provoking conversations, follow other Independent readers and see their replies