MH17 crash: Parents of passenger Fatima Dyczynski arrive at Ukraine site to search for their daughter
Parents still hold hope their daughter could be alive
Heather Saul
Saturday 26 July 2014 16:55 Comments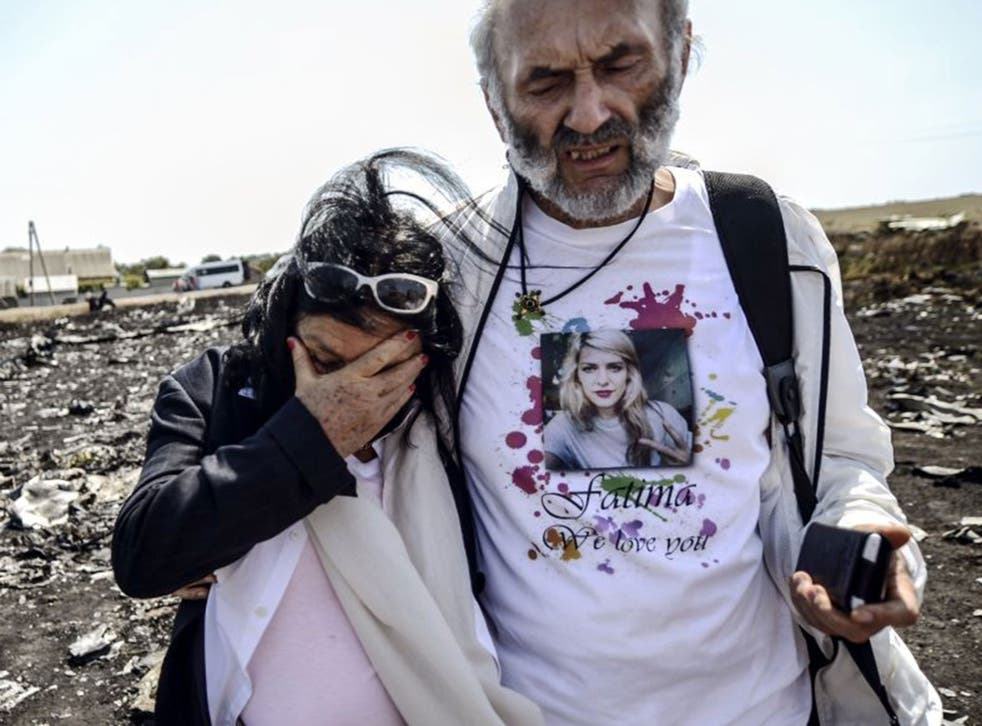 The parents of a passenger on the MH17 flight have arrived at the site where the plane crashed in search of their daughter.
George and Angela Dyczynski laid down flowers at the crash site in eastern Ukraine for their daughter Fatima Dyczynski, an aerospace engineer, who was among the 298 passengers killed on the downed flight.
The Perth-based couple are the first family members to visit the field where the plane came down near the village of Grabov.
Fatima had been travelling on flight MH17 back to Perth on a German passport, where she had planned to undertake an internship before returning to the Netherlands for further study.
Her parents told The West Austalian on Thursday after arriving at the Schiphol Airport in the Netherlands they were travelling to the site despite warnings from officials not to travel to the troubled rebel-held region.
Mr Dyczinski, who arrived wearing a t-shirt saying "Fatima We Love You", said he still held hope his daughter could be alive.
He told The Telegraph: "I cling to it… In Australia, when one person [goes missing] hundreds of people go to the bush and look until they are found. So we want to [do it]. We want to see if there are survivors."
On Friday, Dutch and Australian investigators arrived at the site of the crash as their governments prepared police detachments that will try to protect the crash area and help bring the last of the victims home.
OSCE monitors said more human remains have been discovered on the site along with a huge section of the plane, prompting calls for it to be secured as soon a possible.
On Saturday, the Malaysian Prime Minister Najib Razak announced he will travel to the Netherlands on Wednesday to discuss the downed Malaysia Airlines jet with his Dutch counterpart.
Mr Najib said he and the Dutch Prime Minister Mark Rutte will discuss securing full access to the crash site and whether Malaysian pathologists can be of assistance in "expediting the process of identifying the human remains."
The Boeing 777 went down on 17 July as it headed to Kuala Lumpur from Amsterdam. US and Ukrainian officials say it was shot down, likely by mistake, by a missile fired from rebel-held territory in eastern Ukraine, where pro-Russian separatists are fighting Ukrainian government forces.
Rebels deny shooting down the plane.
Register for free to continue reading
Registration is a free and easy way to support our truly independent journalism
By registering, you will also enjoy limited access to Premium articles, exclusive newsletters, commenting, and virtual events with our leading journalists
Already have an account? sign in
Join our new commenting forum
Join thought-provoking conversations, follow other Independent readers and see their replies