Migrant boat disaster: Captain and crew member arrested after hundreds killed in shipwreck
The two men were arrested aboard the rescue boat that brought 27 survivors from the shipwreck
Agency
Tuesday 21 April 2015 07:15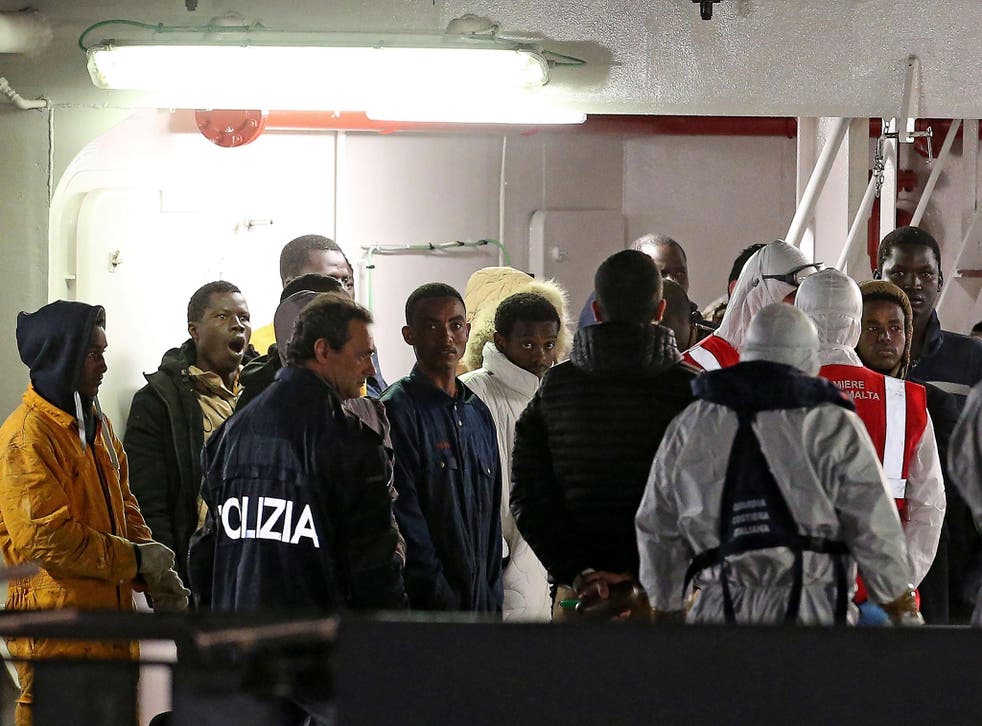 Prosecutors have arrested the Tunisian captain and a Syrian crew member of a boat that capsized off the coast of Libya with hundreds of people aboard in what may be the deadliest yet migrant tragedy.
Assistant prosecutor Rocco Liguori said the two men were charged with favouring illegal immigration and the captain was also charged with reckless multiple homicide in relation to the weekend sinking.
The two men were arrested aboard the rescue boat that brought 27 survivors from the shipwreck, which may have killed as many as 900 people, to Italy.
Even as the search continued for victims of the disaster, coastguard ships rushed to respond to new distress calls on the high seas - two off Libya and a third boat that ran aground near Greece.
European leaders struggled for an adequate response in the face of unremitting migrant flows and continued instability in Libya that has given free rein to human traffickers.
Condemning what he called an "escalation in these death voyages", Italian premier Matteo Renzi urged Europe to put the focus on preventing more boats from leaving Libya, the source of 90% of migrant traffic to Italy.
"We are facing an organised criminal activity that is making lots of money, but above all ruining many lives," he said at a joint news conference with Malta's prime minister Joseph Muscat. He compared their activity to that of slave traders of centuries past, "unscrupulous men who traded human lives".
European Union foreign affairs chief Federica Mogherini said this weekend's appalling human toll, which, if verified, would be the deadliest ever migrant tragedy, had "finally" fully awakened the EU to the evils of human trafficking.
The EU has been under increasing criticism for lagging in its response to the crisis, with two shipwrecks believed to have taken the lives of as many as 1,300 migrants in the past week. Some 400 people are believed to have drowned in another capsizing on April 13.
In pictures: Migrant boat disaster

Show all 10
Stopping the traffickers will be a key item on the agenda when EU leaders meet in an emergency summit on Thursday in Brussels, along with a proposal to double spending on sea patrols off Europe's southern border.
The 10-point plan includes a proposal to take "civil-military" action modelled on Europe's anti-piracy operation off the coast of Somalia, to capture and destroy boats used by traffickers.
Meanwhile, new details emerged about the weekend disaster, with Italian prosecutors saying hundreds of migrants were locked below deck unable to escape when the rickety boat capsized.
Speaking in Catania, Sicily, prosecutor Giovanni Salvi said "a few hundred were forced into the hold and they were locked in and prevented from coming out". He said hundreds more were locked on a second level of the boat, which also had hundreds of migrants squeezed into its upper deck.
Mr Salvi said the migrants rushed to one side of the boat as they saw a Portuguese-flagged container vessel approach, with the promise of rescue contributing to the disaster.
"Merchant ships don't have adequate training for rescues in the seas," he warned. "The fact is, sea rescues are difficult and require professionalism. "
As with most such high seas sinkings, a precise death toll will likely never be known. Only 24 bodies have been recovered so far and only 27 survivors rescued. One survivor, identified as a 32-year-old Bangladeshi, has put the number of people on board at as many as 950, though Mr Salvi said the survivor had no means to verify numbers.
He said the coastguard estimated more than 700 people were on board, based on its observations at the scene.
Mr Muscat called the latest tragedy "a game-changer" and said that "if Europe doesn't work together, history will judge it very badly".
PA
Register for free to continue reading
Registration is a free and easy way to support our truly independent journalism
By registering, you will also enjoy limited access to Premium articles, exclusive newsletters, commenting, and virtual events with our leading journalists
Already have an account? sign in