Migrants crossing the Mediterranean: Death rate rises 50-fold since end of Italy's Mare Nostrum search and rescue mission, say refugee organisations
Latest shipwreck leaves 400 dead as campaigners demand EU action to deal with unprecedented flow of boats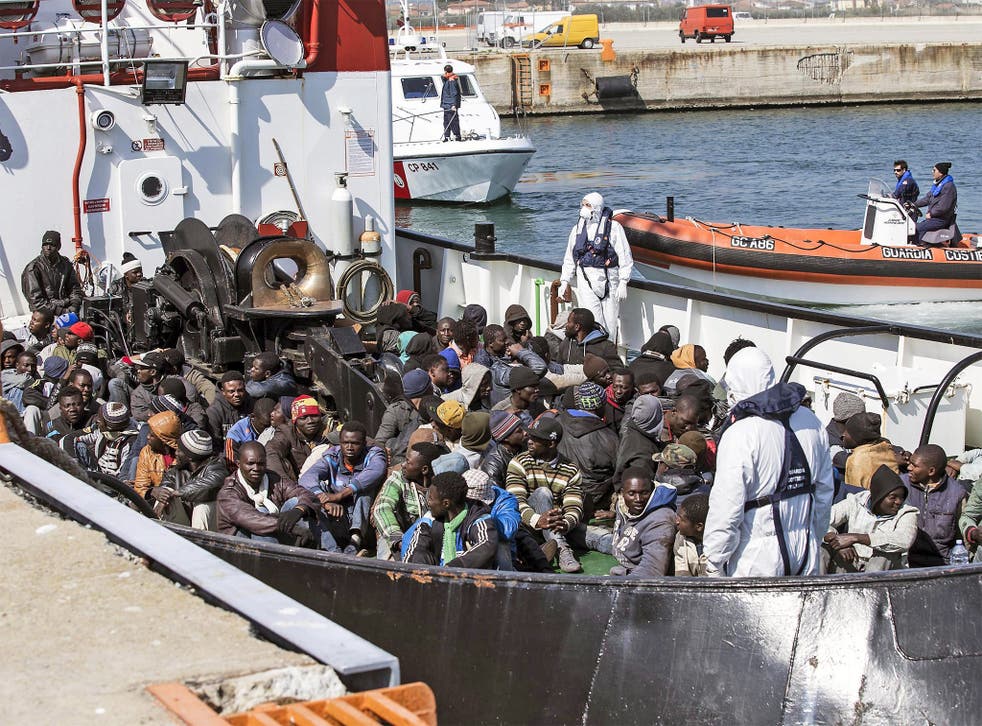 Fears of an unprecedented wave of lethal Mediterranean crossings are being realised, with refugee organisations declaring that death rates had soared by 50-fold since the end of Italy's dedicated Mare Nostrum search and rescue mission.
With just the EU's limited Frontex rescue system to replace it, the United Nations Refugee Agency (UNHCR) and Amnesty International said they were "deeply shocked" by the loss of 400 lives following the latest migrant shipwreck, which brought the death toll to almost 900 so far this year, since 1 January. This compares to just 17 during the same period in 2014, or more than 50 times as many deaths, said the UN agency.
"How many more people have to die before European governments acknowledge that relying on a patchwork quilt of resources for search-and-rescue operations is not enough?" said Gauri Van Gulik, deputy Europe and Central Asia programme director at Amnesty International. Charities had warned that spring would see more migrant vessels but that Frontex would not be able to cope.
Justin Forsyth, the chief executive of Save the Children, said: "Our political leaders cannot ignore the fact that without search and rescue we are allowing thousands of innocent children and their families to drown off the coast of Europe. "
The Italian Coastguard announced that almost 10,000 migrants fleeing Libya had been rescued in the past few days – with thousands more on the way. Coastguard officials announced there were no more survivors from the shipwreck in which 400 migrants, many of them children, are believed to have perished, after their vessel capsized off the Libyan coast on Sunday.
According to the International Organisation for Migration (IOM), which interviewed some of the survivors, between 500 and 550 people were crammed into the vessel at the time. Coastguard spokesman Commander Filippo Marini told AFP that they had not found any more "survivors or anything else which would indicate more victims".
Meanwhile, the exodus of refugees continues. Earlier this week, Italian authorities said up to 3,000 more arrivals were expected in the following 24 hours across southern Italy. The following day, around 480 migrants landed at Palermo after being rescued by the King Jacob vessel.
Another merchant ship carrying hundreds more was also expected in the Sicilian capital, where authorities were organising an emergency task force to deal with the wave of refugees, following the arrival of 1,169 migrants in the city earlier this week. Hundreds more were expected to dock in Reggio Calabria, Taranto and other ports.
Merchant ships have been making a "significant" contribution, according to the Coastguard, with one vessel, the Norman Corona, rescuing 95 migrants and transferring them to a patrol boat.
But Jean-Frangois Dubost, Amnesty's displaced persons director in Paris, said the deaths of 400 people highlighted the "horror of nothing having been sorted out in the Mediterranean".
Strains have been showing, with right-wing politicians demanding that vessels carrying migrants not be allowed to dock in Italian ports.
Meanwhile, Greece's government appealed to the European Union for help handling undocumented migrants. "It's a problem we can't solve by ourselves," State Minister Alekos Flabouraris told Greek television.
Register for free to continue reading
Registration is a free and easy way to support our truly independent journalism
By registering, you will also enjoy limited access to Premium articles, exclusive newsletters, commenting, and virtual events with our leading journalists
Already have an account? sign in
Register for free to continue reading
Registration is a free and easy way to support our truly independent journalism
By registering, you will also enjoy limited access to Premium articles, exclusive newsletters, commenting, and virtual events with our leading journalists
Already have an account? sign in
Join our new commenting forum
Join thought-provoking conversations, follow other Independent readers and see their replies