Migration summit: Turkey's argument on refugees is about pride – not just money
President Recep Tayyip Erdogan would relish having forced Brussels to double its money from €3bn to €6bn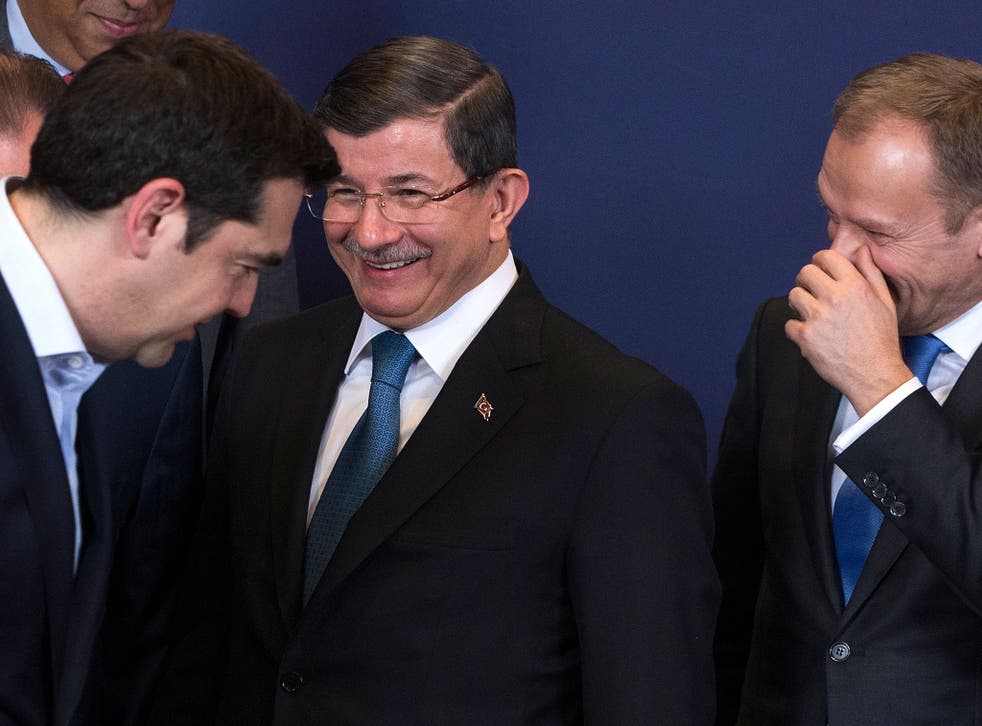 It was all smiles as Turkey's Prime Minister, Ahmet Davutoglu, arrived for Monday's summit and declared that "co-operation" was the key to a successful migration deal. Behind the scenes, however, a tug of war was under way.
As well as wrangling over the amount of money committed to Turkey, Ankara and the EU are engaged in a quiet battle over how to use the cash. Turkey wants the freedom to spend it through its own agencies. The EU is reluctant. The tussle threatens to add a fresh glitch to the precarious deal.
Turkey is home to some 2.5 million people who fled the war in Syria. The money from Europe is meant to improve living conditions and ease the burden of further arrivals. But it is unclear if any of the funding will go to Turkey directly.
Turkey's government disasters agency, Afad, has submitted a proposal to the EU over how cash should be used. Sources at the agency say it has suggested building schools, health clinics and sewage systems. It also wants to improve facilities at camps controlled by the government, and to strengthen the coastguard.
Negotiations are still under way, but the proposal is at odds with the public message from the EU. It announced last week that the first funds will go to the World Food Programme and a school project run by the European Commission.
In graphics: Refugees in the EU

Show all 3
Johannes Hahn, the EU Enlargement Commissioner, told the Turkish newspaper Daily Sabah that Brussels wanted to "collaborate" with Turkey but money would be managed by the EU. He said the EU liked to work with UN agencies because they have the "infrastructure, people and everything else already there".
This is not how Turkish officials see it. "Turkey has the important experience to allocate resources for Syrians effectively," said an Afad source. Another senior government official said it was "only natural" for Turkey to have a say in how to allocate funds.
The argument is not solely about money. It is also about pride. Turkish politicians lurch between courting their European counterparts and pretending to be uninterested in them. President Recep Tayyip Erdogan would relish having forced Brussels to double its money from €3bn to €6bn.
Turkey is proud of its record in hosting refugees and likes to accuse Europe of being both patronising and hypocritical. At a time when Mr Erodgan faces criticism for deteriorating freedom of expression and rule of law, his decision to accept so many Syrians is one area that few will criticise.
Nonetheless, much work is needed to build a long-lasting future for Syrians. Though conditions in the camps have won praise, most Syrians live in rented housing. Many have no access to healthcare or education. Ministers recently announced plans to allow them to work, but it is unclear when this will come into force.
Many challenges lie ahead. Syrians here need to be comfortable and happy enough not to look towards Europe. That is the EU deal's central purpose. But if Europe and Turkey cannot agree how best to support them, the signs are not good.
Join our new commenting forum
Join thought-provoking conversations, follow other Independent readers and see their replies