Mikheil Saakashvili interview: Former Georgian President says he is trying to save Ukraine
Exclusive: Speaking in an interview with The Independent before his clash with Ukrainian police on Tuesday, Saakashvili admits a former head of state entering another country's politics is unusual. 'From a Western point of view this looks strange; a foreigner trying to save the country. There is no modern precedent for it'
Kim Sengupta
Kiev
Tuesday 05 December 2017 17:15 Comments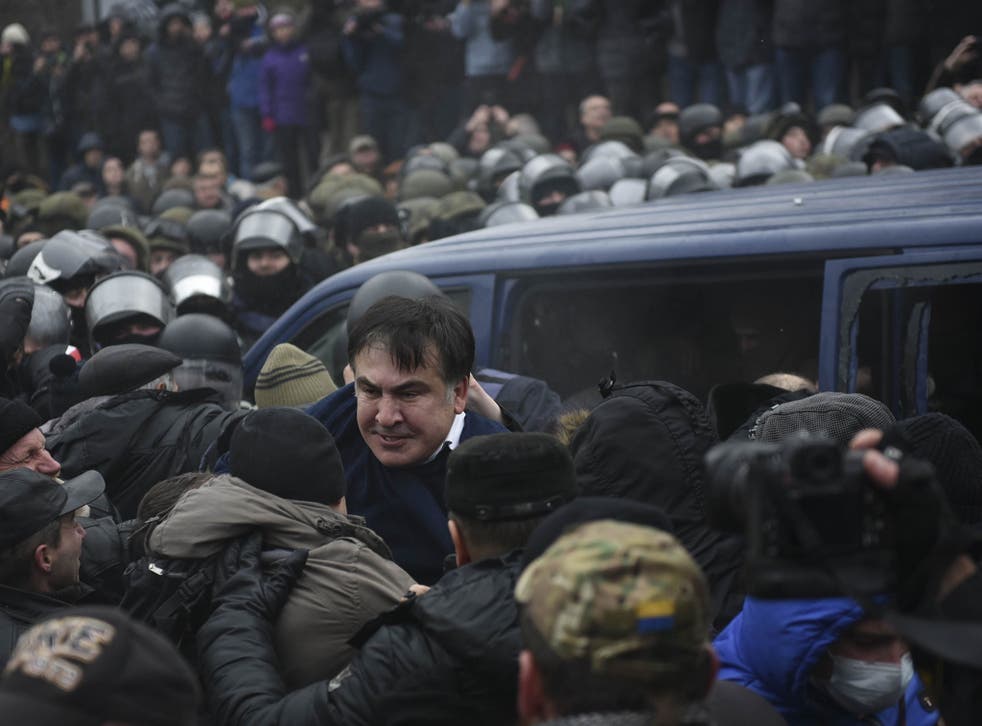 Mikheil Saakashvili had a mortar round and launcher leaning against the wall at his office when I met him last week. They were not there in case we got attacked, he assured. The weapons were in fact souvenirs from Ukrainian forces on the front line of the war against Russian backed separatists. A gesture of solidarity which showed belief from the troops, the former President of Georgia said, in his unswerving loyalty to his adopted country.
Ukraine's President Pietro Poroshenko does not, however, share this sense of warmth and solidarity. The two men, once friends and colleagues, are now bitterest of adversaries. Agents of the country's secret service, SBU, were sent in to arrest Mr Saakashvili today.
The drama which has been ever present in the tempestuous life of Mr Saakashvilli was very much in evidence. He appeared on the rooftop of his eight storey apartment block, threatening to throw himself off, before being persuaded to climb down. His home was searched, "ransacked" according to an aid. But attempts to take him away in a police van led to a barricade by hundreds of his supporters. There were clashes, with tear-gas fired, before the agents were forced to free him.
SBU spokeswoman Olena Hitlyanska refused to give the reason for the search and arrest. But what happened was not surprising. Mr Saakashvili has been on a self-appointed mission against corruption and lawlessness in Ukraine with a focus on President Poroshenko, who he has accused of "stealing billions" while "leading a government of kleptocrats", of being nothing more than a "cheap Mafioso" who must be impeached. He had led yet another rally against Mr Poroshenko at the weekend demanding impeachment.
Sitting at the offices of the political group he has founded, Movement of New Forces, a stone's throw from Ukraine's parliament, Verkhovna Rada, Mr Saakashvili described how the reaction had been, as he put it, "total intimidation". Members of his Georgian entourage had been arrested and deported. He had been threatened, he claimed, but had also been promised his "troubles would be over" if he stopped criticising Mr Poroshenko.
I had first met Mr Saakashvili when he was Georgia's leader during the war with Russia nine years ago. That ended in disaster for Georgia and he was forced to leave the country soon afterwards. Now, however, he wants to play a full part in the political future of Ukraine and was preparing for the Presidential election next year.
Mr Saakashvili spoke of talking to a number of possible successors to Mr Poroshenko who he will be prepared to serve as prime minister. Discussions have been held with a few, claimed the former Georgian President. But he was reluctant to be in the cabinet of someone from the old guard ("like changing shifts, a carousel, the same faces coming round and round") and wanted new people to come forward.
"Much of this is about the President and accumulation of scandals. In normal countries there can be an impeachment process. As we saw with Mugabe, this can happen even in places like Zimbabwe. But there is no law allowing impeachment in Ukraine: so people are saying they are not happy with the President, he must be investigated, they are marching, holding rallies to say it," declared Mr Saakashvili.
"What has happened with Poroshenko is like what happened in Brazil or South Korea but here it has become such a routine that it's difficult to predict how the people will react. We hope they'll react by kicking out the government and that will create the conditions for taking on the oligarchs and the whole network of corruption."
Mr Shaakashvili's critics hold that as a foreigner and someone without a power base, he has marginal influence. Mr Saakashvili insisted he has growing support and, as the attempted arrest illustrated, they are able to mobilise effectively for the street.
Mr Saakashvili agreed, nonetheless, that the situation was unusual. "From a Western point of view this looks strange; a former head of state of a country going to another country and trying to change it, a foreigner trying to save the country. Simon Bolivar was a couple of centuries ago, but there is no modern precedent for it." he admitted.
But, waving his arms over a desk with a bust of Ronald Reagan, he was keen to add "the West also understands the need for strong leadership and we all know Ukraine needs strong leadership now."
El Libertador, General Bolivar, freed Latin America from Spanish colonial rule, and established the nations of Venezuela, Colombia, Ecuador, Peru, Panama and Bolivia in the early 19th Century. Mr Saakashvili, a furious Mr Poroshenko and his allies charge, is simply trying a blatant power grab and they rail at what they view as the Georgian's ingratitude.
Mr Saakashvili is wanted in Georgia for alleged embezzlement and abuse, charges he claims are politically motivated. President Poroshenko gave him Ukrainian citizenship and made him the governor of Odessa with a remit to clean up a city which had become notorious for graft, vote manipulation and organised crime."Mikheil Saakashvili is my friend from our student years. I remember him as a strong and decisive person, and I have reason to trust him," Ukraine's president tweeted at the time.
Mikheil Saakashvili: Former President of Georgia detained by Poroshenko-backed prosecutors at his home
But there was soon an acrimonious and very public fallout. Mr Saakashvili claimed repeatedly, and publicly, that instead of backing his reforms, Mr Poroshenko was deliberately hindering them. Mr Poroshenko revoked Mr Saakashvili's Ukrainian citizenship while he was on a visit to the US. He still feels deeply aggrieved: "I was sabotaged in Odessa. At first the local mafia feared me, but then they began talking to their corrupt friends in Kiev and realised they had nothing to fear because all my efforts would be undermined."
After being stripped of Ukrainian citizenship, Mr Saakashvilli made his way to Poland and, in September, stormed across the border back into Ukraine with a phalanx of former bodyguards and Ukrainian ex-servicemen. He appeared a few days later with Yulia Tymoshenko, the golden braided former prime minister, who had herself once been jailed for alleged corruption, to begin a campaign against Mr Poroshenko. Mr Saakashvili has now got temporary right to stay in Ukraine, but he has no passport.
Yuri Lutshenko, Ukraine's Prosecutor General, has announced that Mr Saakashvili's asylum application has been rejected and he will be deported. He also accused the former Georgian President of trying to organise "a violent coup" and getting together a team of fellow Georgians by obtaining 20 visas under false pretences.
"The Prosecutor General is totally wrong in law and we are taking legal action against him", exclaimed Mr Saakashvili. " He is also coming out with all kinds of lies. Is he really serious that I can carry out a coup with 20 people! At one point they even mobilised forces to stop this supposed coup.
"But they are using this as an excuse to arrest people from my team in the street and deport them to Georgia, journalists, people who have fought as volunteers for Ukraine. They have been taken out on special trains, military helicopters. They are trying to send me a menacing message."
Mr Saakashvili also claims that "an intermediary" from Ukraine's President had promised him a reprieve if he focussed his criticism instead on Yulia Timoshenko, who is expected to be one of Mr Poroshenko's opponents in the election.
"I was told my troubles would be over if I agreed to these things. I would get my passport back in five minutes. Yulia Timoshenko helped me over the border crossing. I don't agree with most things she says, but I don't think this should have been part of the condition".
Mr Saakashvili said he did not want to divulge the name of the intermediary. "But I have no doubt he came from the President," he held. "In fact I met the President in Malta in March [at a European parliamentary meeting] and he raised the same issues."
An official at Mr Poroshenko's office said he has no knowledge of any such approach being made to Mr Saakashvili.
The Ukrainian government, claimed Mr Saakashvili, had itself received messages; from Western governments. "I have been told by my contacts, Western and Ukrainian, that Poroshenko knows from Western governments that he shouldn't even think of deporting me to Georgia. They have been very critical of the way the Ukrainian government had deported Georgian citizens disregarding legal procedure. "
World news in pictures

Show all 50
Mr Saakashvili was once, indeed, the blue eyed poster boy of the West and the affection was reciprocated in Georgia when he was in office. Not many countries would name the main road from the airport George W Bush Boulevard. Did he feel let down by the West during the Russian conflict and subsequently?
"We always had high expectations from the West. But at the end of the day we only survived because the Americans intervened, although quite late and what has happened in Ukraine since vindicated us" he reflected.
"But one thing we learned, and Ukraine would be wise to learn, is that one shouldn't always be the victim. Because at the end the West tends to lose patience and sympathy with victims."
Register for free to continue reading
Registration is a free and easy way to support our truly independent journalism
By registering, you will also enjoy limited access to Premium articles, exclusive newsletters, commenting, and virtual events with our leading journalists
Already have an account? sign in
Join our new commenting forum
Join thought-provoking conversations, follow other Independent readers and see their replies