Police find body in search for three mountaineers missing on Mont Blanc
Rescuers fear remaining climbers have died as search mission in French Alps continues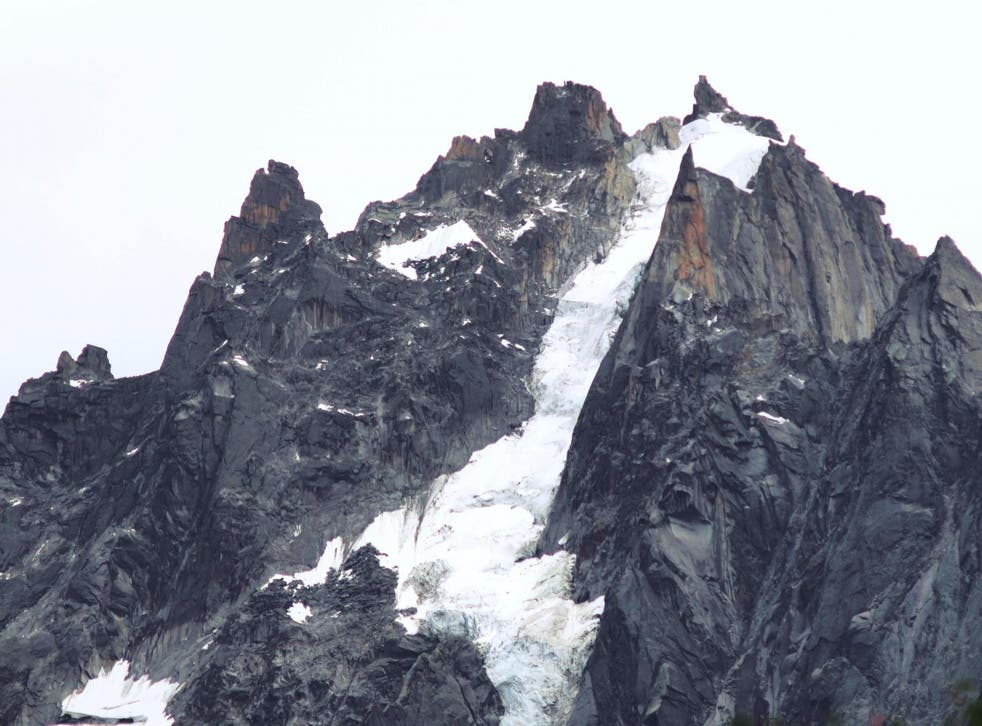 The body of one of three Italian mountaineers missing on the slopes of Mont Blanc has been recovered by police.
Authorities have identified the man as 31-year-old Luca Lombardini, who disappeared on Tuesday along with girlfriend Elisa Berton, 27, and brother Alessandro Lombardini, 28.
Mountain rescue officials told France's AFP news agency they believe they have located the two other climbers nearby, but fear they too have died.
"The other two mountaineers cannot be alive," a source from the rescue mission said.
World news in pictures

Show all 50
"They are probably buried under stones and ice, they are probably in a square of a few dozen meters."
Rescuers had been searching for the trio for three days in the Mont Blanc massif, a range inside the larger French Alps home to western Europe's largest mountain of the same name.
The High Mountain Mounted Police Platoon (PGHM) in Chamonix said the body had been found on the Aiguille Verte peak, around 3,500 metres above sea level.
According to Italian news agency ANSA, Mr Lombardini's body was discovered at the bottom of a crevasse, around 300 metres below a ridge the group were thought to have been scaling.
It said rescuers could only recover his remains by helicopter, cutting a rope attached to the climber which is also thought to be wrapped around his missing relatives.
The family, from the Piedmont region of northern Italy, are understood to have embarked on the outing to celebrate Luca Lombardini's birthday.
French rescuers assisted by Italian officials are expected to resume their search mission on Saturday.
Four people had already died on Mont Blanc so far in August before Friday, including a local mountaineer who was thought to have been killed during a rock fall on the peak last Friday.
A day earlier, three French climbers lost their lives after falling into a crevasse while trying to make their way down the mountain.
Join our new commenting forum
Join thought-provoking conversations, follow other Independent readers and see their replies