More than half of Germans support Angela Merkel's tough stance on Greece
55 per cent agreed with Merkel's position, but the wide majority doubted whether Greece would actually make the reforms necessary for the bailout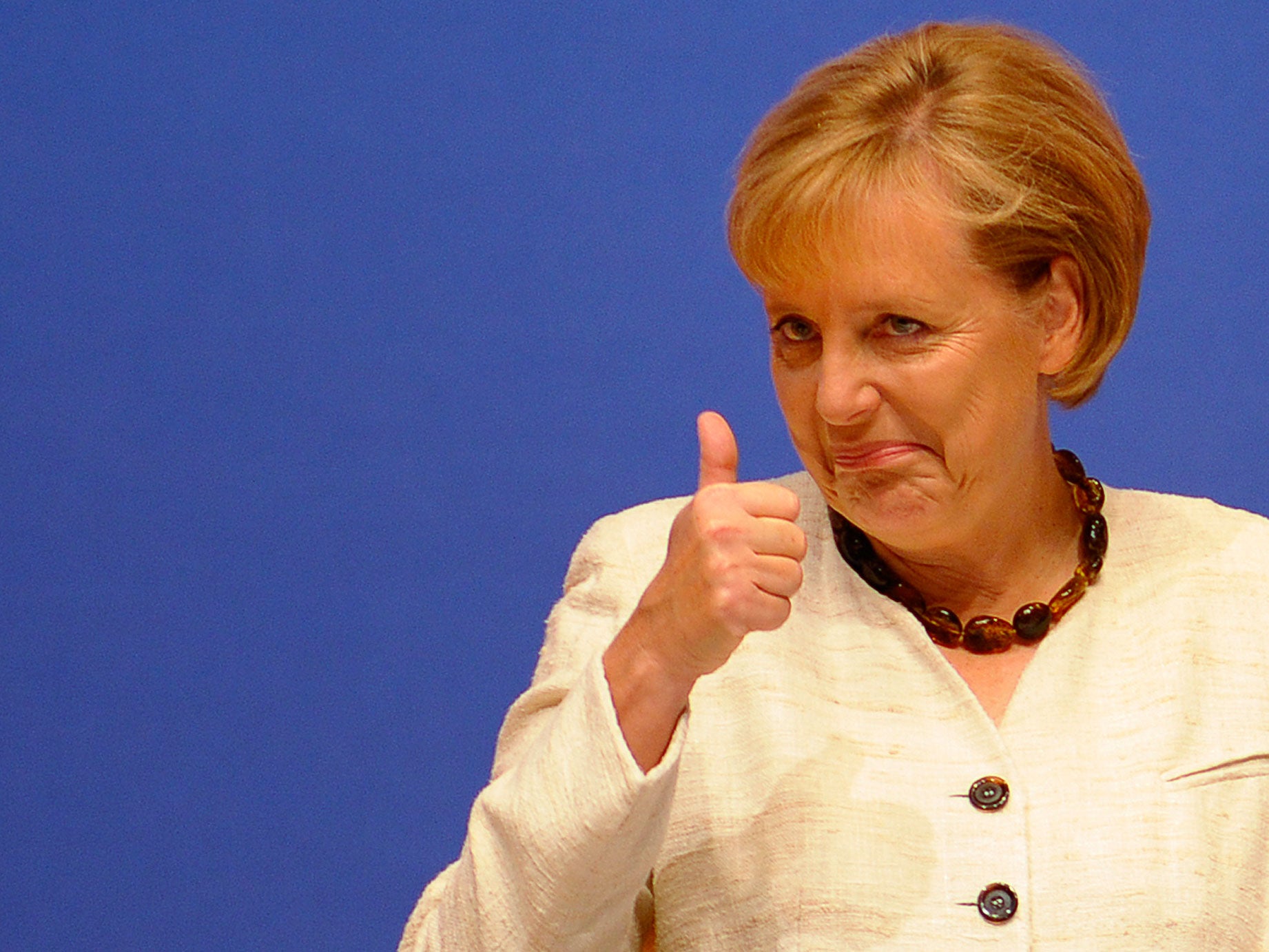 A poll conducted in Germany has found that more than half of Germans agree with Chancellor Angela Merkel's position on negotiations with Greece.
And almost all of those surveyed said that they doubted whether Greece would actually implement the sweeping reforms, which were agreed upon during marathon all-night negotiations between Eurozone leaders on Sunday night.
The survey, conducted by German polling company Forsa for weekly news magazine Stern, asked 1,001 people about their opinions on Merkel's approach to the Greek crisis.
55 per cent said they believed Merkel's tough attitude to Greece during the negotiations was correct, and almost one third wished that she had taken a much tougher line, by forcing Greece out of the Eurozone.
Only 14 per cent of respondents believed that Greece would actually implement the reforms, which include privatisation of the national electricity network, heavily boosting tax revenue and slimming down the generous pension system - the kind of austerity measures that 61 per cent of Greeks voted against in the referendum on 5 July.
In pictures: Riots on the streets of Athens as Greek parliament votes on a bailout deal
Show all 20
81 per cent said they had serious doubts that the long list of major reforms would actually be implemented.
Oddly, Merkel found high levels of favour amongst supporters of Germany's Green Party, one of the parties in opposition in the German parliament, the Bundestag.
Two-thirds of Greens said they supported her position - a similar figure to the level of support over the Greece issue within her own Christian Democratic Union party.
While other major Eurozone countries, such as France, presented themselves as allies of Greece in the run-up to the negotiations, the German delegation took a noticeably hard line, pushing for a set of major economic reforms, with finance minister Wolfgang Schäuble putting forward the suggestion that Greece could temporarily leave the Eurozone if the measures were not put in place within a strict timetable.
Reaction in Germany appeared mixed. Some Germans, as evidenced by the poll, backed the tough measures. Others thought they were overly harsh, and amounted to a German effort to humiliate and punish Greece, with major German paper Der Spiegel claiming that over the weekend's negotiations, "the German government destroyed seven decades of post-war diplomacy on a single weekend."
Others criticised the fact that there was a deal in the first placed - the front page of Germany tabloid Bild, the day after the election, carried the headline: 'Merkel saves Greece with our money'. The paper said that Greece will never pay back its third bailout, which must be voted on in European parliaments before it goes ahead.
Join our commenting forum
Join thought-provoking conversations, follow other Independent readers and see their replies