Moscow beheading: Nanny says she 'killed girl to avenge Putin's air strikes in Syria'
'I took revenge against those who spilled blood. Putin spilled blood, planes carried out bombings. Why are Muslims being killed? They also want to live.'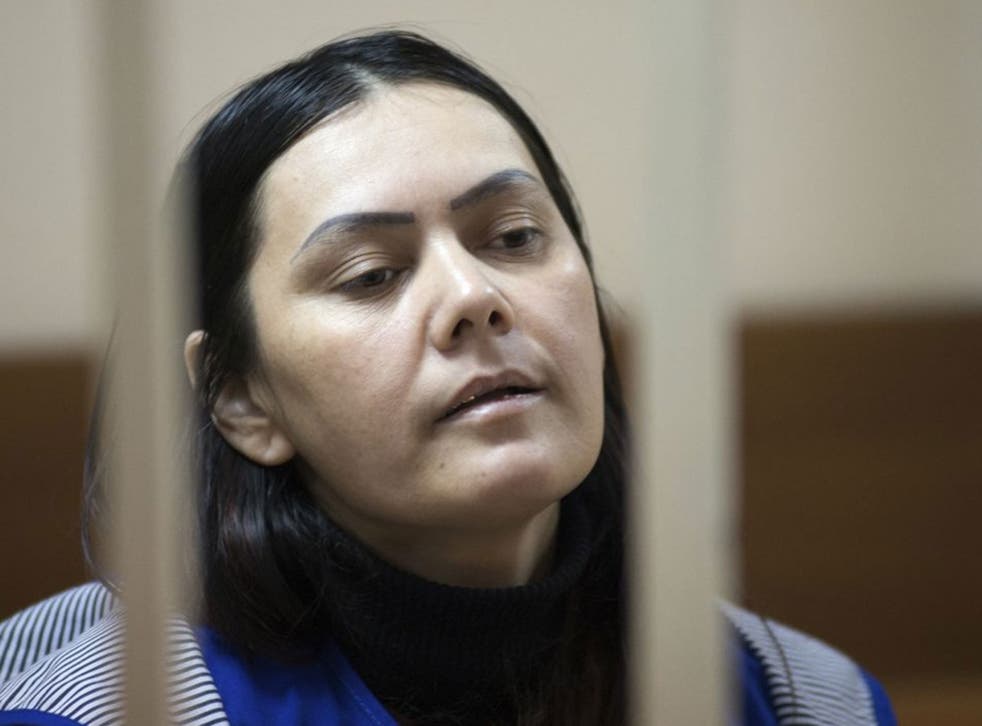 A nanny accused of beheading a four-year-old girl has said she did it to avenge the "spilled blood" of Muslims killed by Russian air strikes in Syria.
Gulchekhra Bobokulova, 38, from Uzbekistan – which has a Muslim majority population – gave her first detailed explanation of the heinous attack in a video posted online on Wednesday, according to Reuters.
She was seen outside a subway station in Moscow on Monday carrying the head of the girl who had been in her care.
When she appeared in court yesterday, the mother-of-three told reporters that "Allah ordered" the killing.
In the video circulated, she specifically pinpointed Russian President Vladimir Putin, who announced in September that Russia would launch air strikes "against terrorist groups" in Syria in support of President Bashar al-Assad.
"I took revenge against those who spilled blood," Bobokulova told an off-camera interviewer.
"Putin spilled blood, planes carried out bombings. Why are Muslims being killed? They also want to live."
She said she had wanted to go to live in Syria but did not have the money to do so.
It was unclear from where the video had originated or who was questioning her, but Bobokulova appeared to be wearing the same clothes she wore in court on Wednesday.
Kremlin spokesman Dmitry Peskov said: "You need to regard anything that such a deranged woman says accordingly."
In pictures: Russian air strikes in Syria

Show all 19
Russia's intervention in Syria has altered the course of the conflict there.
The Islamic State group said it downed a Russian passenger plane flying above Egypt in October, killing all 224 people on board, in revenge for Russia's campaign.
Bobokulova was reportedly shouting Islamist slogans as she carried the head of the girl following her decapitation.
One witness told Reuters he heard her screaming about the murder of children in Syria.
A police source has told the Interfax news agency that details of two men linked to an "international extremist group" had been found among her contacts.
But, police investigators were quick to raise the possibility that Bobokulova is mentally ill and have not said that they suspect her of any terrorism-related offences.
They played down the nanny's words in the video, suggesting that she was schizophrenic and that the motive offered by people suffering from the condition often differed from the real reason they had acted.
Register for free to continue reading
Registration is a free and easy way to support our truly independent journalism
By registering, you will also enjoy limited access to Premium articles, exclusive newsletters, commenting, and virtual events with our leading journalists
Already have an account? sign in
Register for free to continue reading
Registration is a free and easy way to support our truly independent journalism
By registering, you will also enjoy limited access to Premium articles, exclusive newsletters, commenting, and virtual events with our leading journalists
Already have an account? sign in
Join our new commenting forum
Join thought-provoking conversations, follow other Independent readers and see their replies