Moscow braces for renewed protests after opposition politicians excluded from city elections
All of the best-known opposition candidates are being excluded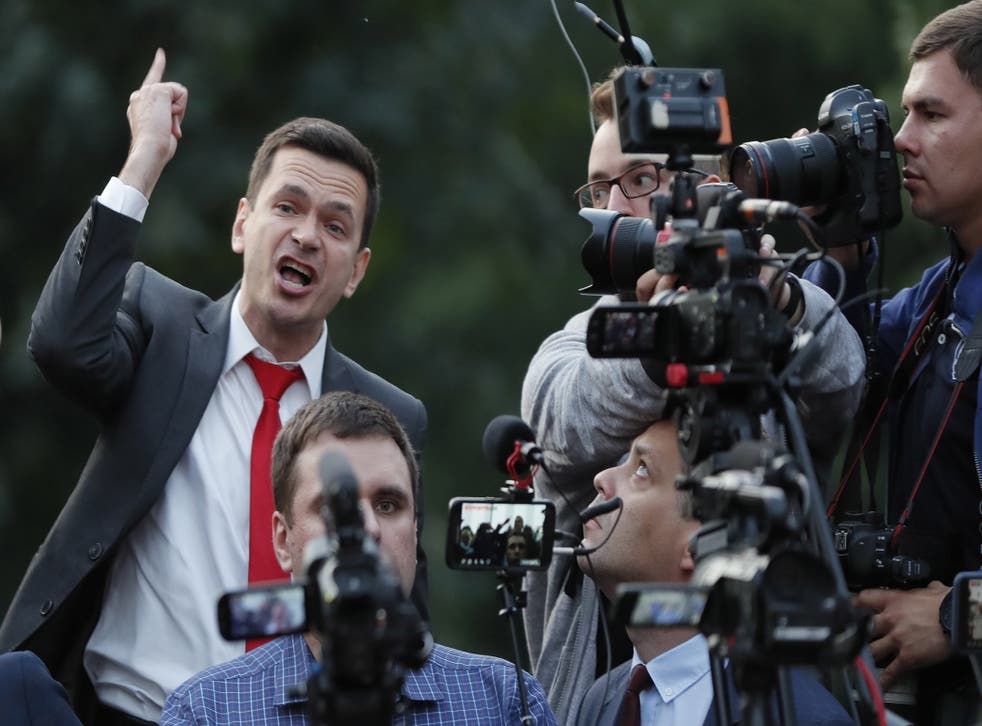 Locked out of forthcoming city council elections, Moscow's opposition politicians have called upon their supporters to force a rare U-turn from the Kremlin.
By Tuesday afternoon, almost all of the independent candidates standing for election had been told they would not be allowed to run.
In contrast, the vast majority of the 216 given the green light were supporters of Vladimir Putin. Further rulings by local electoral committees tomorrow are not expected to change the overall picture.
Russian authorities have introduced demanding new rules in the run-up to the 8 September vote. For the first time, those not running on party lists have been made to collect signatures from 3 per cent of their electorate. The new regulations automatically exclude candidates if 10 per cent of their signatures are for whatever reason deemed invalid.
The Kremlin has been accused of engineering the changes to make life difficult for its critics.
All of the best-known opposition candidates have been excluded. They include Ilya Yashin, a close associate of the murdered opposition leader Boris Nemtstov; Lyubov Sobol, a lawyer and close associate of Kremlin foe Alexei Navalny; and Dmitry Gudkov, a former State Duma deputy and one of only four to vote against the annexation of Crimea in 2014. All three stood good chances of election.
Mr Gudkov's father, Gennady, also a former MP, is another opposition candidate expected to be ruled ineligible.
Speaking to The Independent, the elder Mr Gudkov described the process as a "purge".
March of maternal anger in Moscow: in pictures

Show all 9
"They thought they could stop us with the signatures, but having failed, they turned to more repressive measures," he said. "They realise they can't win honestly. So instead we see the criminal usurpation of political power."
The process of checking signatures involves the manual transfer of data from handwritten lists to official databases. These are then checked against the electoral roll. Many of the disqualified say mistakes were deliberately introduced by commission staff at this stage.
In one case, a local commission cast out a signature from Viktor Sheynis, a political scientist best known for co-authoring the Russian constitution. In another, it ruled that Mr Gudkov's endorsement for Mr Yashin was forged. Mr Gudkov insists the signature was his.
Mr Yashin was disqualified late on Monday evening after authorities rejected 11.4 per cent of his signatures.
The council elections are an unexpected political battleground given the relatively limited powers of deputies. Council members can approve and reject annual budgets, but cannot control major property deals or development plans. They can send official requests to state bodies, but they are not necessarily guaranteed answers. Some opposition voices had wondered whether the city council elections were even worth the battle.
Mr Gudkov called such analysis short-sighted, saying the presence of opposition politicians in any legislature is critical – and most of all in the Russian capital.
"Elections in the capital are always important," he said. "As soon as you have people in there, you can influence the agenda. You influence the television and the papers. And capitals, remember, are where revolutions are made."
Speaking at a 300-strong political rally in central Moscow on Monday, Mr Yashin struck a defiant note.
"I am not bloody giving up without a fight," he said. "If we accept things, if we just swallow it all up, we will all be destroyed."
Protests are scheduled to resume on Tuesday evening. The opposition politicians insist they will continue until they are reinstated to the ballot.
Register for free to continue reading
Registration is a free and easy way to support our truly independent journalism
By registering, you will also enjoy limited access to Premium articles, exclusive newsletters, commenting, and virtual events with our leading journalists
Already have an account? sign in
Register for free to continue reading
Registration is a free and easy way to support our truly independent journalism
By registering, you will also enjoy limited access to Premium articles, exclusive newsletters, commenting, and virtual events with our leading journalists
Already have an account? sign in
Join our new commenting forum
Join thought-provoking conversations, follow other Independent readers and see their replies