Moscow mayor election: Defeat for Vladimir Putin's biggest rival Alexei Navalny may yet be a pivotal moment
Anti-corruption candidate sought votes by attacking Russia's president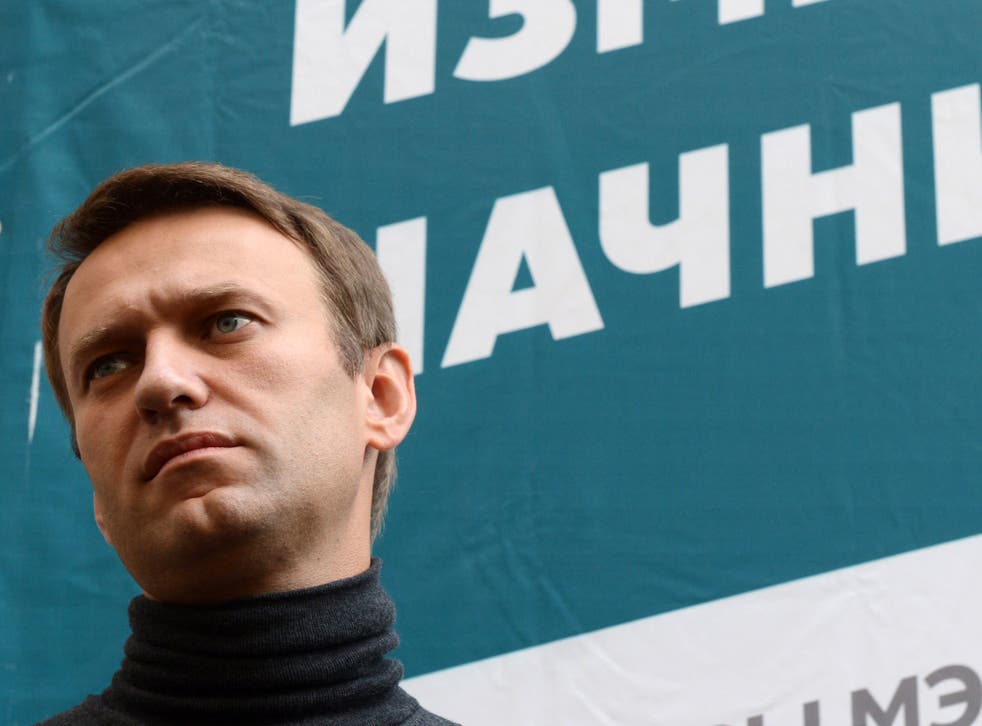 In a Moscow mayoral election that tested the Kremlin's strategy against its opposition, and that brought some of the divisions within the Kremlin itself close to the surface, charismatic, anti-corruption candidate Alexei Navalny made a far stronger showing than expected.
According to official results released on Monday he fell just short of forcing his chief opponent, the incumbent Sergei Sobyanin, into a runoff.
Sobyanin, an ally of Russian president Vladimir Putin, won 51 per cent of the vote according to election officials. Navalny took 27 per cent, and four other candidates split the rest.
Supporters of Navalny, who rose to prominence when he led protests against rigged elections in 2011, said they suspect that just enough fiddling occurred during the unusually long overnight count to allow Sobyanin to cross the 50 per cent threshold and avoid a second round.
Navalny has demanded a runoff and called on his supporters to rally. Even with the loss, Navalny's relatively strong showing against a Kremlin-backed candidate, who had vast resources and a monopoly on television exposure outside minor channels, almost guarantees a shift in the Russian political landscape. It raises the prospect of a new election stand-off in Russia, 19 months after allegations of fraud in a parliamentary election inspired the biggest protests against Putin since he rose to power in 2000.
In the city of Yekaterinburg, controversial opposition candidate Yevgeny Roizman was tentatively named winner of the mayoral contest — which would be a surprising blow to the ruling United Russia party in the country's fourth-largest city.
Navalny had spent the entire campaign running not against his leading opponent, Sobyanin, but against President Putin — and that strategy appears to have clicked with a large number of the electorate.
"We don't know him very well," said Lyuba Kulikova, a Navalny voter in the historic centre of Moscow. "But we know he's fighting against them," said her husband, Alexei, referring to Putin's United Russia party.
Navalny memorably dubbed United Russia the "party of crooks and thieves," and the sobriquet stuck.
People's Observers, a citizens group that was collecting results precinct by precinct, reported at midnight on Sunday that Sobyanin had fallen below the 50 percent mark.
Navalny is free on appeal following his July conviction for embezzlement, for which he was sentenced to five years in prison in a case that was widely viewed as trumped up. His supporters argue that winning the votes of so many Muscovites will ensure that authorities allow him to remain free. His release was reported as a victory for the more liberal factions of Putin's inner circle over the hard-liners who wanted to see him go straight to prison.
However, Sunday's turnout was low. Two hours before the polls closed, only 26 per cent of eligible voters had cast ballots.
The final result may be barely more than half the number of those who voted in the 2012 presidential election.
Dissident voice: A life of campaigning
Born
Alexei Anatolievich Navalny, 4 June 1976, Butyn, Russia, the son of Anatoly and Lyudmila. The family own a willow-weaving factory in Moscow.
Education
Graduated in law in 1998, he then studied securities and exchanges at Finance University.
Career
In 2000, Navalny joined the Yabloko Party before being expelled in 2007. In 2011, he started RosYama, which combats fraud in the construction sector. In December 2011, he was arrested for political activism and sentenced to 15 days in jail. In 2012, he was charged with embezzlement and fraud. In April 2013, he was sentenced to five years in jail. However, his appeal was granted in July and he was released.
Nikki Hall
© The Washington Post
Register for free to continue reading
Registration is a free and easy way to support our truly independent journalism
By registering, you will also enjoy limited access to Premium articles, exclusive newsletters, commenting, and virtual events with our leading journalists
Already have an account? sign in
Register for free to continue reading
Registration is a free and easy way to support our truly independent journalism
By registering, you will also enjoy limited access to Premium articles, exclusive newsletters, commenting, and virtual events with our leading journalists
Already have an account? sign in
Join our new commenting forum
Join thought-provoking conversations, follow other Independent readers and see their replies