Refugees living in French camps want to know how to reach the UK without breaking the law
Even people who have a legal right to claim asylum in the UK don't know how to reach the country, a new report says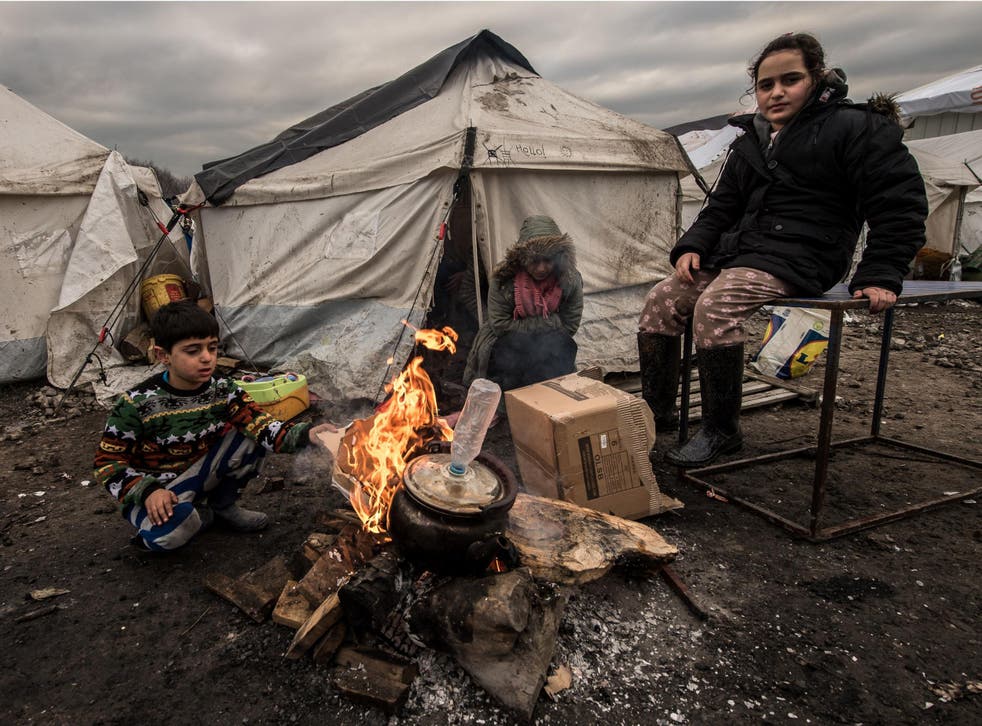 Most people living in refugee camps in France want to know how to reach the UK without breaking the law.
Some residents, including many children, have a legal right to claim asylum in Britain but are stuck in Calais, Dunkirk, or a smaller camp because they don't have access to advice or information, a report seen by The Independent has found.
Nearly half of more than 500 people surveyed told researchers from the Refugee Rights Data Project (RRDP) the subject they most wanted information on was how to reach the UK legally, contradicting the prevalent idea that refugees choose to try and sneak into the country illegally.
The report explores in depth an 'information gap' which leaves refugees stranded in France because they don't know how to reach their target country, how to claim asylum there, or even how to claim asylum in France.
Researchers found three quarters of refugees they spoke to did not have access to information on how to improve their situation.
In cases where individuals have direct family members in a specific European country, the government of that country is supposed to waive a rule which says the first EU Member State an asylum seeker arrives in is repsonsible for that person's claim. The rule is supposed to allow family reunification, but Marta Welander of RRDP said in reality this wasn't happening.
Instead, a dearth of information leaves refugees trapped in the camps, she said, even if they have a right to claim asylum in the UK. Many become desperate, and try to reach the country illegally, making dangerous, sometimes deadly, attempts to cross the channel.
"Alarmingly, our research found so many individuals – including a large number of minors – who appear to have a legal right to be reunited with family in the UK but who are stuck in limbo in Calais with difficulties accessing the help they need and thinking their best and quickest option is to continue trying to reach the UK by getting on lorries or ferries, or paying people smugglers," Ms Welander said.
"Legal services available to these children are over-stretched and under-resourced. Many individuals – especially minors – tend to lack identification and other forms of documentation required which further complicates the process for the volunteer teams of legal advisors and solicitors trying to handle the situation," she added.
"Language barriers, post-traumatic stress, and lack of trust due to traumatic experiences and police brutality are additional factors that stand in the way for swift legal processes."
Refugees in the camps — who listed speaking English, having family in the UK, and better educational opportunities in the country as reasons for wanting to reach Britain — said they didn't understand the complex legal framework that makes it so hard to have their claims heard there.
The report noted the future of the camps, which are estimated to hold nearly 10,000 people, is uncertain. The French authorities have destroyed part of the Calais camp already and recently closed down local shops and restaurants, making things increasingly difficult for residents.
Closing the camp would not encourage refugees to move on, the report said, as most don't know where else to go.
"Our research findings suggest that any future government decision to shut down or restrict access to the Calais and Dunkirk camps - without offering a viable alternative - is unlikely to lead to any sustainable solution to the bottle-neck situation in northern France," said Ms Welander.
"The majority of displaced people in the region appear to lack crucial information regarding asylum processes, and have been living in limbo and dire conditions for long periods of time. A policy-driven, long-term solution is overdue."
In Dunkirk's Grande Synthe camp researchers found 54 per cent of all respondents said they did not know how to seek asylum in the country they were heading for, raising "concerns about the fulfillment of these people's basic human rights," the report said, adding that seeking asylum is a universal right for people fleeing conflict, persecution and discrimination.
The report said not knowing how to legally travel to the UK leaves some refugees in the camps for months. In Calais, researchers found nearly nine per cent of refugees had been living there for more than a year, raising serious concerns for their health and their safety. Long stays also put refugees at increased risk of exposure to police violence, the researchers found. A report by the same organisation published in February showed that in Calais 75 per cent of refugees had experienced police violence. The extensive use of tear gas injured many residents, including children.
For this study, researchers also visited smaller camps, outside of Calais and Dunkirk, for the first time and reported conditions are also bad there. They noted the media attention on Calais had led to organisation focusing their resources on the larger camp and left residents in smaller camps — of which they visited five, the largest holding 270 people — to fend largely for themselves.
While refugees in smaller camps faced less police violence, hostility from local people and a threat from far right groups were persistent problems, along with sanitation issues and a lack of resources.
The other Alan Kurdis: Refugee children who survived the journey

Show all 8
Ms Welander condemned the current situation, suggesting not enough is being done to help refugees, particularly those who have the legal right to come to the UK, and of those, particularly children.
"Many more resources – including a coordinated government drive – are required to ensure the family reunion process works. This can help unlock the process by which minors can be lifted out of the highly unsuitable environment presented by the Calais camp. Therefore, the UK Government needs to speed up the process for existing family reunion procedures, reuniting unaccompanied children in Europe with their families in the UK. Children need to be able to be safely and legally reunited with their families so that children stop making dangerous journeys by risking suffocating on lorries or falling into the hands of people smugglers," she said.
"The UK government should also consider widening immigration laws to allow children to be with extended family members (not just nuclear family). Many of the children in Calais are likely to have been orphaned – but they may have extended family (grandparents, aunts and uncles, or adult brothers and sisters in the UK) who can care for them."
Register for free to continue reading
Registration is a free and easy way to support our truly independent journalism
By registering, you will also enjoy limited access to Premium articles, exclusive newsletters, commenting, and virtual events with our leading journalists
Already have an account? sign in
Register for free to continue reading
Registration is a free and easy way to support our truly independent journalism
By registering, you will also enjoy limited access to Premium articles, exclusive newsletters, commenting, and virtual events with our leading journalists
Already have an account? sign in
Join our new commenting forum
Join thought-provoking conversations, follow other Independent readers and see their replies