Much-reduced role for Georgia's new president Giorgi Margvelashvili
Critics say billionaire businessman Bidzina Ivanishvili wields the real power
Maxim Tucker
Sunday 17 November 2013 19:44 Comments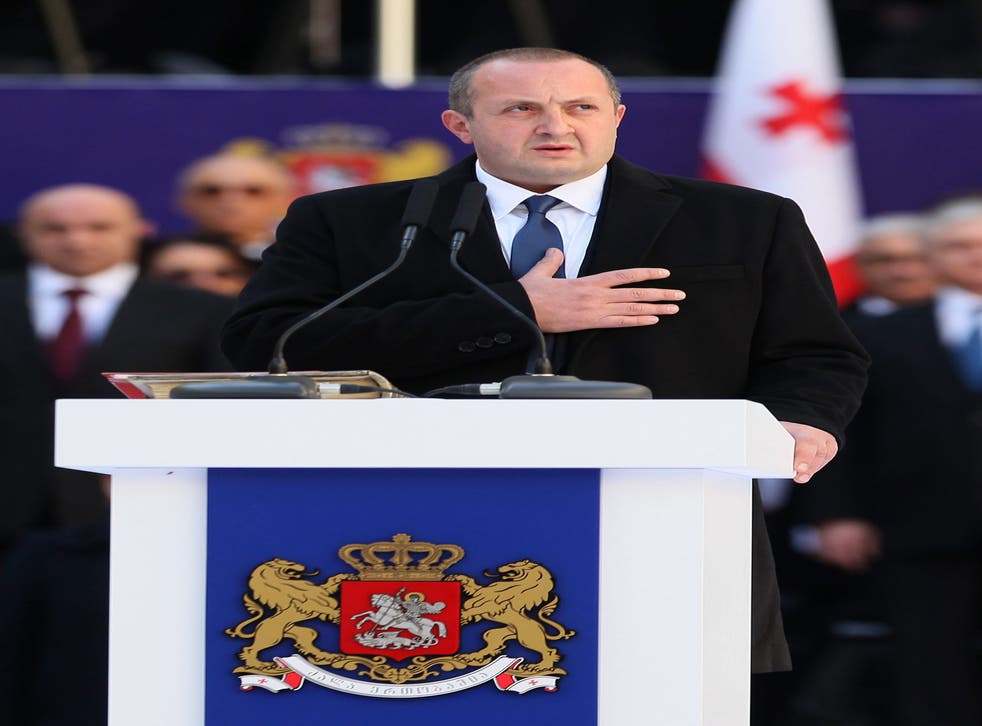 When Giorgi Margvelashvili was sworn as Georgia's president today, he stepped into the rather large and controversial shoes of the outgoing leader, Mikhail Saakashvili.
Having whipped what had been regarded as a corrupt and failing state into shape, Mr Saakashvili used his authoritarian tenure to transform Georgia into an economic growth story. The government, and the streets, are both safer.
Yet Mr Margvelashvili will inherit a downsized version of the Georgian presidency, wielding far fewer powers than his predecessor. According to a new constitution approved last year, Mr Margvelashvili will hold ultimate control of Georgia's armed forces and play an important role in its foreign policy.
But the real ruler of the country will arguably be the eccentric and often irritable billionaire Bidzina Ivanishvili, the founder of Georgia's ruling coalition Georgian Dream party and the current prime minister.
It was the prime minister's office that the president's former powers were transferred to yesterday, and at the same time it is Mr Ivanishvili who has catapulted Mr Margvelashvili to the presidency.
The incoming president is enthusiastic about the part his friend has played in his success. "His role… in my overwhelming victory cannot be underestimated," Mr Margvelashvili has said. The depth of their relationship had become clear earlier, when it took an hour with his photographer and press team to find a photo of Mr Margvelashvili in action without the 57-year-old billionaire also in the picture.
That the president is close to the leader of parliament is not necessarily a bad thing. Things become a little bit more complicated though at the end of the month, when Mr Ivanishvili will step down as prime minister and, in theory, retire from politics.
Some argue that Mr Ivanishvili's premiership has served the sole ambition of ousting Mr Saakashvili and his party from power, after the former president led Georgia into a kamikaze war with Russia in 2008, oversaw the arrest of opposition members who became too outspoken, and was tainted by allegations of systematic rape and torture in Georgia's prisons.
But questions remain about who will ultimately be the source of authority in Tbilisi. The outgoing prime minister recently nominated 31-year-old Irakli Gabriashvili as his successor, telling reporters, without a trace of irony: "Such a nomination happened in a democratic country; none of [the] team members expressed anything else save ovations and everyone was absolutely happy. This is very important and I am also happy that I have made a correct choice."
Mr Ivanishvili's nominee started in government as its youngest member when he became interior minister late last year. He had previously worked for Mr Ivanishvili.
The introduction of two inexperienced politicians into Georgia's two foremost political posts, solely on the basis of their relationship with Mr Ivanishvili, has caused consternation among Georgian political commentators, and among investors, who fear the country will soon be run by an unaccountable billionaire businessman from a luxury mansion overlooking his own private zoo.
The president-elect does little to assuage investors' concerns, especially as Georgia's economic growth rate has fallen from 7.5 per cent to 1.3 per cent in the year since Georgian Dream took office. Paata Sheshelidze, President of the New Economic School of Georgia, believes the climate of uncertainty extends beyond political leadership.
"They said everything that was done before was wrong. Therefore, we should change everything. The government's idea was to break down everything and make a brave new world," he said.
Register for free to continue reading
Registration is a free and easy way to support our truly independent journalism
By registering, you will also enjoy limited access to Premium articles, exclusive newsletters, commenting, and virtual events with our leading journalists
Already have an account? sign in
Join our new commenting forum
Join thought-provoking conversations, follow other Independent readers and see their replies