Munich knife attack: Family of German suspect say he is 'no terrorist' and detail drug and mental health problems
The 27-year-old man killed one victim and stabbed three more in a rampage at Grafing station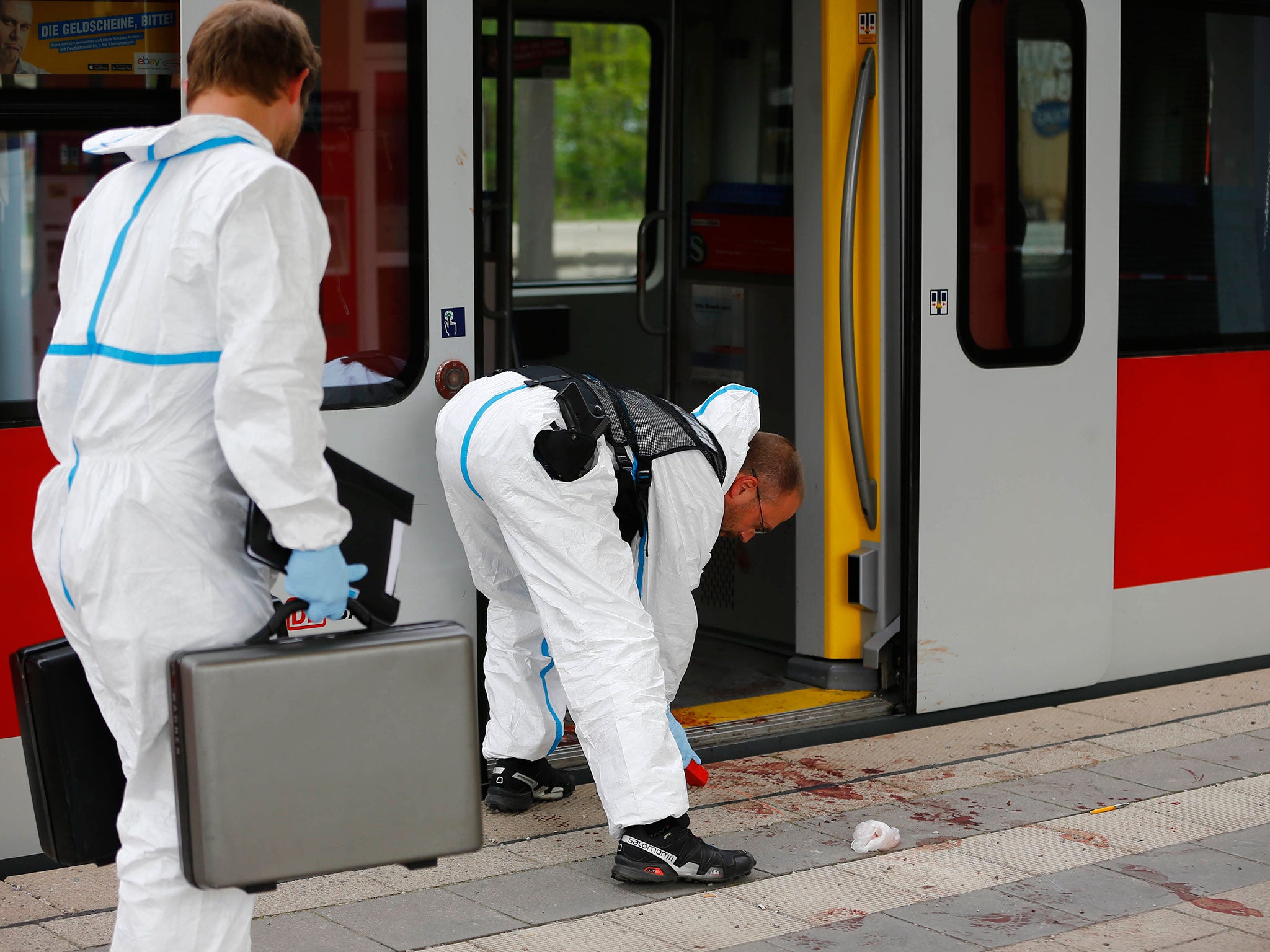 The grandparents of a German man who stabbed four people at a railway station near Munich have insisted he is "not a terrorist".
The 27-year-old attacker, named only as Paul H in local media reports, has admitted killing one man and seriously injuring three more in Tuesday morning's rampage on the outskirts of Munich.
He was admitted to a psychiatric hospital after a court hearing on Wednesday, where an expert concluded he was mentally ill and can only be held partly legally responsible for his actions.
His grandparents told the Tageszeitung newspaper that he was mentally ill and said they took Paul to a clinic in Giessen on Sunday after police refused to refer him for treatment.
"I can assure you - our Paul is no terrorist," his grandfather said.
On Monday, he left his home and travelled to Munich, but finding himself without enough money to stay in a hotel, investigators said Paul took a late-night train to the suburb of Grafing and slept rough at the station.
As the first S-Bahn train of the morning pulled up shortly before 5am, he boarded barefoot, took a10cm-long "survival knife" from his belt and launched the attack.
Witnesses told police they heard him shout "Allahu Akbar" and "infidels, you must die" as he stabbed a train passenger before targeting passers-by in an apparently indiscriminate assault.
The phrases are associated with Islam but investigators said his comments on conversion were "confused" in police interviews and have found no links to terror networks or extremist material on his computer.
Lothar Köhler, from the Bavarian criminal investigation office, said there was no indication that the suspect had connections with any Islamist or Salafist groups or "the scene" in general.
"That the attacker shouted 'Allahu Akbar' has been confirmed by witnesses and also by the perpetrator himself," he told a press conference.
A Facebook profile believed to belong to the attacker gives no indication of radicalisation.
He is seen at festivals, clubbing with friends, drinking and travelling the world.
Paul's stepfather told Sat.1 Bayern television that he and the man's mother had "no idea what was going on" in the aftermath of Tuesday's attack.
"He has psychological problems and is a drug addict. We aren't in contact with him anymore," he added.
Paul trained as a trained carpenter but has been unemployed for two years, according to investigators, who said he had recently undergone psychiatric treatment and was known to have taken an unspecified drug two days before the attack.
Ken Heidenreich, from the prosecutor's office, said officials were initially investigating potential charges of murder and attempted murder but they could change if the man was found not to be criminally responsible.
Following Wednesday's hearing at the Munich District Court, a joint statement from police and prosecutors said: "A preliminary assessment by a medical expert has found that the suspect has a mental illness and there is strong reason to believe that he commited the acts in a state of insanity, or at least of diminished criminal responsibility."
He was barefoot at the time, and photos of the crime scene showed bloody footprints leading away from a train door and on to the platform where he continued the attack.
When asked why he was not wearing shoes, the suspect told police "he felt bugs on his feet that had caused blisters and were generating intense heat".
A 56-year-old man died in hospital, while three other victims aged 43, 55 and 58 were wounded, including a newspaper delivery man.
Police initially said a political or Islamist motive was suspected and emerging information about the suspect's psychological issues sparked conspiracy theories over a "mass media cover-up" in Germany, where the continuing refugee crisis and aftermath of the Cologne attacks continue to generate fierce political debate.
As online theories gained traction, the Bavarian criminal investigation office (LKA) said there was "no doubt as to the identity of the person arrested".
One of many claims circulating on social media said Paul H's real name was supposedly an Islamist called "Rafik Y" and that the press was covering up his "Muslim immigrant background".
An Iraqi terror suspect called Rafik Yousef was shot dead by German police in September last year when he attacked an officer with a knife.
"Rumors about another identity are wrong, even though reports of this have been made by various German and foreign media," a spokesperson for the Bavarian LKA said.
"The 27-year-old male who was arrested does not have a migrant background."
Join our commenting forum
Join thought-provoking conversations, follow other Independent readers and see their replies