Munich shooting: Gunman was a shy teen with depression and an obsession with mass shootings, police say
Investigators say the killer's room contained documents on 'frenzied attacks' and research about mass shootings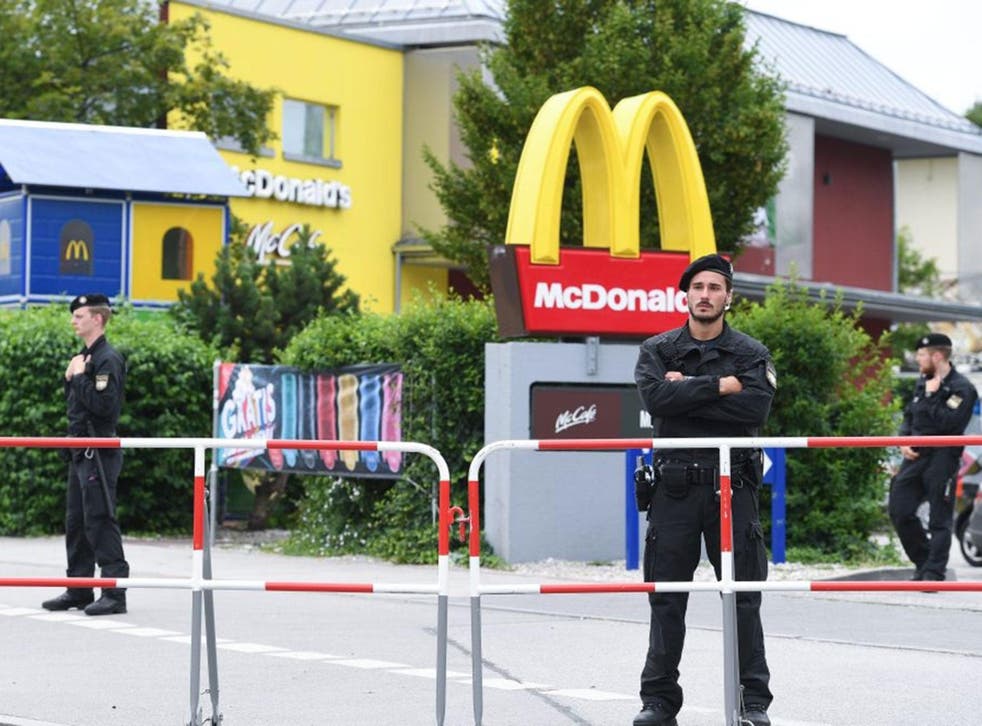 A picture is emerging of the Munich gunman who killed nine people and then himself suggesting he was a shy teenager with depression and an obsession with mass shootings.
Ali David Sonboly, an 18-year-old German-Iranian, was described by a neighbour as "very quiet".
"He only ever said 'hi'. His whole body language was of somebody who was very shy," Stephan, a coffee shop owner who would only give his first name, told the Press Association.
Video footage of the shooting shows the gunman claiming he was "bullied for seven years" before saying "and now I have to buy a weapon and shoot you all".
Munich gunman I am German
Investigators said his room contained documents on "frenzied attacks" and a book titled: "Why Kids Kill: Inside the Minds of School Shooters."
Germany's top security official Interior Minister Thomas de Maiziere said other information showed the shooter had researched a 2009 school shooting in Germany, and the bomb and gun attacks in Norway by Anders Behring Breivik, who killed 77 people exactly five years ago Friday.
"There was material found in the apartment of the suspect that showed a particular interest in shooting sprees, [but] there is so far no indication of any connection to international terrorism," Mr de Maiziere said.
Authorities are still trying to determine a motive for the attack, and Mr de Maiziere said they were investigating reports that the shooter had been bullied "by others his age".
Initial investigations suggest the shooter, a student who was born and raised in Munich, had been in psychiatric care where he was treated for depression.
Sonboly had no criminal record, but was the victim of two minor crimes: a theft in 2010 and bodily harm in 2012.
The 18-year-old murdered nine people and injured 27 others - 10 of them in a critical condition, including a 13-year-old boy.
Three of his victims were 14 years old, two were 15, one was 17 and one 19. The others were 20 and 45, according to police.
Police are investigating how the gunman got the firearm used in the attack in a country whose gun control system is described by the US Congress Library as being "among the most stringent in Europe".
"The investigation is still trying to determine where it came from," police investigator Robert Hemberger said, adding that the assailant was not the registered owner of the gun.
Officials revealed the killer used a 9mm pistol and had 300 rounds of ammunition in his rucksack when he went on what they described as a "classic shooting rampage".
Police said the weapon was a Glock 17 handgun, which had had its serial number illegally filed off.
German authorities can prohibit anyone who is dependant on drugs or alchohol or is mentally ill from obtaining a gun license. Those under 25 have to undergo a psychiatric test.
However, there up to 20 million illegal firearms in Germany, experts told the daily Frankfurter Allgemeine Zeitung in January.
Additional reporting by agencies
Register for free to continue reading
Registration is a free and easy way to support our truly independent journalism
By registering, you will also enjoy limited access to Premium articles, exclusive newsletters, commenting, and virtual events with our leading journalists
Already have an account? sign in
Register for free to continue reading
Registration is a free and easy way to support our truly independent journalism
By registering, you will also enjoy limited access to Premium articles, exclusive newsletters, commenting, and virtual events with our leading journalists
Already have an account? sign in
Join our new commenting forum
Join thought-provoking conversations, follow other Independent readers and see their replies