Cologne sex attacks: Naked artist Mila Moiré protests against New Year's Eve assaults
'Respect us! We are not fair game even when naked'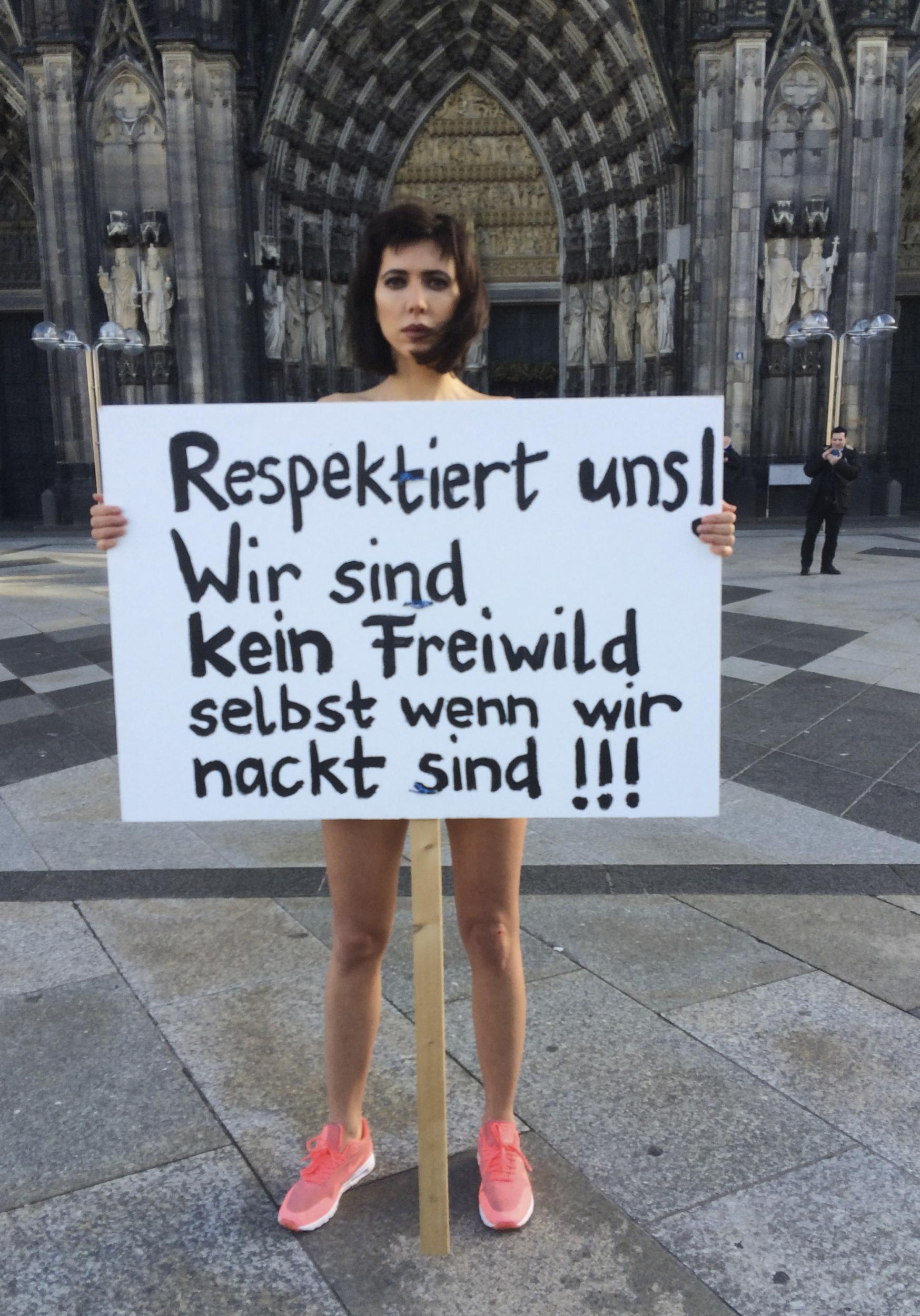 A Swiss artist has protested naked in Cologne to show "no tolerance" of sexual assault following the city's New Year's Eve mass sex attacks.
"Respect us! We are not fair game even when naked," read Mila Moiré's sign, as she stood for 20 minutes in 4C temperatures watched by onlookers.
"I am firmly convinced that women will no longer be treated as sex objects when a naked woman is treated with as much respect as a clothed one," Moiré told German newspaper Bild.
"I stand for women's freedom to move freely. For the things we've achieved in the past 50 years – for women's emancipation."
"I don't want people to trample on these values and for women to have to adapt themselves," she said. "Women must be able to live their values of freedom, with self-determination and self-awareness."
"I have no tolerance for what happened and how things have gone afterwards. I immediately felt as if I were being addressed. This is my first explicit political statement," Moiré told European news website The Local.
Police intervened only to ask several young men to move away from the area, according to The Telegraph.
More than 120 criminal complaints, mostly of sexual assault and robbery, were filed in Cologne on New Year's Eve, with a further 50 in Hamburg. Attacks also allegedly took place in Frankfurt, Stuttgart and Dusseldorf.
In many cases police described the alleged perpetrators as being of "southern or Arab" or "North African" appearance, which has fuelled debate in Germany about Angela Merkel's "open door" refugee policy.
World news in pictures
Show all 50
Moiré is well-known in Switzerland for her nude performance art, most recently for her "Naked Selfies" installation at Art Basel in June 2015. She was arrested in Paris in 2014 for posing naked at the city's Trocadero landmark.
Join our commenting forum
Join thought-provoking conversations, follow other Independent readers and see their replies