Nato chief seeks to avoid 'new Cold War' with Russia as it boosts defences against Moscow
'We don't seek a confrontation with Russia. We don't want the new Cold War'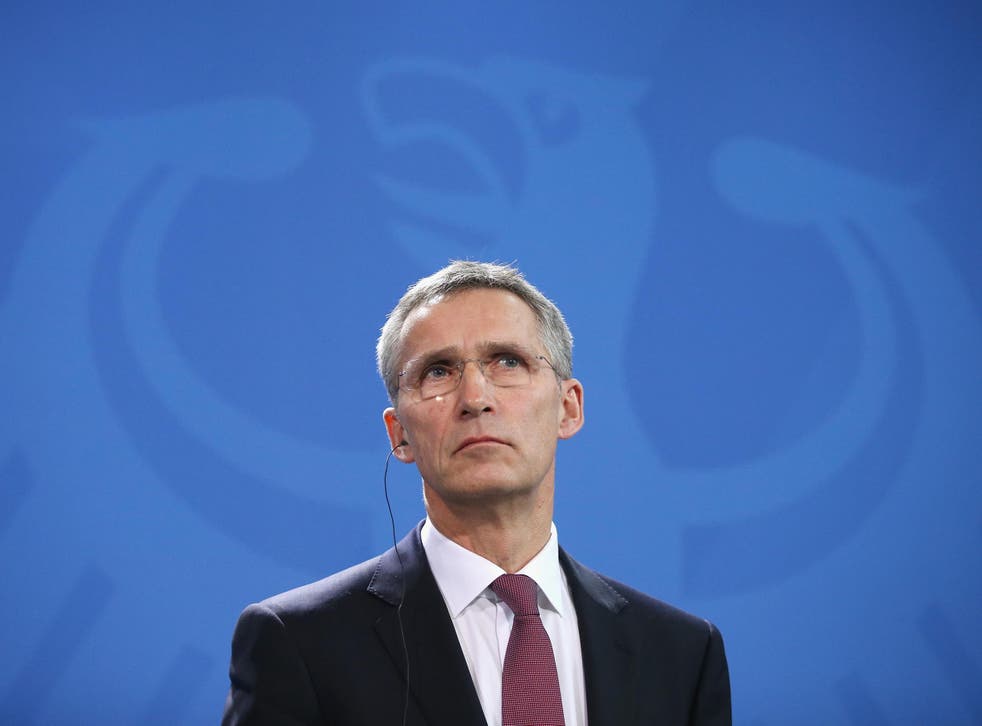 Nato's secretary general has confirmed it will bolster its defences against Russia, while attempting to avoid any unwarranted escalations in tension with Moscow.
On Tuesday, Jens Stoltenberg confirmed a Nato deployment plan to send four multinational battalions to the Baltic states and Poland, following backing from defence ministers who gathered for a two-day meeting in Brussels.
Decisions are also expected on forming a new multinational unit of ground forces in Romania.
"Defending our territory and protecting our people - that is Nato's primary responsibility," said Mr Stoltenberg as he opened the ministers' first working session on Tuesday afternoon.
Even as Nato reacts to what it deems a potent security threat from Russia, Mr Stoltenberg stressed there was no intention of creating conflict with the country. Speaking before ministers met he said: "We convey a very strong message that we don't seek a confrontation with Russia. We don't want the new Cold War."
Tensions between Russia and the Western world

Show all 8
The United States, Britain and Germany have already committed to acting as so-called framework nations to furnish core forces for three of the four battalions that would go to Poland, Estonia, Latvia and Lithuania.
A senior US official said Canadian leaders are currently meeting to discuss the possibility they would coordinate the development of the fourth battalion.
Between 3000 and 5000 troops are expected to be part of the "brigade" with a Romanian HQ and a Romanian and Bulgarian battalion, NATO deputy spokeswoman Carmen Romero said in a statement.
Mr Stoltenberg explained how the four battalions, each consisting of 800 to 1,000 troops, would deploy on a rotational basis, rather than being based permanently in the host countries.
British Defense Secretary Michael Fallon said Britain will deploy one of the "framework battalions" in early 2017.
"That's around 500 British personnel rotating on a continuous basis," Fallon said. He said other countries will contribute to the multinational unit, including France.
Additional proposals are also being considered to increase air and naval defenses in the Black Sea, where a Russian naval fleet based at Sevastopol in Crimea is a major player, NATO officials say.
Last month, NATO foreign ministers expressed broad support for convening a new meeting of the NATO-Russia Council, a forum that brings together ambassadors from NATO's 28 member states and Russia.
NATO allies launch annual war games exercise
So far, there has been no public response from the Kremlin, who has previously accused Nato of increasing military forces near its borders, saying the country would do whatever is required to protect its interests.
Last month, General Sir Richard Dhireff, who served as Nato's Deputy Supreme Allied Commander in Europe between 2011 and 2014, warned of nuclear war with Russia.
He said the alliance must increase its capabilities in the Baltic States or risk "potential catastrophe".
The general said: "The chilling fact is that because Russia hardwires nuclear thinking and capability to every aspect of their defence capability, this would be nuclear war.
"We need to judge President Putin by his deeds not his words. He has invaded Georgia, he has invaded the Crimea, he has invaded Ukraine.
"In a period of tension, an attack on the Baltic states… is entirely plausible."
Additional reporting by Associated Press
Register for free to continue reading
Registration is a free and easy way to support our truly independent journalism
By registering, you will also enjoy limited access to Premium articles, exclusive newsletters, commenting, and virtual events with our leading journalists
Already have an account? sign in
Register for free to continue reading
Registration is a free and easy way to support our truly independent journalism
By registering, you will also enjoy limited access to Premium articles, exclusive newsletters, commenting, and virtual events with our leading journalists
Already have an account? sign in
Join our new commenting forum
Join thought-provoking conversations, follow other Independent readers and see their replies